Fiery Mars In Airy Aquarius: Which Area Of Your Life Will Get 'Fired Up'?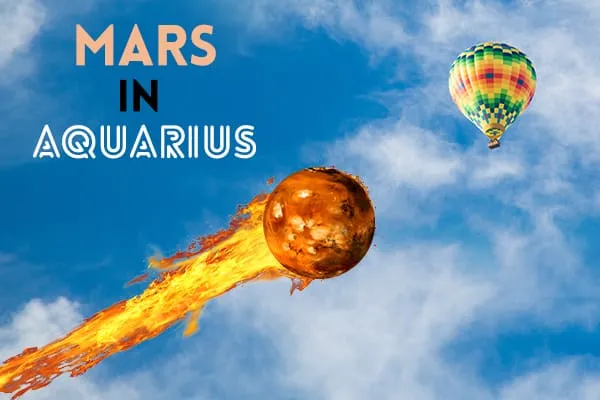 Externally, Mars signifies people that execute commands and display action. Strength, action and speed are represented by Mars.
Internally, Mars represents our mental and physical strength, courage, spirit of adventure, assertiveness, boldness, focus, motivation, enthusiasm, willpower, irritability and anger.
After the 45 day stay in its Sign of exaltation – Capricorn, Mars will now be transiting through Aquarius between 11th December, 2016 and 20th January, 2017. This transit of Mars will be quite a significant one as it will be in exchange with Saturn. Also, it will be in conjunction with Ketu. Thus, some major changes are foreseen during this transit. In this article, find out how this article will impact your lives in the upcoming weeks.
*Please Note: These are primarily Moon Sign predictions, but the results will also be applicable for the Ascendants.
---
Aries
Your Sign Lord Mars will be transiting through the 11th House. During this period, you will be more optimistic, confident and cheerful. You may develop fresh interests and you will focus on self-improvement. This will be a good time to look for new opportunities for your personal growth. Your energy level and stamina will remain on top. But, it would be better to avoid intense debates with friends, as they may lead to misunderstandings. Also, try not to be too aggressive. Read more about Aries.
---
Taurus
Mars will be transiting through the 10th House. This will be a good period, if you are looking for expansion and growth. Your new endeavors would also see success. Work should be on a smooth sail and you are likely to succeed in many matters. Gains through hard work is expected during this time. Though your speed of function is likely to increase, you will have to be careful that relations with colleagues do not get strained. Ganesha warns you to be careful at your workplace and especially while dealing with seniors, you will have to be a bit more polite and patient. Read more about Taurus.
---
Gemini
Mars will be transiting through the 9th House. During this period, arguments or misunderstandings with father are foreseen. You will have to be careful of your health. On some occasions, you may feel jittery or nervous. In other words, you may find it difficult to maintain your composure. There may be sudden gains in this period. Your opponents may try to create troubles for you, so, you will have to be alert. Read more about Gemini.
---
Cancer
Mars will be transiting through the 8th House from your Sign. This will not be a very supportive transit and thus you will have to work very hard and stay positive. Emotionally and mentally you may remain stressed due to which you may not be able to focus on your routine professional tasks. If you are a person of the creative fields, then you may face a lot of blocks and coming up with new ideas will seem a really tough task. Love life may get severely affected because of this transit. Ganesha's important advice to you – do not le personal issues affect your performance at the workplace. Read more about Cancer.
Also Read: Venus In Capricorn: Is This The Ideal Time To Chase Your Dreams?
---
Leo
Mars will be transiting through the 7th House. During this period, your aggression and anger levels may rise, so you will have to try your best to remain calm. If you are not able to control your temper and impulse, then there may be unnecessary heated up arguments and disputes. Moreover, your relationship with your spouse or business partner may witness some problems in the coming few days. Read more about Leo.
---
Virgo
Mars will be transiting through the 6th House of your Chart. You will be able to face challenges really well during this phase and will be able to turn the tables on your enemies. You will be in a highly combative mode now and will like to finish as many tasks as possible. Though you will try your best to perform well, some sudden situations cropping up at the workplace may demoralise you. Make sure that you do not over-exhaust yourself. Read more about Virgo.
Are you a Manglik? Is Mangal Dosha causing problems in your life? Get to know with our Mangal Dosha Report for absolutely FREE!
---
Libra
Mars will be transiting through the 5th House. This will be a tricky phase for your relationships and related matters. There may be delays and obstacles in routine life. Try to balance your personal and professional life. Students may face some distractions and may lack focus during this phase. Difference of opinion with friends and close ones is likely. The health of your spouse may require your attention. Read more about Libra.
---
Scorpio
Mars will be transiting through the 4th House. This particular transit signifies challenges in your path. Some discontentment during this particular phase may affect peace and harmony at home. Avoid activities that involve physical risks and make safety your first priority. Be very careful about your position and reputation and avoid debates and arguments with anybody. There may be disputes related to property during this phase and there are chances of some troubles from your maternal relatives. Take good care of your mother's health. Do not take things lightly when it comes to your profession. Read more about Scorpio.
---
Sagittarius
Mars will be transiting through the 3rd House. You are likely to achieve success in your undertakings. Your confidence and self-belief are likely to get a boost in this period. You will now witness that people are understanding you well and are ready to support you. You will also earn the respect of others. Gains through travels are indicated. Most of your endeavours will turn out to be fruitful. Read more about Sagittarius.
Also Read: Mercury In Sagittarius: There's Something Unusual Happening – How Will It Impact You?
---
Capricorn
Mars will be transiting through the 2nd House. This would be a gainful period for your routine life. You will gain through your associates and even otherwise new gains are foreseen for you. You may feel more optimistic and secured than usual. Expense for comforts and betterment are likely. Environment at the home-front is likely to be somewhat volatile, thus it will be better if you avoid passing sarcastic comments. Read more about Capricorn.
---
Aquarius
Mars will be transiting through your Ascendant. You will function with more conviction and confidence. You will have to understand that there is a fine line between confidence and arrogance, and will have to modify your attitude accordingly. Your health will require attention and problems related to body heat are likely. You will have to be very careful of your health and avoid rash driving. Accidents, cuts, and wounds are possible, thus you will have to be very careful in each and every activity that you do. Be careful with your monetary transactions. Read more about Aquarius.
---
Pisces
Mars will be transiting through the 10th House. There will be a surge of activity at the workplace and you may receive good support of your fortune in matters related to your profession. It would be better if you do not waste your time and energy in meaningless matters. You will have to plan your daily schedule well. Injuries to the feet or ankle are likely, so be careful. You will have to be very careful in your speech, as there are chances of you getting misconstrued. Read more about Pisces.
To Get Your Personalized Solutions, Talk To An Astrologer Now! 
With Ganesha's Grace,
Malav Bhatt,
GaneshaSpeaks.com
---
---
Get 100% Cashback On First Consultation