Mars Ascends Its Throne – Capricorn: Which Area Of Your Life Would Get Affected?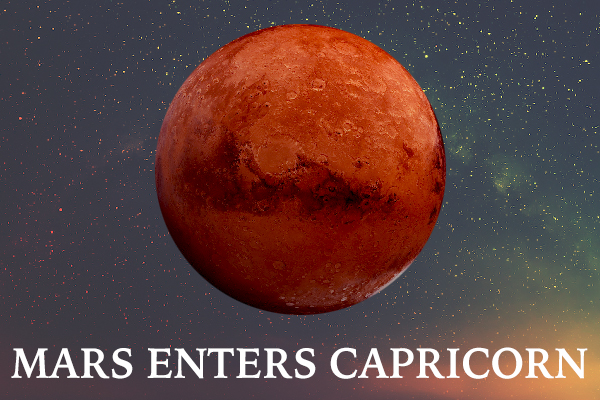 Predictions for all Moon signs (also applicable to all the Ascendants)
Aries
For the Aries natives, this transit will be a highly favourable one. Ganesha says that there are a lot of action-packed things in store for you. There will be a surge of confidence and courage from within, and now you will be able to finish all pending tasks with enthusiasm. Though your position at the workplace may get enhanced, there will be a lot of pressure that you will have to deal with. Get best
solutions for career issues
and stay ahead in the race. You are likely to be surrounded by a lot of activity during this period. You may be assigned with important tasks, so you by executing them well, you stand to gain well. Some arguments with parents are likely. You may find it difficult to pay much attention to your family because of your buzzing work life. 
Taurus
Due to your own efforts, will power, determination and discipline, you will be able to transform your good fortune to the highest level during this auspicious period. You will be able to take practical and well-thought decisions and your general speed of functioning is likely to increase. This would be a favourable period to plan a long distance trip. There may be some misunderstandings between you and your father. Your
relationship
with your spouse may get stronger and you may receive some help from your in-laws' side. 
Gemini
Take good care of your health, advises Ganesha. Differences with your
in-laws
are likely, so try to handle any complex situation with due tact and forethought. There may be some disputes in matters related to joint finances and shared resources. However, if there is an ongoing legal battle related to property or inheritance, then you are likely to get success. 
Cancer
For the Cancer natives, Ganesha foresees a very bright and active social life in the days to come. There may be a lot of social functions, events and get-togethers that will keep you busy. You are advised to avoid any sort of confrontations with your
spouse
or business partner. Moreover, do not waste your time behind convincing others. Rather, channelise your energy towards more productive areas. You will be able to function in a faster and more efficient manner at the workplace. 
Leo
The Leo natives are in for a lot of activity. There will be a lot of things on your platter and a hectic schedule is going to keep you on your toes. Due to the aggressive influence of Mars, you will be in a combative mode and will not shy from taking on challenges head on. Phew! This may be a torrid time for your rivals and enemies as you may not be in a mood to take any misadventure from them lightly. This will be a very good time to join a yoga class or the gym to get in shape, says Ganesha. You may also feel like
changing your job
in this phase, but take decisions related to your career with caution.
Virgo
You are likely to get tensed about managing your children's routine and their education. Choosing the right school, identifying the value-for-money
education
may add to your stress. Those into sports will be able to do very well in this phase. If you are into the creative people, then this will be a very productive phase, and there may be a lot of new opportunities coming your way. Moreover, there will be a desire within you to learn something new. 
Libra
Dear Librans, the upcoming period will be quite favourable for you, says Ganesha. You may come across some good opportunities to earn money. You may prefer splurging money on luxuries and articles to spruce up
your living space
. If you have been wanting to renovate or refurbish your home or vehicles, then this a good time. Things will pick up pace at the workplace. 
Scorpio
You will be more confident and energetic than ever. Your mind will be full of new ideas. You may get chances to set out on a joy trip with your buddies. You will have to be diplomatic in your dealings with
siblings
. You will be able to impress people at the workplace with your skills.  
Sagittarius
Sudden financial gains are on the cards for you. You will be able to make smart financial plans now. But if you don't pay attention to your
savings
, you may have problems with your family members. Your aggression may reflect in your speech, so be mindful of what you speak, or otherwise you may end up hurting others. 
Capricorn
This is a wonderful time to hit the gym and start a healthy routine. All the fitness freaks will get the desired motivation to get in shape. There will be a lot of positive developments that will take place in the coming days, but you will have to control your aggression, advises Ganesha.
Ask Any Question
to get your doubts solved. Try to be a bit more polite while dealing with your spouse and business partner. You may turn up in a more confident manner at your
workplace
. 
Aquarius
Ganesha foresees a rise in expenses. Your business or occupation may remain the primary concern in this period. There may be frequent
long distant trips
, mostly related to your career. You may come acr
oss new opportunities during these trips, so be alert. 
Pisces
Ganesha feels that your fortune will strongly support you in the days to come. There will be quick
financial gains
and efforts of the past will now payback well. You can look forward to some pleasant outings with your friends. Moreover, you may be able to join new groups and form new friends. Your past investments may bring handsome returns in this period.
With Ganesha's Grace,