Gupta Navratri Tarikh Muhurt Puja Vidhi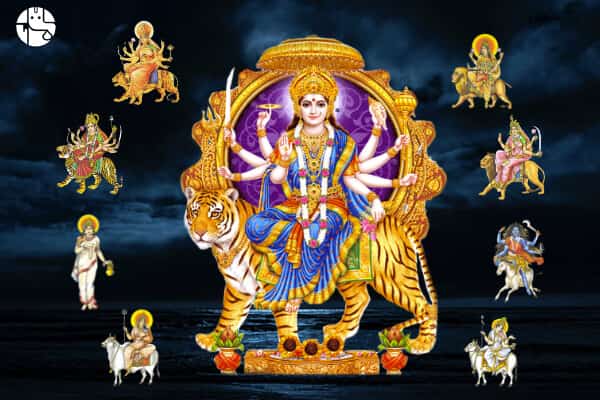 By the way, in order to get the blessings of Mother Shakti, the worship of Mother is worshiped with devotion throughout the year. To express one's special gratitude to the mother, nine forms of the mother are worshiped twice a year especially in Chaitra and Shardiya Navratri. But apart from this, the festival of Navratri is also celebrated in the month of Magh and Ashadha. Navratri falling in the month of Magha and Ashadha is known as Gupt Navratri. The worship of 10 Mahavidyas along with nine forms of Mother Shakti has special significance in Gupt Navratri. This year Ashadh Gupt Navratri will start from the day of March 22, 2023. Gupt Navratri will end on June 28, 2023. Let us know the worship method of Ashadha Gupta Navratri, Ashadha Gupt Navratri Ghatasthapana, Ashadha Navratri 10 Mahavidya Sadhana and astrological remedies related to Gupt Navratri.
When is Gupt Navratri 2023
This year Gupt Navratri in Ashadh is going to start on June 19, 2023. In Ashadh Gupta Navratri, learn the worship method and rules of nine forms of Mother according to each day of Navratri.
Ashad Gupta Navratri Ghatasthapana Date – 19th June 2023
Ashadh Gupta Navratri Ghatasthapana Muhurta or Timing – 05:23 AM to 07:27 AM
Gupt Navratri's first day (22nd January 2023) – Maa Shailputri
Ghatasthapana is performed on the first day of Gupt Navratri. Mata Shailputri is worshiped on this day.
The second day of Gupt Navratri (23rd January 2023) – Maa Brahmacharini
Mother Brahmacharini is worshiped on the second day of Gupt Navratri. When she was doing hard penance to get Lord Shiva as her husband, Mother Durga earned her immense purity and chastity and for this reason she was called Brahmacharini.
The third day of Navratri (24th January 2023) – Maa Chandraghanta
This is the fierce form of Durga in which she holds eight weapons in her ten hands. Due to her riding on a lion, she is called 'Dharma' and is known as Chandraghanta.
The fourth day of Navratri (25th January 2023) – Maa Kushmanda
The incarnation of the mother is worshiped on the fourth day of Navratri. He is known as Kushmanda. His name indicates that He has created this universe and He is present in the form of Surya among all.
The fifth day of Navratri (26th January 2023) – Mother Skandmata
Mother Skandamata is the mother of Kartikeya, who is seated on a lion. Kartikeya is sitting in his lap, keeping this form in mind, worshiping him leads to salvation.
The sixth day of Navratri (27th January 2023) – Maa Katyayani
The form of Goddess worshiped on the sixth day of Ashadh Gupta Navratri is known as Maa Katyayani. This form of Maa Durga originated to kill the demon Mahishasura.
Seventh-day of Navratri (28th January 2023) – Maa Kalratri
This fierce avatar of Durga is worshiped on the seventh day of Navratri.The seventh of the nine forms of Goddess Durga, Maa Kalaratri is known as one of the most destructive forms of the deity. This dark-complexioned goddess blesses her devotees with fearlessness and freedom from all sufferings.
The eighth day of Navratri (29th January 2023) – Maa Mahagauri
Maa Mahagauri is worshiped on the eighth day of Navratri, who remained dark in color until Lord Shiva was pleased with her hard penance and purified her with the holy water of river Ganga.
The ninth day of Navratri (30th January 2023) – Maa Siddhidatri
Maa Siddhidatri is worshiped on the ninth and last day of Navratri. His name itself reflects his importance. 'Siddhi' means supernatural powers and 'datri' means giving.
Gupt Navratri Puja Method and Ten Mahavidyas
In Ashadh Gupta Navratri also, Mata is worshiped like Chaitra and Shardiya Navratri. On the first day of Ashadh Gupta Navratri, the seeker takes a vow of fasting for nine days with Ghatasthapana. After this, Goddess Durga is worshiped every morning after retiring from daily activities. After this, on the day of Ashtami or Navami, the girls are worshiped and feast after Udyapan the fast. On the other hand, people associated with Tantra Sadhana practice ten Mahavidyas instead of the nine forms of Mother during the days of Gupt Navratri. These ten Mahavidyas include Maa Kali, Tara Devi, Tripura Sundari, Bhuvaneshwari, Mata Chhinmasta, Tripura Bhairavi, Maa Dhrumavati, Mata Baglamukhi, Matangi and Kamala Devi. Let us know the sadhana method, astrological relationship, and mantra remedies of ten Mahavidyas on the occasion of Ashadh Gupta Navratri.
First Mahavidya – Kali
In all the 10 Mahavidyas, Mother Kali is considered to be the first, Mother Kali's form is fierce, but she gets angry easily and becomes happy as well. Maa Kali is worshiped with utmost devotion, purity and rules. By doing spiritual practice of Mother Kali with a true heart, the seeker gets victory over his opponents and enemies and can spend his life with happiness and prosperity without fear.
To please them, chant this mantra – Om Hri Shree Kree Parameshwari Kalike Swaha.
Second Mahavidya – Tara
Maharishi Vashisht first worshiped Mahavidya Tara. Tara Devi is considered to be the main goddess of Tantrics. Worshiping this form of Goddess leads to economic progress and salvation. Mother Tara has a special place in Tibet. She is worshiped as Green Tara, White Tara or Neel Tara.
To please them, chant this mantra – Om Hrim Stree Hum Phat.
मेष – ॐ हृीं उमा देव्यै नमः।
वृषभ – ॐ क्रां क्रीं क्रूं कालिका देव्यै नमः।
मिथुन – ॐ दुं दुर्गायै नमः।
कर्क – ॐ ललिता देव्यै नमः।
सिंह – ॐ ऐं महासरस्वती देव्यै नमः।
कन्या – ॐ शूल धारिणी देव्यै नमः।
तुला – ॐ हृीं महालक्ष्म्यै नमः।
वृश्चिक – ॐ शक्तिरूपायै नम:
धनु– ॐ ऐं हृीं क्लीं चामुण्डायै विच्चे।
मकर – ॐ पां पार्वती देव्यै नमः।
कुंभ – ॐ पां पार्वती देव्यै नमः।
मीन– ॐ श्रीं हृीं श्रीं दुर्गा देव्यै नमः
All these mantras will benefit the people of different zodiacs accordingly.
With the blessings of Ganeshji,
ganeshspeaks.com