Lakshmi Puja 2020: Worship the Goddess of Wealth and Prosperity this Diwali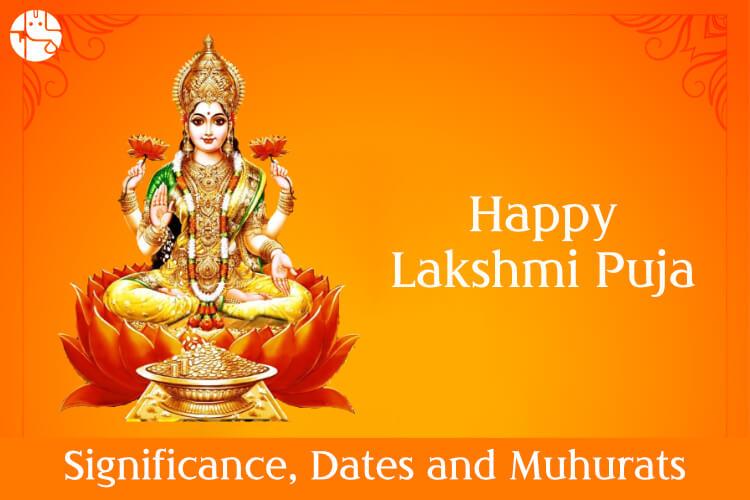 Illuminated balconies!! Brightly decorated market shops! Sound of crackers! The aroma of sweets from the kitchen! It's happiness spread all over the nation. Even the pleasant cool breeze is perfumed with the aroma of Diwali festivities, isn't it? Each one of us is waiting eagerly for Diwali, when we will get decked up in new and best attire, light up our house, worship Goddess Lakshmi on the day, and burst crackers.
As per the Hindu traditions and culture, every day is devoted to some God or Goddess. But Diwali has a special significance as on this day people perform Lakshmi Puja or Lakshmi Pujan. The Amavasya of Ashwin month, the third day of Deepawali festival is all about appeasing the Goddess of wealth and prosperity with clean and illuminated houses, and sweet offerings.  
Legend of Diwali Lakshmi Puja
Diwali is believed to have its origin in the Era of Lord Rama. Sita, the wife of Lord Rama, was abducted by the demon Ravana when they were serving their exile in a forest. It took him around a year to find her and win her back from Ravana. When Ram, Sita and Laxman returned to Ayodhya, all the people of the kingdom had lit earthen lamps and decorated their entrance with flowers and Rangoli to welcome them. Since then we celebrate Diwali.
The legend about Maa Lakshmi dates back to 'Samudra Manthan', where it is believed that Goddess Lakshmi emerged from the ocean and chose Lord Vishnu as her consort on the day of Diwali. Today, Lakshmi Puja is observed by the devotees wishing that Maa Lakshmi would visit their house and shower them with wealth and prosperity.  Two days before Diwali, Dhanteras is also a day to worship Maa Laxmi. In West Bengal, Lakshmi Puja is called Lokkhi Puja or Lokkhi Pujo and it is celebrated on Sharad Purnima or Kojagiri Purnima, the first full-moon after Shardiya Navratri.
Lakshmi Puja 2020 Date and Muhurats:
Date: Saturday, November 14, 2020
Lakshmi Puja Muhurat: 05:28 PM to 07:24 PM
Amavasya Tithi Begins: 02:17 PM on Nov 14, 2020
Amavasya Tithi Ends: 10:36 AM on Nov 15, 2020
Rituals of Lakshmi Pujan: Lakshmi Puja Vidhi
One of the important aspects of Diwali celebrations is Lakshmi Puja. Here's what you need to do to perform Lakshmi Puja at home:
Clean the whole house thoroughly and make beautiful Rangoli at the entrance of the house.

Decorate the house with garlands of marigold flowers and mango leaves.

Keep unpeeled coconuts on the Manglik Kalash and place them at both sides of the main entrance of the house.

On a raised platform, keep a red cloth and place the idols of Goddess Lakshmi and God Ganesha.

Adorn the idols with beautiful, clean clothes and jewellery.

On the left side, keep a white cloth and prepare nine slots with rice symbolising Navgraha.

On the red cloth, make sixteen slots with wheat.

 

Start with the worship of Lord Ganesha. Put a tilak on the forehead of Lord Ganesha. Offer him flowers, dhoop, sweets, and light an earthen lamp.

Apply tilak on the forehead of Goddess Lakshmi. Offer her scent, flowers, dhoop, sweets, and earthen lamp. Also keep coriander seeds, cotton seeds, dry whole turmeric, silver coin, currency notes, supari, and the seed of lotus flower in front of Goddess Lakshmi.

Worship Lord Vishnu and Lord Kuber and offer them scent, flower, dhoop, sweets, fruits, and earthen lamp to Lord Vishnu.

Don't forget to worship Goddess Saraswati. Apply tilak on the forehead and also light a lamp. Pray for divine knowledge and wisdom.

Also, chant the Maa Lakshmi Mantra, 108 times. The mantra is "Shreem Swaha".
Shri Suktam, one of the most ancient texts from Rigveda, is also recited to invoke all the eight forms of Goddess Lakshmi. Our expert Pandits can perform a personalised Lakshmi Puja for you with all the accurate rituals and 108 recitals of Shri Suktam.
Tips to please Goddess Lakshmi
Lakshmi Maa is the Hindu Goddess of wealth and fortune, in some parts of India, her other forms like Mahalakshmi (West India) and Dhanlakshmi are also worshipped. It is believed that she never stays at one place permanently. So, let us find some ways to please her, and to seek her blessings for a longer period.
Always keep your home clean and pure.

Let peace prevail at your residence.

Never disrespect any woman, especially your wife or daughter-in-law.

Prepare Prasad every day after bathing and never taste it before offering it to God.

Pray together with family.

Keep a fast every Friday and on Diwali.

Chant the Lakshmi Mantra. Worshipping a

Shree Yantra

, which symbolises Goddess Lakshmi, also brings wealth and prosperity.

Light a lamp in front of the Tulsi plant every morning and evening. 
Significance of Lotus in Lakshmi Puja
According to Hindu traditions and Vedas, every God is associated with some creature or earthly object. Goddess Lakshmi is assigned the Lotus flower. It is known as pious and sacred. So, it is offered to Lakshmi maa. The lotus flower pleases Lakshmi maa and completes the Lakshmi puja vidhi. Goddess Lakshmi holds a lotus flower in two of her arms. And she presides over a lotus flower that is completely bloomed- it is her divine seat. She wears a garland made with lotus buds. It is also believed that Goddess Lakshmi emerged from the forehead of Lord Vishnu, where there was a lotus blooming.
Best Wishes for Lakshmi Puja
May the Goddess bless you with abundance!  Although it is a known fact that when one is blessed with prosperity, he often loses his wisdom. So, along with Goddess Lakshmi, always pray to Lord Ganesha and Goddess Saraswati to give you equal knowledge and wisdom to spend the wealth and not let pride take over you. 
Ganeshaspeaks wishes you a Happy Diwali! Enjoy the festival with a great enthusiasm with your family, and also enjoy the Diwali delicacies. Have A Happy and Safe Diwali!!
To Get Your Personalized Solutions, Talk To An Astrologer Now!
With Ganesha's Grace,
The GaneshaSpeaks.com Team