Dhanteras 2023: An Auspicious Day For Wealth And Prosperity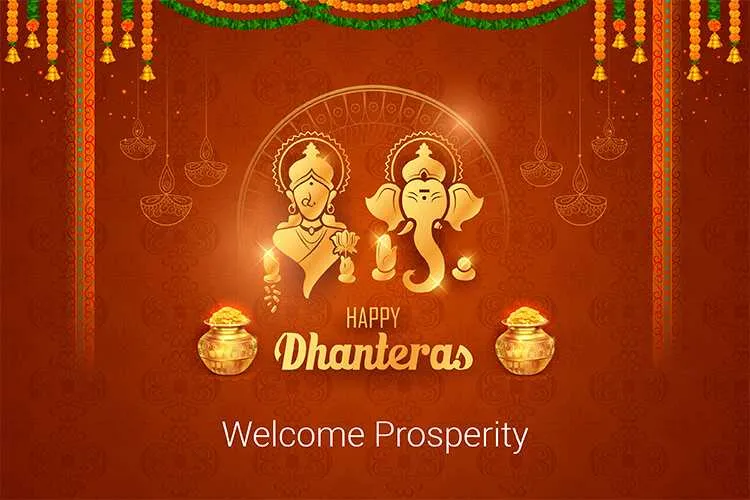 Dhanteras or Dhantrayodashi falls on the trayodashi of Krishna Paksha of the Hindu month of Ashwin (Karthik according to North Indian belief). It marks the beginning of the five-day celebration of Deepavali or Diwali. It is also about worshipping Dhanvantari, the founder of Ayurveda and teacher of physicians. The meaning of Dhanteras has, however, changed over the years. People also worship Maa Lakshmi, the goddess of wealth and prosperity.  The day before Dhanteras is Vagh Baras, and the day after Dhanteras is called Kali Chaudas or Narak Chaturdashi.
---
The Significance Of Dhantrayodashi Festival
This day is also known as Dhanatrayodash, in which people buy new utensils and jewellery to bring good luck. The term "Dhanteras" is quite self-explanatory as the "Dhan" means and "Teras" mean thirteen. The reason is that goddess Lakshmi then showers households with wealth.
Moreover, the respective Puja is not only performed for goddess Lakshmi but also for Kuber, who is the god of wealth. The shubh Puja for goddess Lakshmi and God Kuber is sometimes done together because it is believed to double the benefit of prayers.
---
The Story Behind Dhantrayodashi Festival
Hindu mythology speaks of a king called Hima whose son was destined to die by a snake bite just four days after his marriage. As per Dhanteras story, King Hima did everything in his powers to prevent his son from meeting any woman, but when the son turned 16, he met a girl, fell in love, and they married.
When his wife found out that her husband would die after four days, she did not allow him to sleep on the day and blocked the doorway to her husband's room with silver and gold ornaments, so that when Lord Yama came in the guise of a snake, he was dazzled by the gold and silver and sat down on the heap. The following day the snake quietly left, and her husband's life was saved.
Another famous story features Lord Dhanvantari- a physician of the Gods and an incarnation of Lord Vishnu. He came out of the ocean, which is believed to be churned by the Gods and Demons on Dhanteras.
A popular sage named Durvasa cursed Lord Indra and said, "the pride of wealth has entered your head; let Lakshmi leave you". This curse has become true, and Laxmi left him. It made him weak, and demons entered heaven and defeated Indra. After a few years, he visited Lord Brahma to seek help and all of them Lord Vishnu. Lord Vishnu suggested churning the sea of milk. Such a churning makes the amrit come out and drinking would have made the gods immortal. Both gods and demons were fighting for samudra manthan and amrit pan. Vasuki, the king of the serpents became the rope and Mandara Mountain became the churning rod. Lord Vishnu became the avatar of a tortoise and lifted the Mandara Mountain. Once the churning, Goddess Laxmi appeared and sages started chanting hymns and showered holy water on her. Dhanvantari emerged from the sea after the powerful churning. He carried a vessel of nectar which Lord Vishnu gave to gods.
Along with Laxmi puja in the evening, people also worship Tulsi and The Akashdeep. It symbolises the kindness of nature which is the ultimate source of health and wealth. All these stories are proof enough why  people consider Dhanatrayodashi as an auspicious day and one of the major festivals of Hindus.
---
How To Prepare For This Festival?
People look forward to this day with great enthusiasm. According to the rituals, they clean up their homes thoroughly many days before the festival, and on the day decorate their homes with diyas, candles, paint, flowers, and myriad other things. They also decorate the doorway with rangoli and stick stickers of small feet just outside the main door, believing them to be the feel of Goddess Lakshmi, and hoping that the Goddess of wealth will enter their households.
---
How To Celebrate Dhanteras Festival?
Hindus celebrate this festival by purchasing gold or silver ornaments, and some utensils.
Lord Ganesha, Lord Kuber and Goddess Lakhsmi are worshipped on the evening of Dhanteras. Here is how to perform Dhanteras Puja Vidhi:
Give Lord Ganesha a bath and anoint him with sandalwood paste. Red cloth and flowers are then offered to the lord. A mantra to worship Ganesha is also chanted:
वक्रतुण्ड महाकाय सूर्यकोटि समप्रभ ।
निर्विघ्नं कुरु मे देव सर्वकार्येषु सर्वदा ॥
Offer fruits, flowers, sweets and Diya to Lord Kuber. To worship Lord Kuber, chant the following Mantra:
ओम यक्षाय कुबेराय वैश्रवणाय धनधान्यपदये
धना-धनाय समुद्भूतं मे देहि दापय स्वाहा
On a cloth spread on a raised platform, put a Kalash filled with water and gangajal along with some betel nuts, flowers, coins and grains of rice. An idol of Maa Lakshmi should be placed on the grains of rice. Businessmen also put their books of account (Bahi Khata) near the idol of goddess Lakshmi. The goddess is offered turmeric, vermillion, flowers, and a diya. You can chant the following mantra to worship Maa Lakshmi:
ओम श्रीं ह्रीं श्रीं श्रीं कमले कमलालये प्रसीद प्रसीद ओम श्रीं ह्रीं श्रीं महालक्ष्म्यै नमः 
Many people fast all day and break their fast only after doing Lakshmi puja in the evening. Performing Lakshmi Puja with all accurate Vedic rituals may be inconvenient for those who don't have extensive knowledge of pooja processes.
In case you are unable to perform precisely, let our expert pandits help you in performing a personalised Lakshmi Puja to appease the Goddess of wealth and prosperity.
---
Dhanteras Puja Date in 2023 and Muhurat (Auspicious Time)
Trayodashi Beginning Date and time: November 10, 2023 at 12:35 pm
Trayodashi Ending Date and time: November 11, 2023 at 01:57 pm
Auspicious time for Puja:  November 10, 2023, 05:47 PM to 07:43 PM
---
Dhanteras Gifts
The festival is ideal for family gatherings and giving each other gifts. It is believed that gifts come with good wishes for prosperity and well being, and they bring positive vibes along with good fortune. The items that people prefer to gift others on Dhanteras are brass vessels, Lakshmi idol, Ganesha idol, sweet hampers, rangoli, foot-prints of Goddess Lakshmi, Laxmi Yantra, Ganesha Yantra, decorative door hangings, etc.
Attract Good Luck With Your Personalised Horoscope On The Auspicious Day Of Dhanteras! – Talk To Expert Astrologer Now!
With Ganesha's Grace,
The GaneshaSpeaks.com Team
Astrologers trained by Shri Bejan Daruwalla.
---
---
Get 100% Cashback On First Consultation