Nine nights of Goddess Durga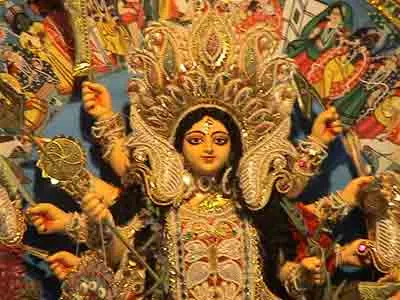 Navratra is the combination of Nav (nine) and Ratra (night). Navratra essentially means nine nights of worshipping Goddess Durga. In Hinduism, Durga (Sanskrit for "the inaccessible" or "the invincible") is the supreme goddess. Goddess Durga is the mother of Ganesha and Kartikeya. She is considered to be the fiercer, demon-slaying alter-ego of Lord Shiva's wife, Goddess Parvati.
Nine is a divine number; it stands for divine power (shakti). During the nine-day festival, devotees worship nine devis, forms of Goddess Durga, to seek their blessings.
Navratra is a celebration of the victory of good over evil; killing of a dreaded demon, Mahisasur, by Maa Durga. It is believed that Goddess Durga took nine different forms to kill the demon. They fought for nine days, with Maa Durga killing Mahisasur on the tenth day.
---
The Devis are:
1) Maa Shailputri
2) Maa Brahmachaarini
3) Maa Chandrakanta
4) Maa Kushmaanda
5) Skand Maa
6) Maa Kaatyani
7) Maa Kaalratri
8) Maa Chamunda
9) Maa Mahagauri
10) Maa Sidhiratri
Maa Durga is the Maha Shakti and is known as the Goddess of all Gods. Worshiping her helps us overcome even the most-unsettling problems.
To Get Your Personalized Solutions, Talk To An Astrologer Now!
If you are reeling under the malefic influence of Rahu or the Kaal Sarp Dosha, you may face a lot of issues such as depression, not getting favourable results despite a lot of hard work, loss in business and debt. Performing Durga Puja during this period can help you get rid of these problems. Read Durga Saptshati and the result will be evident. The method is incredibly effective.
For youngsters, Durga Puja can help them excel in studies. Those who are unmarried will be able to find their life partner. Maa Durga's blessings also ensure a happy and prosperous married life.
Navratra usually begins at the end of September, but this year, it is starting from September 19, 2009. It will end on September 27. The early Navratra are known as Sharda Navratra or Mahanavratra as they will take place during the Sharad Ritu.
Navratra is also the longest festival in India. For youngsters, Navratra means night days of Raas and revelry. During this period, there is a marked increase in love and attraction between two people. These nine days are blissful days for lovers.
Astro Sapna
Celebrity Astrologer
---
---
Get 100% Cashback On First Consultation