While some political parties continue threatening to disrupt the release of 'My Name Is Khan', Shahrukh's innumerable fans are eagerly waiting for the film to hit the silver screen. The Yash Raj film, co-produced by Gauri Khan, is directed by Karan Johar. The film is about the relationship between a single mother and a man suffering from autism and how their life changes after the 9/11 terrorist attack in America.

The Badshah of Bollywood, as he is rightly called, made his acting debut through the television series 'Fauji' and has never looked back since then. Today, the name Shahrukh Khan is almost synonymous with success, thus making him the most sort after actor in bollywood.

'My Name is Khan' is slated for release on 12 February 2010. Ganesha uses Vedic Astrology System to find out if the film will be a Box Office hit.
    

12th February 2010
Release Time Horoscope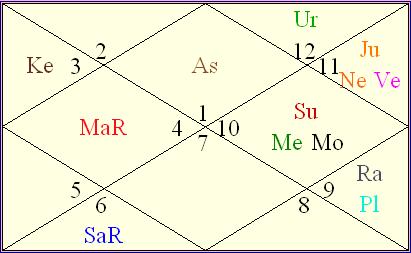 Astrological Observations


Lord of the Ascendant Mars is debilitated and retrograde
Sun, Moon and Mercury are placed in the 10th house
Two natural benefics, Jupiter and Venus, are placed in the 11th House
Rahu - a natural malefic is placed in the 9th House of luck

Astrological Predictions
Ganesha observes that the Ascendant Lord is weak due to debilitation. But because of Retrograde motion it has become a little powerful and is giving exalted aspect to 10th House of Karma. Moreover, there is Stellium of Sun, Mercury, and Moon in the 10th House. Mars gives exalted aspects to the 10th House. These factors indicate a good start. Ganesha feels that 'My Name is Khan' will receive a warm welcome at the box office. Opening business i.e. first day and first week's business would be more than satisfactory.
Jupiter and Venus in the 11th House of gains with Neptune, also promise success. Venus is placed in the 11th House of gains and being the Lord of the 2nd House of finance and 7th House of publicity and public image also promises financial gain and lots of publicity.
This film will be appreciated by many in the first week itself and that's how the business will increase. At the same time, publicity strategy would also work in this film's favour because Venus is in the 11th House.
Rahu in the 9th House indicates a scope for controversy too.
Venus is the significator of arts and is aspecting the 5th  House of performance, plus fifth house of performance's Lord Sun is in the 10th House with Moon, the significator of mind and imagination, and Mercury is the significator of communication. Hence, dialogue delivery and visual treatment would also be very good.
However, Rahu's presence in the 9th House may not allow this film to reach become a super duper hit.
However, Ganesha feels that 'My name is Khan' will surely be remembered as a successful film at box office.

Good luck and may Lord Ganesha bless the cast and crew of 'My name is Khan'.

With Ganesha's Grace,
The GaneshaSpeaks Team