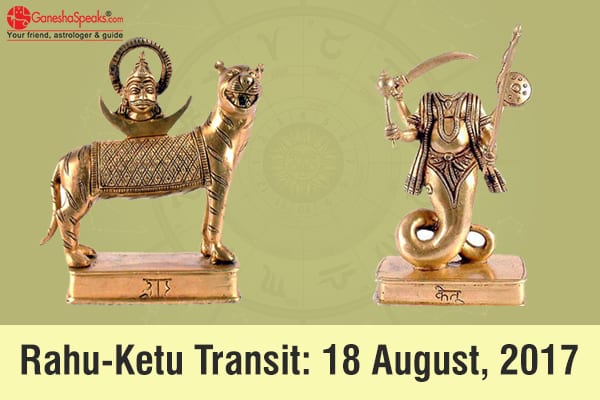 Rahu Transit In Cancer, Ketu Transit In Capricorn – Transit Dates
On 30th January, 2016, Rahu and Ketu entered the Signs of Leo and Aquarius respectively. They will be entering the Cancer-Capricorn axis on 18th August, 2017 and will stay there till 7th March, 2019.
Rahu-Ketu Transit 2018-2019 – Major Breakthroughs To Take Place?
Rahu and Ketu – The Evergreen Villains Or Cosmic Agents Of Change?
Rahu and Ketu – Explore Their Power
Rahu Ketu Transit 2018 For Aries
Rahu Transit In Cancer 2018 For Aries
Ketu Transit In Capricorn 2018 For Aries
Rahu Ketu Transit 2018 For Taurus
Rahu Transit In Cancer 2018 For Taurus
Ketu Transit In Capricorn 2018 For Taurus
Rahu Ketu Transit 2018 For Gemini
Rahu Transit In Cancer 2018 For Gemini
Ketu Transit In Capricorn 2018 For Gemini
Rahu Ketu Transit 2018 For Cancer
Rahu Transit In Cancer 2018 For Cancer
Ketu Transit In Capricorn 2018 For Cancer
Rahu Ketu Transit 2018 For Leo
Rahu Transit In Cancer 2018 For Leo
Ketu Transit In Capricorn 2018 For Leo
Rahu Ketu Transit 2018 For Virgo
Rahu Transit In Cancer 2018 For Virgo
Ketu Transit In Capricorn 2018 For Virgo
Rahu Ketu Transit 2018 For Libra
Rahu Transit In Cancer 2018 For Libra
Ketu Transit In Capricorn 2018 For Libra
Rahu Ketu Transit 2018 For Scorpio
Rahu Transit In Cancer 2018 For Scorpio
Ketu Transit In Capricorn 2018 For Scorpio
Rahu Ketu Transit 2018 For Sagittarius
Rahu Transit In Cancer 2018 For Sagittarius
Ketu Transit In Capricorn 2018 For Sagittarius
Rahu Ketu Transit 2018 For Capricorn
Rahu Transit In Cancer 2018 For Capricorn
Ketu Transit In Capricorn 2018 For Capricorn
Rahu Ketu Transit 2018 For Aquarius
Rahu Transit In Cancer 2018 For Aquarius
Ketu Transit In Capricorn 2018 For Aquarius
Rahu Ketu Transit 2018 For Pisces
Rahu Transit In Cancer 2018 For Pisces
Ketu Transit In Capricorn 2018 For Pisces