Effects Of Rahu Ketu Transit 2017 For Scorpio Moon Sign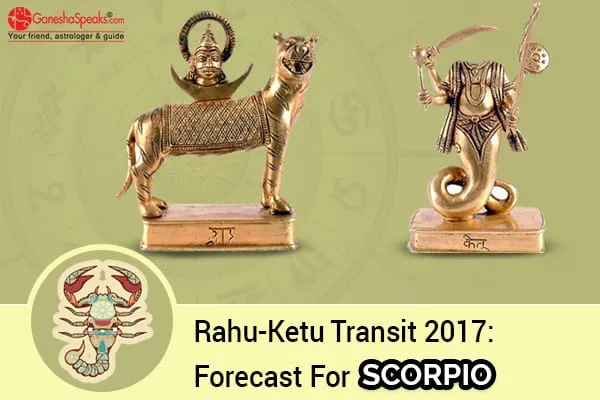 ---
Rahu Transit In Cancer 2017 For Scorpio
– Rahu in the 9th House
The Rahu transit in Cancer will bring about a change in your views regarding culture, religion, traditions, customs, your personal beliefs and values. The transit of Rahu in the 9th House will present opportunities to explore new cultures, traditions and places. You will develop a keen interest in multicultural aspects and to know the unique features of different religions. Rahu will trigger your curiosity and this in turn will propel you to gather as much knowledge as you can. But, Ganesha advises you to be careful, as you may tend to absorb too little from too many things and you will thus end up with a junk of information which may not yield any productive outcome.
During Rahu transit in Cancer, it is better if you rely more on your self-efforts, as your fortune may get blocked by Rahu's obstructive influence. Keep listening to your inner voice and do not ignore the messages that your intuition conveys. To be able to enjoy more happiness, you will have to master the art of looking at the bigger picture, rather than getting stuck with petty details. Having faith in your own capabilities is the key to achieve better things and to experience progress.
Do you want to know how this transit may affect your marriage? Avail the exclusive Rahu-Ketu Transit Report For Marriage now!
---
Ketu Transit In Capricorn 2017 For Scorpio
– Ketu in the 3rd House
The Ketu transit in Capricorn will be a wonderful period for you, and you will be able to experience a lot of benefits. You are likely to become more confident and adventurous because of the presence of Ketu in the 3rd House. Your health will also be good and your stamina and energy levels will be soaring during this period. You will be highly enthusiastic and charged up during this transit.
During the Ketu transit in Capricorn, you will be able to experience higher level of success in your endeavours. If there have been some nagging issues from the past, which may have been bothering you, then you will be able to bring solutions. You may get the opportunities for short distance travels and adventure trips, so get ready for some thrilling experiences. You will be able to silence your enemies and give it back to them in their own coin. You will be able to get good success in contests.
With Ganesha's Grace,
The GaneshaSpeaks Team
For Love Concerns: Avail the Rahu-Ketu Transit Report For Love to know about your Love Prospects
Other Planetary Specials:
1) Rahu in Gemini, Ketu in Sagittarius Transit 2023: Effects of The Conjurers on Moon Signs
---
---
Get 100% Cashback On First Consultation