Effects Of Rahu Ketu Transit 2017 For Libra Moon Sign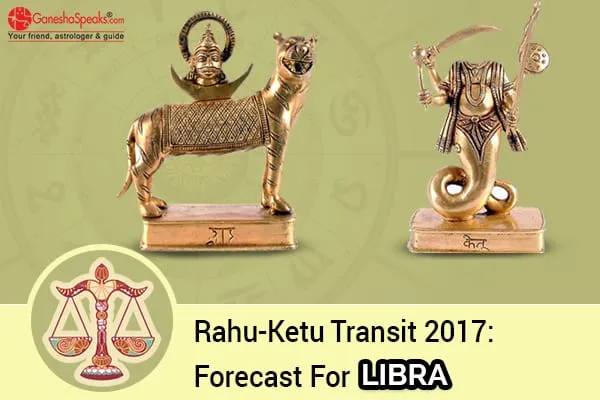 ---
Rahu Transit In Cancer 2017 For Libra
– Rahu in the 10th House
Get ready for some of the most dramatic changes in your life as the Rahu transit in Cancer will bring in an element of uncertainty and disruption. The effects of this transit will first show up in the area of your work, as there might be either chances of a transfer or problems with colleagues and seniors. Even your financial position may get affected negatively and you might have to bear the brunt of unforeseen expenses. All these changes may affect your overall well-being and reduce your stamina.
While the transit of Rahu in the 10th House operates, you will have to take each and every step in your career with due care and avoid taking brash decisions. You will have to guard your reputation as some people may play politics behind your back. Be polite and sensible in your dealings with authority figures, as there are some complications indicated. This will not be an entirely negative transit, and if you are able to work hard, without giving into distractions, you will be able to achieve popularity and recognition. Concentrate on any area of your career at a time and try to achieve efficiency in it. If you continue this practice, you will be able to enjoy good success and the desired security.
Are you curious how the transit of Rahu-Ketu will influence your career trends during its transit in Libra? Then, avail the Rahu-Ketu Transit For Career
---
Ketu Transit In Capricorn 2017 For Libra
– Ketu in the 4th House
The Ketu transit in Capricorn may bring up issues related to land and property. There may be a constant feeling of dissatisfaction, regardless of the success and failure that you achieve. During the transit of Ketu in the 4th House, there are chances of emotional disturbances and you may find it difficult to express your feelings to others.
During the Ketu transit in Capricorn, relations with your maternal relatives may get strained and chances of conflicts foreseen. You will have to take good care of your mother's health. You may tend to a bit insensitive towards others' feelings at times and this may cause some problems, especially with your partner. If you are into realty business, the path ahead won't be smooth for you and you will have to be careful while entering into any agreement. The atmosphere at the home front will be somewhat volatile, so you will have to avoid being reactive. This will not be a good time for buying and selling of property.
With Ganesha's Grace,
The GaneshaSpeaks Team
For Business Concerns: Buy the Rahu-Ketu Transit Report For Finance to know how Rahu-Ketu will impact your business in the year ahead
---
---
Get 100% Cashback On First Consultation