Valentine's Day 2021: All You Need to Know About the Day of Love
14 Feb 2021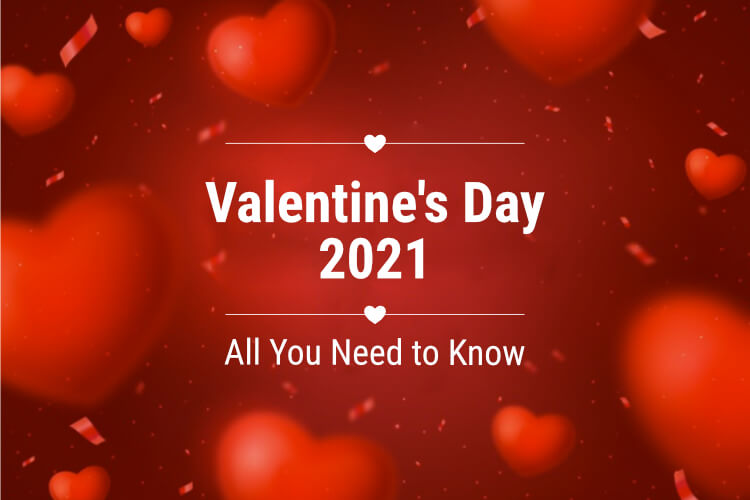 You may read hundreds of quotes from Rumi, and a number of Lord Byron poems. Still, your definition of love will be different from any other person in the world! Same is the case with Valentine's day, February the 14th. For everyone, it will bring something different. Think about it. For some, it is a day of love that they have been looking forward to since the year began. For some, every day is Valentine's Day! Some would spend it with the memories of the past, while some are going to try their luck with their hearts beating fast. Whatever your Valentine's Day 2021 may be about, it is important to know how it came into existence, and the significance it holds.
This Valentine's Day, plan ahead, know what stars have planned for your special day with a personalised Valentine's Day Horoscope.
Valentine's Day Origin: When It All Began
There are a number of stories and historical inaccuracies attached to the origin story of Valentine's day. The most well documented of those stories have a saint named Valentine, and his association with the Roman Empire and Love. Here is how it goes:
The first story talks about a Saint Valentine who used to marry young couples secretly in 3rd century Rome when King Claudius II had banned the marrying of young men. The emperor believed that the men without family would make a stronger army for Rome. When he came to know about St. Valentine, he ordered his troops to put him to death. It is believed that Valentine's Day is celebrated for the saint's legacy.
Do you plan to marry soon? What better way to make your marriage even more memorable than Valentine's Day Wedding!
The other story consists of a Christian martyr named Valentine, who was prisoned in Rome. He helped the inmates escape the harsh Roman prisons and believed to be in love with the Jailer's daughter. Before his execution, he wrote the first-ever Valentine's letter on 14th February, signing it off as 'Your Valentine'. Some would believe this to be the origin of Valentine's Day.
Modern Times, Modern Ways: The Valentine's Week
February nowadays does not only come with a single day of love. With Valentine's day comes Valentine's week. A fairly new concept, this week is dedicated to various aspects of love. For 2021, here are the dates to remember for Rose Day, Propose Day, Chocolate Day, Teddy Day, Promise Day, Hug Day, and Kiss Day: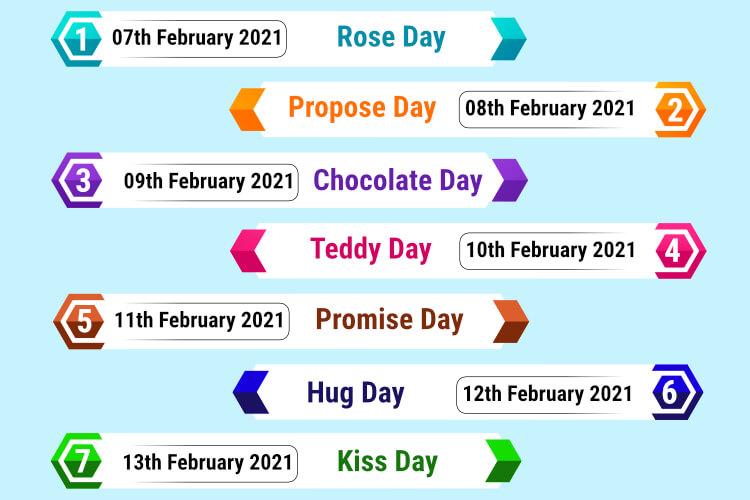 A week filled with love, followed by Valentine's Day. A perfect getaway to your wonderland with your partner. You can read detailed meanings and more information about them here: Valentine Week
How People Celebrate Valentine's Day
People celebrate their love for their partner by sending cards or letters, giving gifts or flowers and arranging meals in restaurants or romantic nights in hotels. Those who would like to have a romantic relationship with someone may use the occasion to make this known, often anonymously. Valentine's cards are often decorated with images of hearts, red roses, or Cupid on this fest. Valentine's Day gifts include flowers, chocolates, candy, and champagne or sparkling wine. Some people also use the occasion to present lavish gifts, such as jewellery.
However, as we mentioned above, the day brings out something different in everyone. Some like to celebrate it with romantic dinners, whereas some prefer to spend in the comfort of their house. Though Valentine's week also has a specific 'Propose Day', some believe Valentine's Day is the perfect day to express your desires to your spouse. We mean, what better day than the day of love to propose your loved one? And if you are looking for the ideas, we have got you covered. Here are some Valentine's Day Proposal Ideas Based on Your Partner's Zodiac.
Festival Traditions: Greeting Cards and Letters
Out of all the festivals, Valentine's day greeting cards and letters hold special importance. As mentioned before, writing a letter to your loved ones may have begun with the first Valentine's Day itself. At many places in the world, competition is still held for the best written Valentine's Day letter. One such competition held in Rome is known all over the world.
A personalised letter that expresses all that you feel for your loved one may not only sweep them off their feet, but it will also make their day of love memorable. Bonus points for not using a printer and keeping it handwritten! You can make this day even more special by Proposing Your Partner on Valentine's Day.
Greeting cards, on the other hand, were made popular in 19th century England, and they still rule this festival of love. Valentine's Day greeting cards are for the ones who are too shy to express their feelings out loud. The greeting cards have been a medium of preference for long-distance lovers as well in these modern times. Slowly though, electronically sent messages are taking their place.
Happy Valentine's Day!
A special day to feel the romance around you, Valentine's Day is sure to bring some love to your life. May we make more and more memories with the people we love. Ganesha wishes you a Happy Valentine's Day!
To Get Your Personalised Solutions, Talk To The Best Astrologer Now!
With Ganesha's Grace,
The GaneshaSpeaks.com Team
Astrologers trained by Shri Bejan Daruwalla.