Shikhar Dhawan Astrological Chart: Will he make a comeback in Next IPL?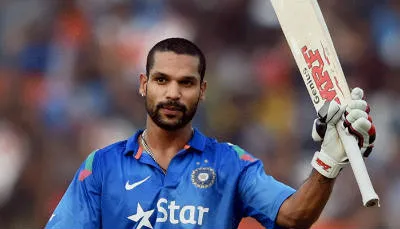 Shikhar Dhawan, India's very own 'Gabbar', a man of flamboyant and unique personality that sets him apart from the rest of the team members! Dhawan might not have had the ideal start to limited-overs cricket in 2010, but his Test debut was a memorable one. Dhawan burst into the international scene by scoring the fastest century on Test debut. The match was against Australia in 2013 and Dhawan scored a whopping 174-ball 187. Thereafter he was chosen for the 2013 Champions Trophy where he scored two centuries in the first two matches of the tournament. Since then, a gutsy player, Dhawan opens the innings across all the three formats for Team India. With some impressive performances in Tests and One-Day Internationals (ODI), Dhawan cemented his place in the side ahead of his Delhi teammates Gautam Gambhir and Virender Sehwag as an opener. As the crafty left-hander turns 29 today here are few things about him.
Now the cricketer is going to turn 35 this year, let's find out some key facts about his future influenced by planetary position based on his Surya Kundli.
Do you want to know which planetary position will influence your life, find out with a Free Birth Chart report.
---
SURYA CHART
Date of Birth:- 05 December , 1985
Time of Birth: Not Known
Place of Birth: Delhi, India
---
Shikhar Dhawan Astrology Chart Observation
As the Shikhar Dhawan star sign is Sagittarius, the Gabbar of Indian team will be under the influence of the Major sub-period of Jupiter that will end on 12th April 2021. After that, the Sub-period of Saturn will begin. The transiting Jupiter and Saturn would transit over natal Jupiter posited in the 3rd house, and Rahu would transit over the planets posited in the Ascendant of Shikhar Dhawan's birth chart.
To know more about how and their traits are likely to affect your life, with handwritten Personalised Janmapatri by our expert.
Making a new record is on the Card
As per his Surya Kundali, he will be under the Major effect of Mars, the lord of the 6th house that stands for sports and physical strength in-game. Jupiter, the lord of the 5th house (The house of performance) and lord of sub-period as well. It would accelerate the wisdom, power, technique, and luck for him in the year 2021. As such, the year 2021 will be a much successful year for him. He may make new records to his credit during the year.
Extreme against whites reveal Shikhar Dhawan Birth Chart.
As mentioned above, with the planetary position and powerful support of transiting planets, he would continue to play with the same spirit, strength, and confidence with innovative techniques against whites during the year 2021. The transit of Saturn aspects the Mars posited in the 12th house indicates that he would perform well in cricket matches that would be held out of India as well.
Shikhar Dhawan may be on a roll with Delhi in the next IPL season.
On observation of planets posited in his chart, Shikhar Dhawan's current period or period when IPL was played, his performance on the ground might not have impressed some dignities or some of his fans. But, the year 2021 would be innovative, and super for him, that may make authorities of Delhi to continue him. The transit of significant planets, Jupiter and Saturn in Capricorn, will make everything possible for him or in his favor.
Shikhar Dhawan is looking less marred with injuries.
Concerning his health, the possibilities of his injuries are looking less.
With Rahu transiting over the bunch of planets posited in the Ascendant of his chart, and other planets like Venus, Mars, and Saturn would aspect Mars. All these planets indicate that he may have to be more cautious and alert for not having any injury during the year 2021. possibly, there would be less chance of not getting injured.
How will your health be in 2021? Will you face any health related challenges? Get all the answers by 2023 health report.
Gabbar will be Back, says Shikhar Dhawan Birthday prediction.
This time, the T-20 world Cup would be organized back at home-India, he will be under the strong influence of planets. As said above, the transiting Jupiter and Saturn in Capricorn over natal Jupiter and would aspect Mars in his exalted sign. Further, Jupiter would be transiting over Jupiter. This multiple positivities and auspicious management organized by the planets may prove terrific for his performance in T-20 IPL during October and November.
---
---
---
Get 100% Cashback On First Consultation