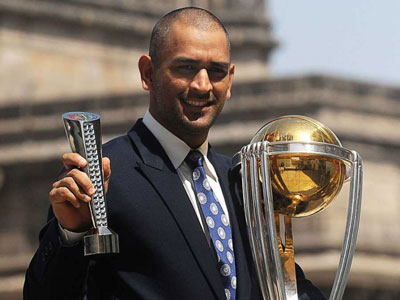 From a ticket collector to the Test Captain, Mahendra Singh Dhoni's journey is the stuff that dreams are made of. After taking up the Indian Test captaincy in 2008, the raw and rustic lad from Jharkhand led his country to series victories in New Zealand and West Indies, and the Border-Gavaskar Trophy in 2008, 2010 and 2013. In 2009, Dhoni also led the Indian team to number one position for the first time in the ICC Test rankings. By far Dhoni's personal ODI innings best has been his unbeaten 183 against Sri Lanka in Jaipur in 2005, inclusive of 15 fours and 10 sixes, which helped India chase down the formidable target of 299, and also catapulted Dhoni into the limelight. And, rest as they say is history! From leading Team India, as they became the World Champions to performing consistently as an excellent skipper (and a wicket keeper) in the One-day and 20-20 formats of the game and more – Dhoni has done it all. The man of steel, the Captain Cool, has also weathered spot-fixing allegations (still unproven) in IPL, stemming from other allegations of conflict of interest, him being the skipper of the team Chennai Super Kings. Dhoni announced his retirement from Tests in December 2014, after a drawn Test against Australia and coming under heavy fire from the media for his defensive tactics.

While the IPL spot-fixing cases meander on and there have been rumours doing rounds about MSD's impending retirement even from the One-day and 20-20 formats, Ganesha takes a look at whether MSD will ever regain his lost glory and his Midas touch as a cricketer.


Date of birth - 07th July, 1981
Birth Time - 11.11 A.M. (Unconfirmed)
Place of Birth – Ranchi, Bihar (Jharkhand), India

NATAL CHART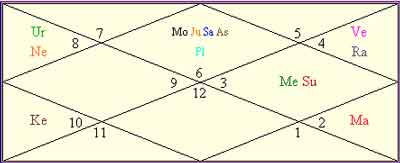 Astrological Observations
Ganesha notes that MS Dhoni is born with Virgo Ascendant and important planets - Moon, Jupiter and Saturn too are placed in the Zodiac Sign Virgo in his Natal Chart.
The Lord of his 9th House (the house of fortune), Venus - is conjunct with Rahu in the 11th House in his Chart.
The Lord of the 10th House, Mercury - is swagruhi i.e. placed in its own Sign, along with the Sun.
Currently, Dhoni is under the influence of the major period of Rahu and the sub period of Venus.
The transiting Saturn is passing through the 3rd House, while giving a negative aspect to Mars in Dhoni's Natal chart.
Plus, the transiting Rahu is passing through Dhoni's Ascendant Sign, over his Natal Moon, Jupiter and Saturn. This challenging planetary movement, which started in July 2014, will continue till January 2016.
The benefic Jupiter is currently passing through the 12th House in Dhoni's Chart.
Astrological Predictions
Basis the aforementioned planetary movements, following are Ganesha's observations -
M.S. Dhoni will face problems, and may not be able to perform, as per his potential. Though his contribution will help Indian Team in some matches, his overall career graph may remain pretty mediocre till June 2016.
Besides this, the transiting Rahu (through Virgo – Dhoni's Ascendant Sign) will keep him confused. Rahu will also control his decisive power, and may instigate him to commit mistakes. This will remain troublesome till January, 2016.
As the transiting Rahu is moving over Dhoni's Natal Moon -he may remain anxious and unsettled. The traversing Rahu it will be getting closer to Dhoni's Natal Moon in the latter half of the year 2015. As a result, Dhoni's captain-ship will remain under pressure and scrutiny, till January 2016. However, the ongoing Rahu-Venus Dasha period for him shall help him to retain his captain-ship.
However, Dhoni will have to control his anger, and he should not to get confused. He must take his own time in taking important decisions. Plus, he should do his bit to coordinate effectively with his team mates and management, in this course of time.
The transit of Rahu in the Ascendant House tends to bring controversies and legal matters to fore, which is evident in case of Dhoni. So, he must take care in this regard.
Meanwhile, Dhoni will need to take a good care of his health and well being.
Conclusion – Overall, though, Ganesha feels that despite all seemingly insurmountable problems, Dhoni will be able to contribute to the Indian cricket till June 2017.

With Ganesha's Grace,
The GaneshaSpeaks.com Team