Successful Career Is Yet To Happen For Rahul Gandhi!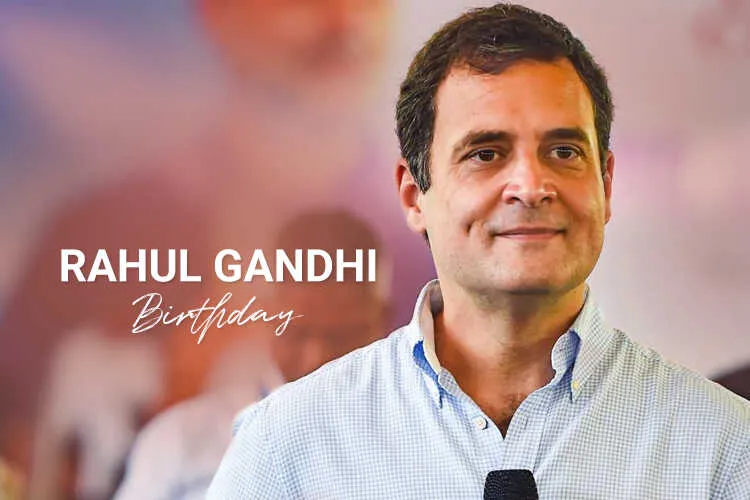 Born and brought up in the Gandhi family, Rahul Gandhi is a member of the Indian parliament. He also served the position of Indian National Congress from 2017 to 2019.
On a personal level at the start of his career, he also worked for a monitor group in London for three years and in 2002 he became the director of a technology outsourcing firm based in Mumbai.
---
Rahul Gandhi Kundli
Date of Birth: 19th June, 1970.
Time: Unknown.
Place of Birth: Not Known.
As per Rahul Gandhi birth chart, he is born as Capricorn ascendent ruled by Saturn, which makes him a reserved and serious minded person. Rahul Gandhi's zodiac sign is Sagittarius which makes him a very engaging and spontaneous person. Also, owing to Sags traits, he takes risks on his own terms and never fears for anyone. The king Sun and warrior Mars conjunction makes him an extremely fiery person which gives him an ability to destroy enemies. He is blessed with the power of courage and dynamism in his personality. Mercury in Taurus makes him a very tangible and enduring person.
Now let's discuss what the 2021 year has stored for him and what you can expect from him this time.
Check what 2023 stored for you with your Free 2023 Horoscope Report.
---
His Future In Politics In Coming Time
As per Rahul Gandhi kundli, a very strong and new start in politics is strongly indicates in his horoscope.Saturn transit in Capricorn will give him new start in personal life with good strategic mind.He will be very serious towards the career in politics and will make necessary changes as per requirement.Benefic Jupiter transit in Aquarius sign will bring new energy in family life.He will get the much needed support of the family and he will able to solves the issues which was creating trouble for him.Rahu transit in the Taurus over natal Mercury in the horoscope will make him very much creative this time and he might think something new for his career in politics.As he is going through Rahu Mahadasha currently and dasha has just started recently which will give him that desire to achieve more success in life.Rahu dasha will surely make him dominant person as well which will surely help in politics as well.
---
This Year – He Might Be The Game Changer For Congress
Yes, as the transiting Saturn in Capricorn, it will bless him with the ability to construct things and make a new start for his political career. The taskmaster Saturn will bless him with a lot of stability and power this year. Transiting Jupiter over Rahu will give him the much needed relief this time and you can expect some serious political strategies for Congress in the coming years.
Rahu transit in Taurus over natal Mercury will help him to communicate to masses on a larger level. His communication ability will enhance and will bring in new changes in the party along with the strong intelligence power. The son of Rajiv Gandhi – the late Prime Minister of India, is going through Rahu mahadasha which has just started, will again trigger his desire level and authoritativeness in politics. This might be the trailer for him which is coming in near future.
Know various Raj Yogas in your horoscope which will give you success in life? Get your complete Janampatri analysis.
---
Tested Positive For Covid 19, So What The Future Holds For Him?
Yes, as he was tested positive for covid 19 and on the health level, he has to be alert as well. As per Rahul Gandhi kundli analysis, the transit of Rahu in Taurus is not that favourable on the health level and in the coming time health issues might emerge.He must stay alert during this time. Ketu transit in Scorpio is also not favorable on health level as it also can create a lot of trouble in day to day life. As Rahul Gandhi is going through Rahu mahadasha and Rahu Antardasha, the time is not good for his health.Also, some unexpected health issues might occur in the future.Considering this, The member of Congress – Rahul Gandhi must take care of his health by taking proper food.The transits are not that good and might have to visit hospitals very frequently as well.
Various Transits happening in the year 2023 ! Find in Detail with Dates.
---
What The Future Stored For Upcoming Elections?
As per the Rahul Gandhi future astrology, definitely the future is very good for Congress.Sonia Gandhi sons best time is yet to come in his political career. Saturn transit will give a strong foundation and he will know what are the key things which need to work on very clearly. Jupiter transit will give him a very hopefulness and positivity in all his work strategies. Mars transit will be very promising and receive high motivation to go ahead in life. As he is going through Rahu dasha,this dasha will encourage to do courageous and strong things in political career. When the elections are going to be held, he will be in a stronger period than his present life, which will surely be a great positive period for him.
As per Rahul Gandhi astrology, many more changes in his personal and professional life are going to take place. Even though he has crossed 50 years, still the peak time in his political career is yet to come. In future, Congress will emerge back strongly and his contribution will be enormous which may bring success. He is at the starting point of something new in his life and this birthday will surely bring many more changes in his life. Definitely, this brings good news for Congress as well.
We wish a very Happy Birthday to Rahul Gandhi and best wishes for the coming year!
Will You Get Fame & Recognition Like These Politicians? Know Your Future – Talk To Expert Astrologer Now!
With Ganesha's Grace,
Astrologers trained by Shri Bejan Daruwalla
The GaneshaSpeaks Team
---
---
Get 100% Cashback On First Consultation