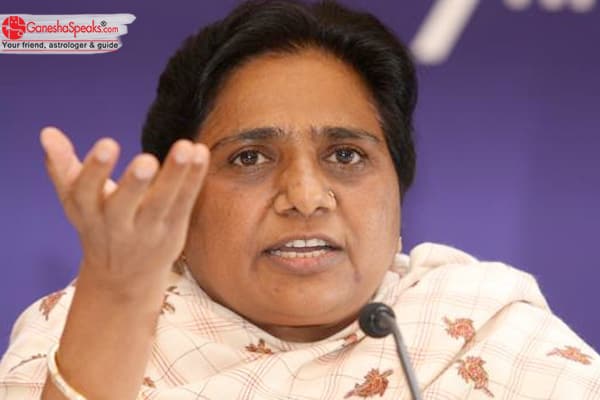 (Image Source: Internet) 
The caste factor is considered to be very important in the politics of Uttar Pradesh. Hence, the Bahujan Samaj Party's (BSP) supremo and the former Chief Minister of Uttar Pradesh - Mayawati had emerged as a capable Dalit leader and succeeded in holding the office for four times. However, during the past few years, the public has turned towards developmentalism. Moreover, they moved away from the two main parties - Bahujan Samaj Party and the Samajwadi Party during the last assembly elections to give a clear majority to the BJP, although it has not ruled Uttar Pradesh for many years, and thereby formed new equations. Yet, in this changed political scenario, Mayawati has maintained her image as a competent Dalit leader. As Mayawati's birthday is on 15th January, we have predicted about her forthcoming year, based on the analysis of her solar horoscope. Read on... 
Mayawati
Date of Birth: 15th January 1956
Birth time: Unavailable 
Place of Birth: New Delhi, India  
Surya Kundli

Planets Have Given Her Struggle And Success 
According to the surya kundli, Mayawati has a mature and political mindset due to the Capricorn ascendant. Besides, she is more sympathetic towards the Dalits and Muslims and has also come into power through them because the lagnesh - Saturn is together with Mars and Rahu. Moreover, she is highly popular in public life as Moon - the saptmesh is in the ascendant house. Further, the combination of Sun (soul), Moon (mind) and Mercury (intellect) gives her good reasoning and amazing decision-making power. But, Ketu in the fifth house and the Saturn-Mars-Rahu combination in the eleventh house also indicates the possibility of struggle in Mayawati's life. However, Jupiter's full aspect on the yogkarak Venus is financially beneficial as per Mayawati's birth chart. Also read about
Narendra Modi
. 
Popular Hold Over Masses To Continue
According to numerology
, the year 2018 is 2 + 0 + 1 + 8 = 11 = 2, which  represents the Moon. Mayawati's date of birth is 15-1-1956, hence her bhagyank is 1 + 5 + 1 + 1 + 9 + 5 + 6 = 28 = 10 = 1, which represents the Sun. As the Sun and Moon are friends, Mayawati will be able to maintain her position in politics by working hard. But Mayawati must also be prepared to struggle during this year as per the predictions. Stars have predicted a challenging year for her. What about your year?
Buy Your Birthday Report- Premium and know what lies ahead in your life
.  
More Struggle And Maturity Foreseen 
As per the analysis of planets in the solar horoscope, Saturn is transiting in Sagittarius sign and
the twelfth house
from the Moon, which indicates the first phase of Saturn's Sadesati. Hence, Mayawati may face obstacles in her activities according to Astrology. Mayawati will also have to work harder than usual and make more efforts.  Further, Ketu's transit over the Sun in the ascendant house can cause physical health problems. Her popularity, esteem and reputation may also decrease. Besides, Ketu's transit over the Moon might increase her mental discomfort. Whereas, Ketu's transit over Mercury will bring maturity in her thoughts and also cause some delusions. Professional success should lead to financial growth. Do you want to grow financially?
Avail the Free 2018 Finance Report and get the much needed guidance
. 
Her Credibility Will See An Upturn
Further, Rahu's transit in Cancer sign and
the seventh house
will increase the chances of defamation in public life. Moreover, Jupiter is transiting in Libra sign and through
the tenth house
from the Sun and Moon. Additionally, Jupiter's fifth aspect is on the yogkarak Venus. Hence, you will be able to progress, in spite of several difficulties in 2018. Besides, from 2-5-2018 to 6-11-2018, the combination of Mars and Ketu in Capricorn sign may create a very awkward situation in the political field. But, after 12-10-2018 Jupiter will enter Scorpio sign. Hence, Mayawati's credibility and prestige will increase in public life. You may also like reading about
Smriti Irani
.
Ganesha blesses Mayawati with all types of abilities to fulfil her desires.
With Ganesha's Grace,
Suresh Sharma