The love equation of Ranveer Singh and Deepika Padukone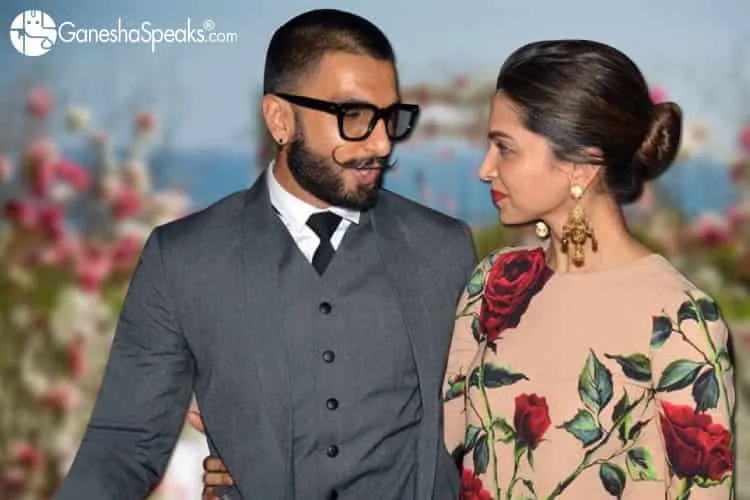 Deepika Padukone and Ranveer Singh Wedding and Their Marriage Astrology
Ranveer Singh Bhavnani or simply, as we know him – Ranveer Singh has carved an admirable niche for himself in the contemporary Bollywood lead heroes league in quite a short time – despite an obvious lack of a filmy background or a filmy godfather. After getting selected and thence hand-picked for a lead role in Yash Raj Banner's Band Baaja Baarat, Ranveer ensured he did not fall back in the race, in spite of tough competition and very very difficult, unpredictable industry standards. With films and performances like Ladies Vs Ricky Bahl, Lootera, Goliyon ki Raasleela – RamLeela and Gunday – Ranveer sure has thumped his identity on the Hindi film industry. Add to it, his recent 'real-life' pairing with his 'reel life' female lead [in RamLeela], the gorgeous reigning queen B – Deepika Padukone, and Ranveer looks set for a long and enviable innings in Bollywood.
The connection between the young and charming love birds initiated after each confessed to have an attraction and fondness for the other, leaving the media in frenzy. The grounded and very practical Deepika seems a complete opposite of the effervescent and always super-charged Ranveer, yet the relationship seems to be getting stronger. Has Deepika fallen hard and strong for the inimitable Ricky Bahl? Is Ranveer Singh, who seems to be quite a hit with the ladies (he been already linked in the past with his co-stars Anushka Sharma and Sonakshi Sinha) for keeps?
Ganesha, with the help of Indian Vedic Astrological System, analyses the fortunes of Ranveer Singh and Deepika Padukone relationship that seems to have stirred the public imagination. Read on!
Please Note that in absence of the exact birth time for both the people, the following analysis was done basis the Surya Kundli. [In absence of the birth time, the Moon's position at the time of birth cannot be ascertained, and is thus not mentioned.]
---
Following are planetary positions in Ranveer and Deepika's respective Solar Charts
| | | |
| --- | --- | --- |
| Zodiac Sign | Planets in Ranveer Singh's Chart | Planets in Deepika's Chart |
| Aries | Rahu | Rahu |
| Taurus | Venus | |
| Gemini | Sun, Mars | |
| Cancer | Mercury | |
| Leo | | |
| Virgo | | |
| Libra | Ketu, Saturn (R) | Ketu, Mars |
| Scorpio | | Saturn |
| Sagittarius | | Mercury, Venus, Sun |
| Capricorn | Jupiter (R) | Jupiter |
| Aquarius | | |
| Pisces | | |
Ganesha notes that in both the charts, Rahu and Jupiter are in the same Zodiac Sign. Ranveer Singh's Sun and Mars are in opposition with Deepika's Sun, Mercury and Venus.
Also, it is noteworthy that Ranveer is born with a retrograde Jupiter, whereas Jupiter is direct in Deepika's (Solar) Birth Horoscope. Basis this comparative analysis of both these actors (Solar) Charts, Ganesha answers the following questions about the possible fate of their relationship –
---
Question - Will this relationship be sustainable?
Answer – As per the universal Zodiac, the Zodiac Sign Libra indicates personal unions. In other words, this Sign stands for marriage, conjugal and related matters. In the case of Ranveer and Deepika, note that there is a heavy affliction in Libra Sign (refer the comparative chart). Ranveer has Ketu and retrograde Saturn posited in the Zodiac Sign Libra – both of these are separative planets by nature. On the other hand, Deepika has Ketu and Mars in her Libra Sign! Ketu is 'Mangalvat', as per Vedic Astrology, which means that Ketu acts like Mars, it possesses Mars like strength. This combination in Deepika's Chart heats up the 7th house of Personal Union. Thus, overall both these individuals may have a very strong personality in love and marriage, and may also see some struggle in this area.
Also, Ranveer's Mars in Gemini opposes Deepika's Venus in Sagittarius. Venus is the significator of love and marriage. Plus, there is Sun to Sun opposition in both the Horoscopes – it is here, we can easily argue that opposites attract! Well, that's true, but just 'attraction' cannot promise a successful union. And, the other planetary combinations do not indicate much substance.
Thus, considering all the astrological factors explained above, Ganesha really doubts the sustainability of this particular relationship. Even if this looks a pretty promising relationship at present, the couple may have a rocky relationship in the future. A very careful handling of this relationship will be required, if it has to continue. Both of the individuals are strong minded, and will have to nurture the relationship a lot (and equally), so that it doesn't take a wrong turn.
---
Question - Is this a Starry match?
Answer – After studying the planetary positions explained above, Ganesha feels that Ranveer Singh and Deepika will be good as friends. However, as lovers there may be quite a few differences between both of them. Ranveer's Mars opposing Deepika's Venus although indicates attraction, the relationship can be prone to possessiveness and jealousy. Ranveer's retrograde Saturn falling on Deepika's Mars and Ketu in Libra can also bring some hurdles in relationship. This factor may not bless them with a long and lasting relationship, unless both of them are ready to work pretty hard to maintain their relationship.
---
Question - How will this relationship affect the either person's success in films?
Answer – There are no stronger planetary contact points indicating presence of such a factor or a strong influence of either on the other's career. That means, both should avoid expecting much from each other in terms of their careers (if they do that, at all), and must keep operating independently, as far as their careers are concerned.
---
Question - Is there a marriage on horizon?
Answer – In absence of the exact birth time, the marriage aspect is very difficult to foretell. Surya Kundlis of both individuals, however, do not indicate their marriage in the nearer future. However, after minute study of both the Charts, Ganesha feels that between November 2014 and July 2015, we may get to hear something regarding the future of this relationship – from the couple. Now, this could be a news of any type!
You may also get your horoscope analysed by expert astrologers! Avail of 100% Personalised Your Horoscope Analysis report NOW!
Talk to an Astrologer Now, First Consultation with 100%
Ganesha's Grace,
The GaneshaSpeaks Team
Your may also like to read:
---
---
Get 100% Cashback On First Consultation