Stars do not look set to relent and make relationships easier for Karisma in the coming months…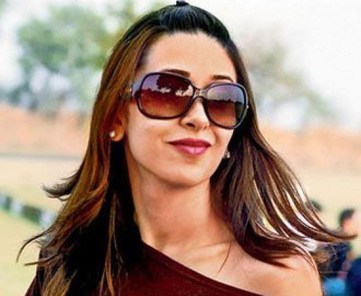 Karisma Kapoor Date of Birth:- 25th June 1974 Time of Birth:- Unknown City of Birth:- Mumbai, India

It was her family's age-old and clearly marked tradition that none of the female family members would join film industry or work as an actress. But, at the tender age of 17, she dared to go against her family and chase her dreams. She is none other than Karisma Kapoor, the elder daughter of the yesteryears' actor couple Randhir Kapoor and Babita Kapoor. As an acting professional, Karisma went on to earn a good name for herself over the years. On the personal front, however, she has had a rather challenging life. Her high-profile engagement with Abhishek Bachchan in 2002 ended in a break-up four months later. She then married her friend and Delhi-based businessman Sanjay Kapur, and bid goodbye to the Hindi film industry. However, her married life has been in the news for all the wrong reasons. Karisma and Sanjay, parents of two, have been living separately for some years now. The reports suggest that the couple has finalised their divorce, and are now fighting for the custody of their two children. Also, there is a rumour that the Zubeida star is going to get married again - to Sandeep Toshniwal, who is the CEO of a successful pharmaceutical company.



Karisma Kapoor's Surya Kundli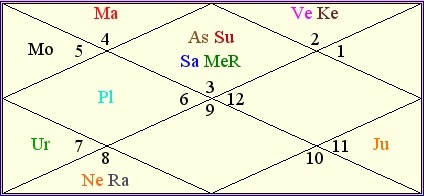 Is it in her stars that Karisma keeps facing failures on the love front? Will she get second time lucky? Ganesha, with the help of Vedic Astrology, analyses Karisma's Surya Kundali, and finds out if her second marriage would succeed.

Ketu – the culprit?
Ganesha observes that Venus, the significator of love relationship, is placed with Ketu in Taurus Sign in Karishma's Chart. Venus in Taurus blesses her with artistic talent, but Ketu with Venus does not allow her to enjoy the spotlight for a long period. She got busy with her family affairs and love life, when she was one of the top heroines in Bollywood. Ketu – a strong malefic – troubled her married life too, because it is placed in Universal Zodiac's second Sign Taurus. This largely indicates family problems.

Will her second marriage be successful?
The transiting Jupiter will be in the 2nd House from Karishma's Natal Sun, Saturn and Mercury during the year ahead. Saturn will be transiting over Rahu in her Chart for two and a half years, starting November 2014. The transiting Rahu and Ketu will be forming a Square aspect with her Sun, Saturn and Mercury for one and a half year, starting July 2014.

All the aforementioned factors indicate a stressful personal life. As it is, Venus and Sun two planets are strongly afflicted in her Natal Chart. She will have to work very hard to build a strong nest, if she is really serious about tying the nuptial knot with Sandeep Toshniwal, as rumored, or even with anyone else.

It is to be noted that the success of this marriage, if it happens, will also depend on the analyses of the actual Kundalis of both the people involved and the Muhurat of the marriage.


Ganesha wishes Karisma good luck!

With Ganesha's Grace,
The GaneshaSpeaks Team


You may also like to read:
Is your match made in heaven? Find out, before it's too late!
Why is it important to get Kundalis matched before tying the nuptial knot?
Tangled in a complicated web of your relationships?
Want a straight forward answer to a confusing marriage-related issue?
How Mangal Dosha or an adversely posited Mars can affect you?