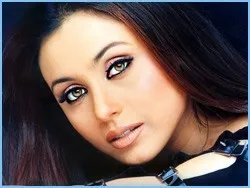 Rani will need to create her own opportunities in the year ahead, says Ganesha.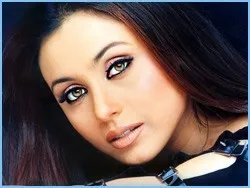 She is undeniably a great actress, a vivacious, versatile performer, and a powerhouse of talent. She is Rani Mukherjee, the petite, effervescent actress and a graceful lady who belongs to the illustrious Mukherjee-Samarth Bollywood family, and who debuted on the silver screen with a small budget Raja
ki Aayegi Baraat in the year 1997.
Once a favourite of Bollywood biggies like Karan Johar, Rani ignited the screen with her memorable performances in numerous roles in her heydays, and was viewed as someone with a great potential. However, despite that special spark and expansive critical acclaim she garnered, Rani, today, has been relegated to the background by a motley bunch of star progenies, glamorous beauty queens and plastic models. Her personal life too has been a cause of much speculation lately, and although, to Rani's credit, she has managed to keep absolutely quiet about it, it is something that has affected Rani's aura as a Bollywood bee.
In the past too, Rani did come under the scanner for choosing wrong roles, for her allegedly screechy voice and even for her arrogance on the film sets, yet, time and again, she silenced her critics with her substantial, strong roles. Her last memorable role as a journalist in the real life sketch No One Killed Jessica was surely an act to remember. Her performance as a deaf, blind and mute Michelle in 2005's spectacular movie Black remains her best till date. It was the same role that put her in the league of the gifted actresses of her time. The other notable films of her illustrious career include – Saathiya,

Bunty aur Babli, Kuch Kuch Hota hai, Hum Tum, Paheli and Kabhi Alvida Na Kehna. Rani has won a total of seven Filmfare awards, and her earnest fans have
always expected her to come up with a fiery performance.
Rani celebrates her 34th birthday on 21st March 2012. Will she be able to revive her flailing Bollywood career? Will she make a deserving comeback finally? And, when will she settle down in happy matrimony? Ganesha, with the help of Vedic Astrology, looks at the natal chart of this talented actress to predict about her future.
Rani Mukherjee
Date of birth:- 21st March 1978
Time of birth:- Unknown
City of birth:- Calcutta, WB, India
---
Rani Mukherjee's Surya Kundali:-
---
Astrological Observations
Till the middle of May, Jupiter will be transiting through the 2nd House from Rani's Natal Sun, Mercury, Ketu and Venus in Rani's chart. Post May 2012, Jupiter will be forming Sextile with these planets.
Saturn will maintain Trine with her Natal Jupiter and Square with the debilitated Mars.
Till the end of 2012, transiting Rahu will be in Trine with the Stellium in Pisces, and later it will be in the inconjunct aspect.
Saturn is retrograde in Rani's Natal chart. Transiting Saturn will be retrograde in Libra till 15th May 2012, then it will be retrograde in Virgo over Rani's Natal Rahu.
---
Astrological Predictions
The year ahead doesn't look very great for Rani Mukherjee, because there are no major planetary transits happening in her chart.
Ganesha feels that Rani may not enjoy her film career during the year ahead.
She may remain frustrated, and if not careful, she may also get depressed.
Rani will have to control her anger/temper not only while dealing with media but also while working with the co-stars.
She might now seriously think about her personal life and get into a relationship or disclose her relationship.
Rani may face heath problems during the year ahead.
Financially, the year ahead is not that great for her.
She may receive applauds for her performance, but she herself wouldn't be very satisfied with the acknowledgement that she receives.
In short, as her powerful Natal planets are bereft of any major benign aspects, the year ahead looks dim and dull for Rani Mukherjee's film career. She will need to create her own opportunities by being proactive and positive in all aspects of her life. Ganesha wishes her a very happy birthday, and
blesses her with His good wishes.
With Ganesha's Grace,
The GaneshaSpeaks Team
Talk to our Astrologers First Consultation with 100% Cashback!
---
---
Get 100% Cashback On First Consultation