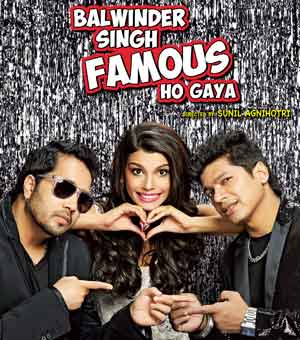 Balwinder Singh Famous Ho Gaya, is a Hindi feature film, which is made on a pretty tight budget. The unique selling point of this movie is - it's a comedy film that is fully hilarious that star casts two great singers of Bollywood cinema Shaan and Mika Singh in the lead role, plus a bonus treat of watching gorgeous Brazilian model turned actor Gabreila Bertante on the silver screen. The story line revolve around the two lead actors - Shaan and Mika, both try to win the heart of the gorgeous Gabreila after coming to Mumbai. The funniest element is that both Shaan and Mika has the same name Balvinder Singh. The star cast also include Anupam Kher and Asrani, the two most talented comedians in Bollywood film industry.

Audiences will expect much from the songs, as two great singers are involved in the film, however, only time will tell how the songs will fare. Anyway, it will be a real treat to watch Gabreila performing to those dancing steps to the tune of Hindi music. Gabreila not only looks pretty, but stunningly hot. The movie is produced by Vandana Jain and Sunil Agnihotri, and directed by Sunil Agnihotri. It would be fun to watch the movie, and if it could really make the audiences laugh, what more can we ask from a tight budgeted film.


Balwinder Singh Famous Ho Gaya
Release Time Chart
26th September 2014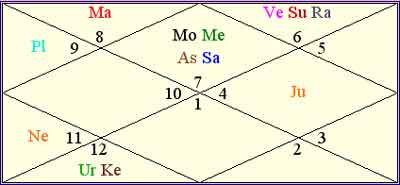 Astrological Observations
Ganesha observes that Ascendant Lord Venus is debilitated thus weak in the 12th House of release time chart.
Jupiter is placed in the 10th House and Saturn is giving 10th aspect to the 10th House plus Jupiter.
Mars is Swagruhi in the 2nd House of finances.
Jupiter gives 5th aspect to the 2nd House of finances.
Sun the 11th House of gains Lord is in the 12th House.
Astrological Predictions
The first and striking point is, Ascendant Lord Venus' debilitation in the 12th House of the chart. Venus is the prime significator of arts and creativity thus film line too. In that case, Venus' this position plus it's association with Sun and Rahu in the 12th House of loss would prove to be negative for film's success.
Jupiter is exalted in the 10th House but Moon the 10th House Lord is placed in the Ascendant - it's Vargottami. Moon is placed with Saturn and the first planet that it will conjunct is exalted Saturn. This indicates that first week and first weekend's business is going to be very average in case of this movie.
However, after detailed study Ganesha feels that in some of the northern territories, this film is likely to do well as Cancer, Scorpio and Pisces - these three Signs signify northern direction and Exalted (powerful) Jupiter is placed in Cancer; Mars is Swagruhi in Scorpio, and Ketu is placed in Pisces. Now out of these three planets, two planets are very powerful thus Balwinder Singh may become bit famous in some northern territories.
From business point of view, it will not be a great success at the Box Office.

Ganesha wishes good luck to the cast and crew of Balwinder Singh Famous Ho Gaya!

You may also get your horoscope analysed by expert astrologers! Avail 100% personalised Your Horoscope Analysis report NOW!

Ganesha's Grace,
The GaneshaSpeaks Team

Your may also like to read: