Virat Kohli and Anushka Sharma – Are they really made for each other? Finds Ganesha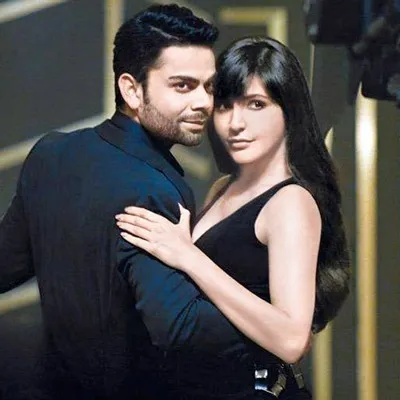 In the run-up to the current England tour, the Test leg of which the Indian cricket team tamely lost 1-3, Virat Kohli was hailed as one of the finest batsmen in the world and perhaps the only one who had the ability to beat all of Sachin Tendulkar's records. But, in this game of glorious uncertainties, the tables have turned. And how! Virat Kohli failed to come up with a single decent score, and already experts are predicting that he may well turn out to be just another shooting star of the Indian cricket like Vinod Kambli or Sandip Patil. The blame for his miserable performance is being laid – fairly or unfairly – squarely on the fact that his girlfriend Anushka Sharma tagged along with him, of course with the permission of the BCCI.
The Indian cricket board made the exception of allowing a player to take his girlfriend along, because the couple was believed to be "tying the knot" soon. Anushka Sharma – the female lead of many Bollywood films like Rab ne Bana Di Jodi, Band Baaja Baaraat and her upcoming Dil Dhadakne Do – has given more fodder to the rumour mills by now claiming, through her spokesperson, that she has no plans of marrying the mercurial Virat Kohli. Bollywood's hot girl Sharma and Indian cricket's new golden boy Kohli have been grabbing the headlines, ever since they were first spotted together, during Indian team's New Zealand tour. Also read about Virat and Anushka's marriage horoscope.
Whether they do get married or not – only time will tell. Ganesha here attempts, with the help of Vedic Astrology, to predict whether the cricketer Virat Kohli is cut out for the actress Anushka Sharma.
Actress: Anushka Sharma
Birth Date: May 1, 1988
Birth Place: Ayodhya, India
Anushka Sharma Surya Kundli


Cricketer (Indian National Team): Virat Kohli
Birth Date: November 5, 1988
Birth Place: Delhi, India
Virat Kohli Surya Kundli
Ganesha notes that Venus, the significator of love, is in Trine between Virat and Anushka's Chart. This factor indicates scope of a harmonious relationship between the two. However, it is to be noted that Venus is debilitated in Virat's Chart, whereas it is powerfully placed in Taurus in Anushka's Chart, that too – it is Aatmakaraka planet for her. This indicates that in the relationship, Anushka may try to dominate. As it is, she is born with an exalted Mars, so she would wish to dominate. The couple's compatibility doesn't look great either, as there are no stronger planetary contact points in the Horoscopes. Both have Saturn, Rahu and Ketu in the same Sign. Retrograde Jupiter in Virat's Chart falls on Venus in Anushka's Chart. Only these two contact points do not indicate a stronger probability of marriage.
However, do note that this analysis is basis the Surya Kundlis (as the Birth Time is unavailable for both the people), and for purposes of marriage, a complete Horoscope match is the best.
As Virat is born with a debilitated Venus, he is likely to be in more number of relationships, before he settles down. Anushka with Venus in Taurus is the one who would be looking for a 'family man', but is Virat the one?
Considering the planetary positions found in both the Surya Kundlis, Ganesha strongly feels that the couple may not be in a decisive mode at present. They will want a little more time to decide on this relationship and its future.
At present, although they may be having a good time with each other, Rahu's transit over Virat's Natal Venus is going to be crucial, till January 2016, so this relationship may either remain under the dark cloud till then, or the couple may remain indecisive about the matter.
If the couple actually gets married, mutual loyalty and trust shall be the deciding factors, determining the stability of their marriage relationship. All in all, Ganesha advises the couple to take a well thought out decision.
You may also get your horoscope analysed by expert astrologers! Avail 100% personalised Your Horoscope Analysis report NOW!
Ganesha's Grace,
The GaneshaSpeaks Team
Your may also like to read:
---
---
Get 100% Cashback On First Consultation