Is it lock screen for Satyam Computers?
Introduction: Satyam Computer Services Ltd, which has been offering a gamut of services to the business and technology leaders across the spectrum is in news these days. The company plunged into a deep crisis, as B Ramalinga Raju resigned as its chairman after admitting to a Rs.65.92-billion (Rs.6,592-crore) fraud and subjected himself to the "laws of land." In the light of this, Ganesha predicts and reports the consequences of the biggest scam of the corporate world.
Market Cap: Rs.12059.16 Crores
Directors and their Relatives 8.61
Corporate Bodies 0.7
Financial Institutions 14.71
Foreign Holdings 67.47 Govt
Other including Indian Public 8.5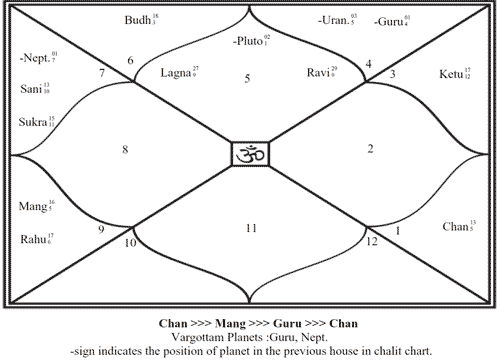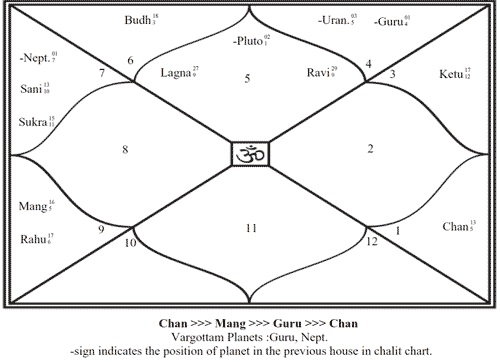 Get Your Hand-Written Janampatri By Our Experts.
---
Astro Analysis
Ganesha views that Raju has Leo Ascendant. Sun is placed at 29 degrees in the first house of his chart. Mercury is posited in its own sign in the house of economics. Venus is also posited in its own house, along with Saturn. Jupiter is placed in the twelfth house in Cancer. Ganesha views top foreign affairs on looking at his Sun Chart and Navmashma Chart. Also, this combination bestows him a Rajyoga. But, he has an unfavourable Rahu and Mars combination in the fifth house – the house of speculation, which is greatly responsible for his present situation and he is held guilty of fraudulent activities.
The favourable Periods during his tenure
From 18-11-74 to 31-07-80, Sun was posited in the first house.
From 31-07-08 to 31-07-90, Moon was posited in ninth house, the house of destiny.
From 31-07-90 to 31-07-97, Mars was posited in the fifth house
Unfavourable Periods
Ganesha foresees Rahu-Venus, Rahu-Sun, Rahu-Moon, Rahu-Mars periods in the coming years, which is not favourable and he may be jailed. These unfavourable periods will remain till August 01, 2015. From November 18, 2009 to the next 18 months, Mars and Rahu will be in combination in his natal chart and Rahu will pass through it, which will add fire to the fuel.
---
What Next?
Currently, Saturn is transiting through Sun, which brought bad name and fame. Moreover, Jupiter and Rahu are in combination in the sixth house, which may create entangled legal issues and an arrest warrant may be issued in his name. Moreover, the solar eclipse, which will occur in the sixth house of his Sun chart and in the tenth house of his Moon chart on 26th January 2009 will have a negative impact on his life.
For more, or for astrological consultation on any area of life – Speak to An Astrologer
With Ganesha's Grace,
Dharmeshh Joshi,
www.GaneshaSpeaks.com
---
---
Get 100% Cashback On First Consultation