Taslima's a tough nut to crack and shall never cease to speak the truth, says Ganesha!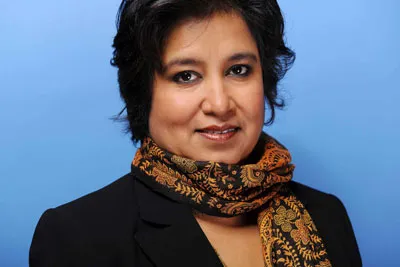 There are high chances of some Honour being conferred upon Taslima till January 2016!Taslima Nasrin has been a person, who has consistently crusaded for truth and has been fearlessly rasing her voice in support of all that is right and true. Being a champion of secularism in the real sense of the word and an advocate of freedom of thought, gender equality and human rights, she has now become a person whose voice has mostly been muzzled! Though, she has been a crusader for truth and free-speech, she has faced various problems, including being persecuted, threatened and intimidated and even receiving life-threats! She has been unable to return to either her home in Bangladesh since 1994 or to her adopted home in West Bengal and thus she is Currently living in the U.S.. What lies ahead in the year for the firebrand writer? Are there more threats or problems in store? Find out in the article…
Taslima Nasrin
Date of Birth :- 25th August, 1962
Time of Birth :- Not Known
Place of Birth :- Mymensingh ,Bangala Desh
SOLAR CHART

Get Your Hand-Written Janampatri By Our Experts.
[Owing to the unavailability of credible birth-time of Taslima, the analysis and predictions have been done on the basis of the Solar Chart/ Surya Kundli with the help of her birth-date and birth-place only.]
---
1) What is the astrological picture of a person who has had such a checkered life, despite always being crusader for truth?
Astrological Predictions :-
Ganesha observes that her Sun, who is well-fortified in his own sign Leo and further getting emboldened by the auspicious aspect of Jupiter, who is placed in the Sign of Aquarius has made her a person who loves truth loving and the one who seeks justice for anyone including herself. This can be considered the point of origin of her quest for truth, righteousness and for what is right. She is soft spoken and logical but at the same time is also fearless and this unique combination is because of the strongly placed Sun, Jupiter and Mercury. Her Horoscope reflects that she is a person who would not shy away from reaching her goals in spite of threats to life, and Ganesha says that her detractors and adversaries cannot harm her so easily as the key planets of her Horoscope are in very strong positions. The powerfully placed Mercury and Jupiter have blessed her to become an excellent writer who will be able to create a strong connect with the right-thinking people. She will be insightful, well-informed and logical in her views.
---
2) Will she ever get the recognition for speaking the truth on various issues?
Ganesha feels that there are very bright chances of Taslima getting great recognition for her resilient efforts to create awareness about the issues which have been stifled for long and for her contribution with the pen. The current transit of Jupiter will prove to be beneficial, as such a potent planet is passing over a powerfully placed Sun in the Sign of Leo. Especially the time till 30th January, 2016 will be most advantageous. There are strong chances of success, honour and recognition in not only her country but also in various other countries. Ganesha even goes on to say that the position of planets in her Solar Chart may get her eternal fame and popularity on world level.
---
3)What lies for her in the year ahead – any more threats or problems indicated?
Important astrological observations:
Jupiter will be transiting over her Sun, aspecting her Natal Jupiter in Aquarius Sign, till 11th August, 2016 in her Solar Chart.
Saturn will be aspecting her Natal Saturn in Capricorn and will be aspecting her Sun placed in the Leo sign, till January 2017.
Rahu will be transiting over her Mercury and Venus in Virgo till January 2016. It will be transiting over her Sun post January 2016. Ketu will be transiting over her Jupiter in Aquarius during this time.
Astrological Predictions :-
Ganesha feels that the problems that she has already faced in the past may continue to haunt her and there may be some threats from fundamentalist groups as after January 2016, her Natal Jupiter and Natal Sun will be under the influence of the transiting Ketu and Rahu respectively. She needs to be a bit more calculative, strategic and cautious, says Ganesha, but the all-knowing master also quips that the path of truth does not have room for cowardice and diplomacy. Her relations with people in power and governmental positions may get strained. Because of Saturn's hard aspect (10th House Aspect) on her Natal Sun, she will continue to face opposition and hostility from some segments of people who may not conform to her views. Despite all the problems, the positive effect of Jupiter will keep some problems at bay!
For Instant Solutions! Talk To Astrologer Now.
Ganesha wishes a great time ahead to Taslima Nasreen.
With Ganesha's Grace,
Rantidev A. Upadhyay
The GaneshaSpeaks Team
---
---
Get 100% Cashback On First Consultation