Future Of Virtual & Augmented Reality in India Astrology Predictions
Published on August 24, 2021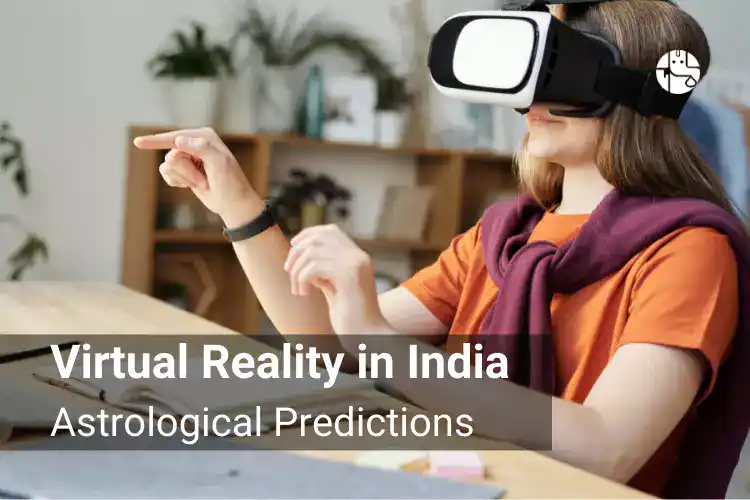 Do you feel like you're in a science fiction movie when you hear "virtual reality"? Well, it's not fiction anymore. Immersive experiences have already become a part of everyday life. But How Virtual reality's future can reshape our lives in myriad ways, let's see.
It's conceivable that we will encounter augmented reality in ways we cannot fathom in the future. However, the world of technology has lots of exciting developments to anticipate. A quicker, lighter, and cheaper virtual reality future is on the way. In contrast, improvements in smartphone technology will allow us to have smoother AR (Augmented Reality) and VR experiences on our phones, resulting in slicker AR and VR experiences.
The advent of 5G wireless networks in India will let us enjoy the new technologies anywhere we go. In the coming time, Virtual Reality and related technologies would be widespread in the healthcare industry, especially the recently tested and demonstrated in the treatment of phobias and anxiety disorders. Using biosensors to measure bodily reactions, therapists may determine if patients respond to stressful circumstances in a safe, virtual setting.
This is just one of the examples. Technologies like these can help countries like India solve many problems. Today, we are trying to understand, with the help of ancient science, how this new leap in the world of science can help us.
In short, let's understand Virtual Reality's future in India with the help of Vedic Astrology.
India's Horoscope & Planetary Positions For Virtual Reality Future
The Taurus ascendant is in place. Rahu is in Taurus, and Ketu is in Scorpio. Mars is housed in the sign of Gemini, while the other six planets (including the Sun, Moon, Saturn, Venus, and Mercury) are found in Cancer. Planet Jupiter is in the Libra sign and is located in the Vishakha Nakshatra.
Currently, Mars is transiting the Sun, Moon, Saturn, Venus, and Mercury in Cancer. Planet Ketu is passing through the sign of Scorpio, and the planet is orbiting the entity of Rahu. Jupiter is transiting into Aquarius, while Saturn is now located in Capricorn. Transiting Venus is located in Gemini. Transiting Mercury and Rahu are in Taurus.
Know where your planets are in your birth chart by accessing your Free Janampatri.
Role of AR and VR in Content Consumption
We must consider Mars in terms of digital technologies and the digital world. Mars is the lord of the 7th house and the 12th house in Indian astrology (Abroad & Other countries). Jupiter is in Libra and is making an appearance on Mars. At the moment, the Sun and Venus are transiting Mars. Nowadays, mobile bearers are utilising augmented and virtual reality technologies for 5G. As a result, we may conclude that augmented and virtual reality will absolutely flourish in India. Additionally, consumption of AR and VR technology will be driven by Strategic Imperatives, the growth environment, and the opportunity for 5G in AR and VR.
AR & VR for Education in India
Several studies show that virtual reality (VR) is proven to help students increase their exam scores and recall their knowledge. Even the least receptive of users may benefit from it, and therefore it leaves no learner behind. Planets, as we saw above, predict that VR, in the future, would revolutionise both the workplace and students.
If you are worried about your children's education or their future, Talk To An Astrologer today for expert guidance.
Ending Note
For what it all offers, there are many ways the revolution in both Virtual Reality and Augmented Reality can help the world make a better place. In India, with the introduction of 5G and favourable planets, the future looks bright, too. Let's cross our fingers for a future full of possibilities.
Your Accurate Personalised Astrology Predictions Are Just A Call Away – Talk To Expert Astrologer Now!
With Ganesha's Grace,
Astrologers trained by Shri Bejan Daruwalla
The GaneshaSpeaks Team