Mars Transit In Gemini 2021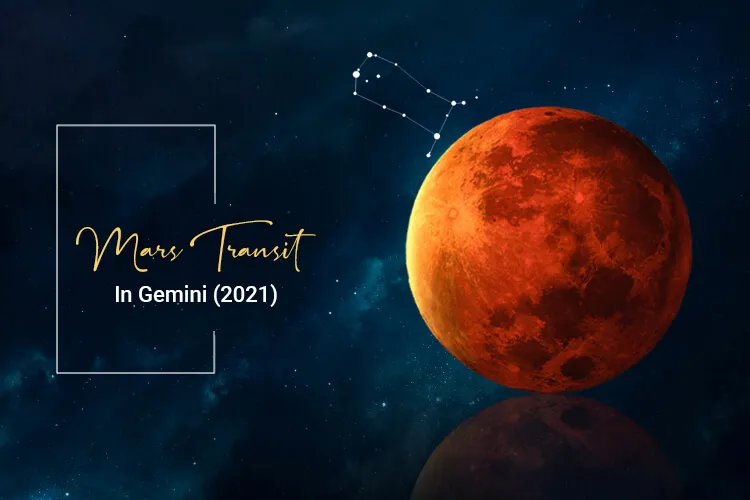 Earth's neighbouring planet packed its bags to visit the Gemini sign. Named after the Roman God of Wars, the fierce red hot planet – Mars is said to be the commander in chief of all the nine planets in the solar system. The warm planet is entering Gemini Sign on April 14, 2021, at 01:41 a.m. and will reside till June 2, 2021, 07:17 a.m. To discover what Mars transit in Gemini has in store for us, the Astrology experts have warmed up to the warm planet to serve some astrological predictions. In Astrology, the third sign is Gemini which is a dual sign of airy element. Although uninvited, the host Gemini is ready to receive Mars in its House with open arms and warm hugs.
It's an interesting cosmic event happening in April as Mercury is in Aries from 16th April, the House of Mars, and Mars is in Gemini, which is the House of Mercury. These planets will be in opposite Houses. This is not something we come across every day. Not only this, but Mercury, Venus, and Sun will join Mars in the journey of transit and conjunctions in 2021.
Mercury Transit in Gemini from 26th May to 7th July.
Venus Transit in Gemini on 29th May.
Mercury Retrograde in Gemini 30th May.
Sun Transit in Gemini on 15th June.
On 15th June, there's also the Sun and Venus Conjunction in Gemini.
The cherry on the top is Mercury and Sun Conjunction in Gemini on 7th July.
It can only be said that Mars is a malefic host who will have the auspicious Mercury, Venus, and Sun to join in the Pawri (party).
NOTE: All these predictions are based on moon signs.
---
Effects of Mars Transit in Gemini on India
Mars entering Gemini House will come bearing a lot of environmental changes. Not only will nature change its colour, but people will do too with their changed behaviour. As the red planet resides in the sign of an airy element, it gets support from the air. The summers in India are quite lethal, but with the hot planet Mars in the picture, the summers will be hotter than ever.
Many people may suffer from heat strokes, as the Sun will be on top of their heads, intensifying the summer! Mars transit will also boost the impulsiveness in a person.
Individuals will have to spend extra energy to solve their curious minds. To get the answers to the mysteries, communication will be enhanced for all. During the Mars transit in Gemini, the communication will be adaptable, diplomatic, and straightforward. The fierce planet will make the natives blunt about everything they say and do.
Mars transit will be favourable for professionals pursuing a career in journalism, information technology, law, etc. This time, the transit of Mars in Gemini will go through Mrigashira, Aadra, and Punarvasu Nakshatra.
---
Impact of Mars Transit in Gemini on Aries
Mars is transiting from Aries' third House. This Mars transit in 2021 is beneficial for health purposes, so people suffering from any previous illness will get favourable outcomes. Aries natives are advised to control their emotions, especially anger. Otherwise, blood pressure and other related problems are likely to crop up. However, Mars transit in Gemini on Aries can have a massive impact on investments and money related matters, so keep an eye on that.
Without hard work, no one can reach their goals. But for Aries natives, the efforts have to be almost double to achieve the targets. It is essential to maintain a balance between your professional and personal life. The transit of Mars in April will prove to be fruitful for you on the career front. The aspect of Mars on the 10th House will make Aries natives more organized and practical at the workplace, helping get recognition and appreciation from their higher authorities. People hunting for new jobs will find it in their specialised area or field of work.
Aries natives are advised not to make promises more than they can. If you cannot deliver or fulfil that promise, problems may make their way to you. The best part about this Mars transit for you is that if you have any general issues with your siblings, you will sort that out and have a happy family time.
Oof, aren't you tired of the same routine? Get your Detailed 2023 Report and explore all the exciting things it has kept for you!
---
Impact of Mars Transit in Gemini on Taurus
The second House of the kundali is of communication, savings, and family. During the transit of Mars in Gemini, the red planet is transiting through the 2nd house, helping Taurus natives to find monetary gains. Also, the transit will give you exceptional returns from your previous investments. Those seeking jobs may get new opportunities knocking on your door, and they will also have the option of choosing a career related to your field. Working professionals may get some incentives or promotion. Entrepreneurs and business people are likely to get a direct benefit from the transit, and those working with foreign clients will also have a favourable time.
Monetary gains will be there from passive sources, but at the same time, unexpected expenses will also hover over you. So it is advisable to keep a tight hand. Otherwise, you may face challenges, and it will be difficult for you to balance your income and expenses. Mars aspects on the fifth House may make Taurus native rigid during the transit period and can hamper the individual's growth. The native is often biased about the change in his/her life because they say 'No'. But this pessimistic behaviour may cause troubles in future. It is suggested to live life only with a down to earth attitude.
While dealing with seniors, Taurus natives should be smart enough to handle the situation diplomatically. Mars transit in Gemini will make your busy schedule a little easy so that you get to spend some quality time with your family and friends. But don't get overwhelmed by this, dear Taurus, because that can lead you to say things unfiltered. For you, it may be a joke, but because of the influence of Mars transit, people around you may take it in the wrong way.
Excuse me, yes, you! We have your daily horoscope ready for you. Take a look!
---
Impact of Mars Transit in Gemini on Gemini
For Geminis, Mars transit will come with a box of assorted cookies. Mars is the lord of the 6th House, which means diseases, enemies, and competitions; simultaneously, the fierce planet is also the lord of the 11th house, and this House is mainly for Profits and Gains. In this transit, Gemini natives will get supersonic results, but these fast results will raise their expectation bar. But this does not mean that they will get these results in favour of what they want. However, when their expectations are unmatched, it can lead to frustration. This built up aggression can burst on the wrong person at the wrong time and can cause havoc in your personal and professional life.
The time we live in today needs us to be extra careful regarding our health. Geminis, this Mars transit in Gemini, you will need to go for regular health checkups, as the stars predict a hike in health problems. An increase in blood pressure, massive headaches, etc., are the most common problem you may face. The natives of Gemini searching for new jobs or those waiting for promotion have a better chance of getting it. International and domestic sales will boost the business for Gemini business people.
Mars has a direct aspect of the 7th House, which is also called the marriage House. So for Geminis, it is suggested to remain cool and calm because it is predicted that they are hot as the hot planet, Mars. Also, there can be ups and downs in their married life. Patience and calmness is the key to a happy married life.
Is the twin sign someone who showers and expresses their true feelings?
---
Impact of Mars Transit in Gemini on Cancer
The impact of Mars transit in Gemini on Cancer will be challenging. Cancer natives have to take utmost care in all areas of life as this transit will bring restlessness and burden of costs. The ratio of income and expenses will be such that it will create a tensed atmosphere for you. Your expenses will go on a hike reaching the hilltop while the profit and gains will swim down the ocean. So it is advisable to plan all the inflows and outflows for smooth functioning.
For working and business people, the Mars transit will be promising as both professionals will receive benefits from foreign firms, which will result in relatively good monetary profits. Talking about the workplace now, it is advised to Cancer natives not to get themselves involved in office politics as this can disturb your peace of mind and productivity. During the Mars transit in Gemini, Cancer natives may also have to fight some health problems related to anxiety. You need to take yourself away from the stress and aggressive atmosphere to stay clear.
Mars has an aspect on the 3rd House, which is the House of your younger siblings. This means that this malefic planet will hamper your brother and sister's career progress, creating problems in their professional life. The only way you can support them is emotional, by spending maximum possible time to boost their inner strength and giving them life tips for their future.
The red planet is not favourable in terms of your married life, so it is suggested to take care of your spouse, especially in terms of health. Don't neglect it; otherwise, it can worsen the situation. Give them your time, love, care, and attention as Munna Bhai said, "Jadoo ki jhappi de daal aur baat khatam" because hugs indeed can take your worries away and solve everything.
Just like hugs, take away all your woos; watching Alia Bhatt's movie can entertain you to the fullest. Read her birthday prediction and see what 2023 has in store for her.
---
Impact of Mars Transit in Gemini on Leo
As Mars is passing through the 11th House, the transit will be favourable and beneficial for Leo natives. The 11th House is also known as the Gain House, so there will be gains for you from all sides. The Mars transit will motivate the professionals to deliver their work with high proficiency, which will get appreciation and recognition from higher authorities for the efforts. Working people with Leo signs know how to tackle any situation and jump over any obstacle coming in their way to finishing their task. Promotions and favourable transfers are on the cards for working individuals. Businessmen/women need to implement the strategies to boost the sales and profits of their business. Those who are seeking change in their work-life will get positive responses. Leo natives also know how to dodge their enemies. Due to the Mars aspect on 6th House, all these positive vibes are passed onto the Leo natives.
As this Mars transit for Leo is all about the gains, there will be different income sources. Previous investments will also yield significant returns. Healthwise, Mars in Gemini will be grateful, and recovery from any former injuries will also be there. Also, the transit of Mars is from the 11th House, so that you will receive support from your elder brothers and sisters. They will receive the positive effects of the transit as they succeed in their respective fields. All the good deeds and outcomes will earn you respect from society. There are chances for Leo natives to meet their old friends too.
Marriage life will be good for Leo natives; they will get to spend time and have a couple of bonding time that they wanted for so long. All in all, the Mars transit will be amazingly auspicious for Leo natives in all areas of life.
Are you a nature lover or a library person? Or maybe someone sipping a margarita on the beach? Find out which is your best hobby?
---
Impact of Mars Transit in Gemini on Virgo
For Virgo natives, Mars will transit from the 10th House, the House of career and profession. This transit of Mars in Gemini will be quite promising for Virgo natives. Mars is the Lord of 3rd House, the House of efforts, communication, and siblings. The hot planet is also the Lord of changes and transformation, which is the 8th House. Therefore in this Mars transit, Virgo natives will become more ambitious, adapting to the work-life attitude, providing necessary support to themselves to grow in their profession. During this transit, your seniors and higher authorities may find you responsible enough to give you extra work.
Virgo natives not happy with their work environment and are hunting for new opportunities may get a good time and a platform to grow. For this, they will get all the support needed from their superiors or the government. All the load of extra work, new work, and career can make you overwhelmed, but at the same time, restless and impatient about the outcome. This will have a negative effect on your health; the risk of high blood pressure and heart problems will peak. To overcome the malefic effects of Mars transit, it is advised for Virgo natives to start any type of physical exercise, like walking, cardio, zumba, pilates, or anything that you like. It is also suggested for you to check your father's health on a regular basis.
Professional commitments can be a massive hurdle for Virgo natives as they cannot give their near and dear ones time. This can create distance between them and their family members as the negative energy will be there because of Mars in Gemini. The fierce planet will push you, but you need to set a balance between your personal and work life. Because not only is it hampering your relationship with your near and dear ones but also creating a disturbance and ups & downs in your marriage life.
Any Foodies in the House? Of course, there must be, see if you top the list of foodies!?
---
Impact of Mars Transit in Gemini on Libra
Mars will transit from the 9th House, i.e. the House of fortune, luck, and spirituality for Libra sign. Mars is the Lord of the 2nd and the 7th House in Libra sign. For working libra professionals, the transit will bring mixed results as they will have to spend more time and money behind their family members. The cost can range from leisure and luxury to health and wellness. Mars may be malefic, but it will provide Libra natives with the money to fulfil all these expenses. On the other hand, when the natives of Libra sign think of undertaking journeys related to money matter, these trips will be somewhat frustrating. And this aggression may lead to arguments with the seniors.
Businessmen and women have to take advice from experts to have a smooth flow of money in their business. It is advisable to avoid making any new investments during the Mars transit in Gemini. Looking from the health front, all is well for the libra natives, but some body parts like thighs, shoulders, and back may need extra attention, as the energy from the hot planet will affect them.
People with libra signs need to be polite as they converse because their family members' differences can disturb their home environment. Your spouse will get all the action during the Mars transit. This can result in an enjoyable time in your married life. It is suggested that Libra natives to be flexible in their attitude because there are chances when they become rigid regarding religious beliefs, which may lead to conflicts.
You are the sun sign who loves luxury and leisure; check out these trending zodiac accessories based on your zodiac sign!
---
Impact of Mars Transit in Gemini on Scorpio
Scorpio gear up as this Mars transit in Gemini is the Lord of the 1st House and the 7th House. It is currently transiting through the 8th House, leading to unprecedented or last-minute changes in ongoing essential matters in hand. Working professionals may feel that this transit period is giving them a hard time. They cannot finish the in-process official work as Mars creates new challenges and obstacles every other day. This built-up frustration can lead to negative thinking and increase problems in your workspace.
You might not have the motivation to work, which may turn out to affect your efficiency and productivity, thereby increasing stress. Try meditation and yoga; the peace and calm you'll get is the best remedy to improve your focus. It is suggested that you should not make any hasty decision. What is meant for you will find its way. Just have confidence in your capabilities.
Scorpio natives have to take care of their health when Mars is transiting in Gemini. Stars predict that you may have stomach aches, skin and hormones issues. Include green vegetables in your diet, and do not stress too much about anything. You may even have to face your spouse, who may not be in a jolly mood. You have to be more sensitive in choosing your words wisely and be polite as sometimes your rude behaviour is taken in the wrong way even though your intention was not such.
Scorpio *tsk tsk* Listen, we know you are planning to ask your crush out, and we've got some fantastic tips for your ideal date!
---
Impact of Mars Transit in Gemini on Sagittarius
Mars is moving into the 7th House of Sagittarius, which will give good results to the natives. In your horoscope, Mars also governs the 5th House, the House of Intellect, Progeny and the 12th House, the foreign land. This clearly shows that the period of Mars transit will be an interesting one for Sagittarius people. As Mars directly aspects the 10th House, which is the House of Profession, employees or professionals will get excellent results. Job seekers will finally get the job. Individuals whose transfer or promotion status was on hold will get cleared out.
Business people will get all the green grass in terms of money from their business. All the financial investors help from overseas will be delivered to them during this transit. This period is promising for you if you have the thought of expanding your business across the boundaries. While your work life is smooth sailing, your family life may get hampered a little. Sagittarius natives might see many ups and downs, creating temperamental differences in their family.
Ideally, your partner should be by your side during these challenging times and heated situations in the family. Still, there are differences between you and your spouse, creating another room of tension for you. So it is advised to resolve or sort out the difference creeping your relationship by talking peacefully to each other like civilians.
Overall, this year will be splendid for you, Sagittarius but aren't you curious to know your Lucky Day?
---
Impact of Mars Transit in Gemini on Capricorn
Mars transit in Gemini will make Capricorn natives more energetic and enthusiastic as Mars passes through the 6th house, which is the House of Challenges, Hurdles, and Obstacles. Working professionals will have unforeseen success and benefits from their office. Capricorn natives' work is likely to be well organized and structured, which will not go unnoticed by the seniors, resulting in incentives or hike in salary or promotion. This level can make your enemies envy you, and if you want, you can bring them down with just a touch.
Banks and financial institutions will help business people if they want some financial help and guidance. Support from experts can increase your business sales and profits. It is advised that entrepreneurs and business owners stay away from conflicts with customers. Because once the fire starts, all the things will burn down, and no amount of water will be able to cool it down.
Mars transit will help Capricorn natives to recover from past health issues and fight against new diseases. But the planet cannot help if you are careless, so take all the preventive measures and avoid eating junk and spicy food. In terms of family matters, you are happy to go lucky as happiness is all around you. You will also get to spend quality time with your family and spouse. To appreciate them all, take your husband/wife out on a candlelight dinner date, or movie date, or anything that you both can enjoy. Giving time and attention to small details of your family matters will be more than enough for them.
Not only Mars but three more planets are in conjunction with Capricorn.
---
Impact of Mars Transit in Gemini on Aquarius
Aquarius, for you, this Mars transit in Gemini is going to be a thrilling ride. The ride will have fun and exciting results, which can be unexpected. Mars will transit through the 5th house, and during this period, jobbers will get exceptional results as Mars is the Lord of the 10th house. Your creative heads will stir in a completely different direction, and you will implement those innovative ideas in your work. This type of proficiency and positivity will lead to promotion in your respective fields.
Whatever happens, happens for good, so when you get a transfer in your job, don't get anxious or worried, as this will be for your betterment only and can lead to good results. Aquarius natives hunting for a better job prospect can get the right exposure during the transit of Mars in Gemini. Business owners may get mixed candies. Life is full of ups and downs, not only in your marriage life or school life but also on your business front. During the Mercury transit, business professionals will have to work extra hours. There will be an inflow of profits, but you won't get its outcome if you don't push yourself and put in your hard work.
Aquarius natives' health can be a matter of concern. Acidity, gastric problems can visit you. If you want to dodge their unwelcome invite, you are advised to stop eating junk and fried food and take special care of your health. Mars transit may be a fierce one, but because Mercury is transiting in Gemini, you will feel at ease to express your true feelings and confess your love. The married life of Aquarius natives may not precisely be full of fun, and this will cloud negativity. You must try to understand why your spouse is upset. Getting irritated and annoyed will lead you nowhere, so be calm and collected to listen to what they have to say.
The March Transit might not be very exciting but don't be sad, you are an Aquarius, and you've got exceptional traits.
---
Impact of Mars Transit in Gemini on Pisces
Mars will transit through the 4th House, and Mars governs the 2nd House, i.e., family and wealth and the 9th house, which is the House of Fortune and Luck. So this transit will be super beneficial for the natives of Pisces. Working individuals have to strive hard, hustle, and put more effort into achieving their goals. This will also increase your efficiency and productivity in your routine work.
Superiors can give more work and less recognition while Mars is transiting in Gemini. This can cause you stress. Many of you may have to transfer and leave the journey. The decision can increase your fatigue and stress. It is also advised to stay away from Aquarius natives in your own office. This transit may not be suitable for you, but business people may get a good response. They can get help from other countries, and they can sell their products in that country.
Pisces natives who have health issues like hypertension, heart, and blood diseases need to take extreme care and keep their distance from all the activities that cause them stress and aggression. Along with your health, you have to take care of your mother's health, too, as the transit of Mars is from the 4th House, which gives the signal of declining health. Ego clashes with family members, and your spouse is also on the cards. This can be because of a lack of communication and misunderstanding between you two.
Not only Mars but Jupiter will be transiting, which will have an impact on Pisces. Why don't you have a look?
Your Accurate Personalised Astrology Predictions Are Just A Call Away – Talk To Expert Astrologer Now!
With Ganesha's Grace,
Astrologers trained by Shri Bejan Daruwalla
The GaneshaSpeaks Team
---
---
Get 100% Cashback On First Consultation