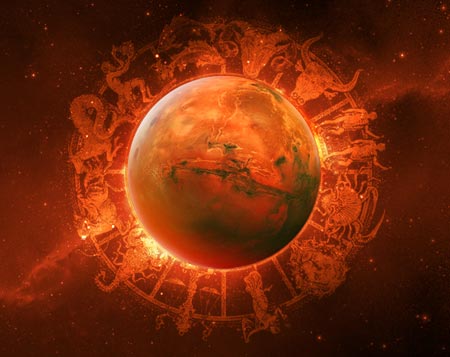 Mangal Dosha
Author: GaneshaSpeaks Team
Are you a Mangalik?
Yes, if Mangal (Mars) is placed in the 1st, 2nd, 4th, 7th, 8th or 12th House, in your Kundali. Mars plays a vital role in the your life, more so in the matters of matrimony. Find about it NOW!
The Mars Effect…
The placement of Mars/ Mangal in your Kundali is an important factor affecting your marital alliance. Mangal Dosha, if present in your Chart, can cause discomfort and tension, financial loss after marriage and other negative effects.
Don't ignore!
Being informed about Mangal Dosha is the first step towards being prepared to counter its negative influence. So, don't wait any more! Find out for FREE!

Report Details
√

Get clarity!

Get straight and clear answer about the presence or absence of Mangal Dosha in your Kundali.
√

Take the next step!

If you don't have Mangal Dosha in your Kundali, well and good. But in case, it is there, take proactive steps NOW to deal with it and dilute its effects.

Testimonials
More than 10,000,000 satisfied customers and counting !!
Although I am not one to spend lavishly and always tend to save some money from what I earn, somehow or the other, my bank balance never grew because some unexpected expense or the other would come up every other month and my savings would fizzle out. On a friend's suggestion I approached Ganeshaspeaks.com for astrological help. I am very pleased to state that the remedies that their astrologers suggested have brought about a complete change in my fortunes, and now I am not only able to budget well, but also I manage to set aside some money for unforeseen contingencies so that I am not taken by surprise. Thanks a lot Ganeshaspeaks.com.
- Manish Tiwari – Jabalpur.
I am a successful person – career wise, but then my life is public. People know me, I remain in limelight. No no I am not some glamorous big shot, but nonetheless I have a social life and once people discover Me they either judge me or start to take my advantage. There are so many clichéd attached to a differing sexual orientation, and it sometimes bogs you down. I can't trust people who approach me, even in love. So, I got this Report and found amazing stuff. Thanks.
- Anonymous, Bangalore

Why and How
√

Why should I get this free report? To see if you have Mangal Dosha in your Kundali.

To know the steps you should take to overcome its effects.

To plan your life accordingly and be prepared to deal with the challenges Mangal Dosha may bring in your life.


√

How will this guidance be helpful to me? Once you know about the presence of Mangal Dosha in your Kundali, you will be able to take a mindful decision about your marriage.

Know one of the major problem areas in your Kundali and take remedial steps.

Identify a customised service that shall help you gain further clarity on matters related to your personal life.



Frequently Asked Questions
√

Will my personal information be kept confidential?

Don't worry! Ours is a very secure system. Plus, as a policy, we do not disclose any of our client details or questions to anyone, at any cost. You can be assured of complete confidentiality. Since you will get your report via email, you don't have to worry about anyone else finding out about this.
√

Will I be prompted again and again, once I get a Free Report from your website?

Once you take a Free Report from our website, you are deemed as a registered member of our exclusive database. Hence, you will be on our email list and shall get regular, but non-obtrusive, e-mailers about our latest or special offers. However, you always have a choice to un-subscribe from our mailing list. Also, all our emails are customer mail-box friendly! Trust us, we will not spam your mail box ever!
√

How can I save my Mangal Dosha answer?

As you order a Free Report from us, apart from the instant answer that gets displayed on screen, we also send across an email with your complete Mangal Dosha report. This ensures that the answers remains with you for future reference, even when you log out. Please ensure you give us an email id that is 100% private yet functional.
√

Can I avail the same report multiple times and for multiple people?

Yes. You can avail a Free Report any number of times, for any number of people, using the same email id registration. However, we suggest that you urge these people to use their own email ids to get their report, as it will enable them to get their personalised daily horoscope too.
√

What do I do if I get to/ already know I am a Mangalik?

In that case, we recommend you get detailed analysis of your Kundali and let our astrologers examine your Kundali. You may consult our Astrologer on Call and get 100% personalised analysis of your Kundali. Our expert astrologers will also suggest you authentic remedial measures and thus help tackle the Mangal Dosha in your chart in a better manner.
√

When will I get married? I know I am not a Mangalik.

There are a number of reasons responsible for delays in marriage, and Mangal Dosha is one of them. Since you know it for sure that you are not a Mangalik, you need to get your Kundali checked to determine the exact reason causing the delay and also follow remedial measures to remove the obstacle. We recommend you to get your 100% personalised Love & Marriage Prospects report to know when you will get married.