N. Srinivasan Horoscope Astrological Analysis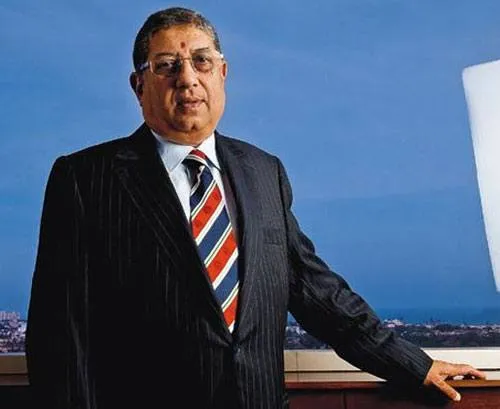 Battling all the odds and amidst negative media publicity, Mr. N. Srinivasan has emerged as a winner with the International Cricket Council (ICC), the highest governing body of the world cricketing fraternity, recently declaring him as the next ICC President. Mr. N. Shrinivasan will take over the role as president from the month of July. On the flip side, a committee appointed by the Indian Supreme Court has recently published a report in which it has named Srinivasan's son-in-law Meiyappan as guilty in the Indian Premier Leauge's betting scandal. The question is– should Mr. Srinivasan accept the new role when he is in thick of controversy? There has also been criticism about him not resigning from the post of the President of the Board of Control for Cricket in India (BCCI) over this latest development.
Curious cricket fans around the world, especially in India, are keen to know how Mr. Srinivasan will fare in his new role as next ICC President and whether he can defy as well as weather all the odds against him. Ganesha takes a look at his Surya Kundali and presents some interesting astrological observations.
Mr. N. Srinivasan's Surya Kundali
Birth date: 3rd January, 1945
Birth time: Unknown
Birth place: Chennai
---
Astrological Observations:
At present Rahu, Saturn and Ketu are transiting through the 11th and 5th House of nodal axis in Srinivasan's chart. Hence, it will continue to be a strenuous period for him.
Jupiter is transiting through the 7th House and over Saturn and Rahu in his Surya Kundali.
Currently, Mr. Srinivasan is under the influence of Jupiter major and Mercury sub period, and these planetary influences will be in effect till 24th May, 2014. Ganesha notes that Jupiter is placed strongly in his Surya Kundali, but on the other hand, Mercury is ill-positioned in the 12th House.
Mercury is currently transiting through the 3rd House in retrograde motion and is also combust. On the other hand, Jupiter is transiting through the 7th House and over his Natal Saturn and Rahu moving in retrograde condition. Things will not be very smooth and facile as he may have to face some opposition as well as challenges.
Around middle of 2014, there will be major changes in planetary positions in Mr. Srinivasan's solar chart, as Rahu and Ketu will move to the 10th and 4th House axis and Jupiter will transit through its Sign of exaltation, Cancer and from the 8th House of Srinivasan's Surya Kundali. Rahu's transit in close proximity with his Natal Moon may cause stress and mental unrest.
---
Astrological Predictions:
Ganesha feels that the near future is likely to be challenging for Mr. N. Srinivasan.
Controversies will keep haunting him and he may be plagued by the controversy surrounding his son-in-law.
Saturn's transit through the 11th House and its aspect on the Ascendant may cause him some major problems in his life.
Jupiter's 7th House transit in N. Srinivasan's solar chart is a positive sign for him. Jupiter major period will also remain positive for him and may save him from some major embarrassment.
Sun is afflicted by Ketu in his solar chart, hence this may bring disgrace and social ignominy to him and his adversaries will try to pull him down.
The current planetary positions in general indicate that he will encounter severe challenges, especially within cricketing fraternity around the world, in the days to come.
---
Overview:
Ganesha feels that Mr. N. Srinivasan has a tough job at hand. Although he may have defied all the odds against him so far, controversy is not likely to die down easily, especially in the wake of the report published by Supreme Court-appointed Committee on alleged role of his son-in-law in betting. He will face opposition both within and outside the cricketing world and he may have to face some uncomfortable situation. Besides, it is not going to be a smooth sailing for him as ICC President. However, Jupiter in the 7th House and also Jupiter major period will make him somewhat resilient and give him the strength to fight his battle tooth and nail; he will not give up easily. He will have to do his best to prove his innocence in alleged betting controversy involving his son-in-law. Powerful planetary positions in his Surya Kundali will give him additional impetus to exert his influence over his friends as well as foes and make things counted for him. Next few months are likely to unfold some interesting events and will delineate the clearer picture in front of everyone.
Understand the effects of these planets on your life – Talk To Expert Astrologer Now!
With Ganesha's Grace,
The GaneshaSpeaks Team
---
---
Get 100% Cashback On First Consultation