Importance Of Ashadha Amavasya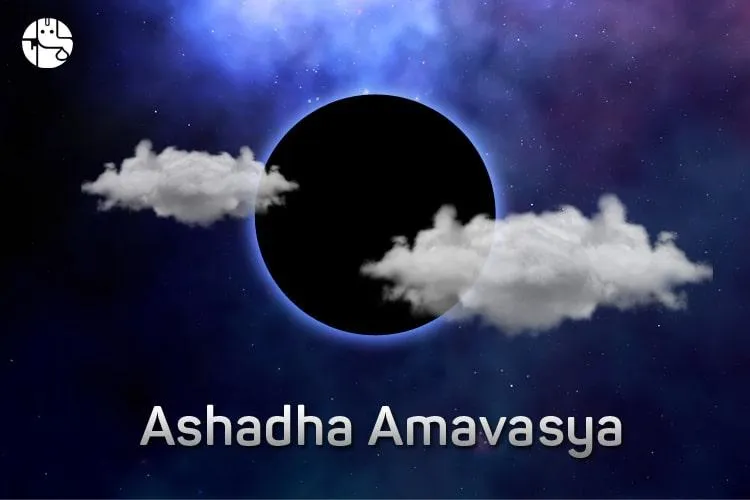 Amavasya or Amavasai means the Lunar phase of the New Moon day. Ashadha Amavasya is considered as the fourth month of the year as per the Hindu calendar.
---
Ashadha Amavasya 2023
The Lunar month starts on the day following the Full Moon or Poornima day due to which Amavasya falls in the middle of the month. There are twelve Amavasyas occurring in 2023. The next Ashadha Amavasya will fall on18th June 2023, Sunday.
---
What Is Ashadha Amavasya?
According to Hindu Panchang, the 30th tithi starting from the Krishna Paksha Pratipada is called Amavasya Tithi. Amavasya tithi of Ashadha month is celebrated as Ashadha Amavasya.
---
Ashadha Amavasya Date
The 30 days of each month are equally divided into two halves. The first half is called the Shukla Paksha Tithi and the second half the Krishna Paksha Tithi. Asadha Amavasya tithi date in 2023 will as be as follows:
| | |
| --- | --- |
| Amavasya Tithi | June 18, 2023 |
| Amavasya Tithi Starts | 09:11 Am, June 17, 2023 |
| Amavasya Tithi Ends | 10:06 Am, June 18, 2023 |
---
Ashadha Amavasya Benefits
Ashadha Amavasya fasting is beneficial for devotees who follow rituals like
Placing a lit lamp filled with mustard oil under a Peepal tree and worshipping it while reciting Holy Mantras relieves a person from unexpected troubles in life.
Bathing in waters of sacred rivers at pilgrim places and donating food and other essentials to Brahmins is highly rewarding on Amavasya day.
While worshipping the Peepal tree if a person takes seven circles (Pradakshina) around it then the souls of deceased ancestors are said to achieve eternal peace and salvation.
The day is of utmost importance to conduct Pitru Tarpan and Pinda Pradaan for ancestral peace as it is believed that any offering done in the name of dead ones on Amavasya reaches them directly.
Besides this, natives suffering from Pitru Dosha, Grah Dosha or Shani Dosha in their Janam Kundli can benefit by offering special prayers to the departed souls.
Rituals like Tila Tarpanam (offerings to ancestors) and Annadanam (food to poor people) on Ashadha Amavasya fulfils all desires of life.
The Garud Puran emphasizes on charity giving and fasting during Amavasya days to mitigate all defects in a Birth chart.
Worshipping Lord Hanuman on this day pacifies Mangal Dosha and negates all its inauspicious effects.
Our experts can suggest effective remedial solutions for any Doshas in your natal chart. Get in touch with them to nullify the negative effects according to your Janam Kundli/Horoscope to enhance positivity of favorable planets.
---
Ashadha Amavasya Story
Amavasya is celebrated as Bheemana Amavasya in Karnataka. According to the legend of Bheemana Amavasya, a Brahmin couple wishing to embark on Kashi Yatra were unable to do so as they had a young beautiful daughter who could not be taken along with them for the long pilgrimage. So, they decided to keep her in the security of the Brahmin's brother and his wife after which they started off their journey. Since the pilgrimage was in distant places, the Brahmin couple did not return back home for a long time. Taking advantage of the situation the Brahmin's greedy brother and wife married off the young girl to a dead Prince in exchange for wealth.
After the marriage rituals, the King, the bride along with the king's soldiers carried the corpse of the Prince for last rites on the banks of the river Bhagirathi. Sudden rains interrupted the cremation process as people started running back home leaving behind the girl in a melancholy state. However, she did not lose hope and created two lamp-like structures called Kalikamba and commenced the Amavasya Vrat taught by her parents. A couple passing by witnessed the girl's prayer and dedication and inquired about her helpless state to which she narrated them her story. She later touched their feet to seek blessings after the completion of the Puja. Unknowingly the couple blessed her saying 'Deerga Sumangali Bhava' which means may you live long with your husband. Suddenly when the lifeless Prince rose from the dead, the girl was quick to understand that the couple who had blessed her with abundance were none other than Lord Shiva and Goddess Parvati.
Get your Natal Chart analyzed by our experts and check compatibility match for love and marriage with your partner through the Love & Marriage Report.
---
Ashadha Amavasya Fasting Procedure
Fasting is the most important aspect of Ashadha Amavasya. Special procedure is followed by devotees who,
Wake up and bathe before sunrise and clean their homes and set up the Puja altar. Thereafter, they wear clean clothes to start auspicious activities.
They install idols of Lord Shiva and Parvati to conduct the Sambha Parameshwari and Shodashopachara Puja performed on the day of Ganesh Chaturthi. The Amavasya Vrat Katha is also read during the Puja ceremony.
Naivedya is placed before the idols of the deities which is later distributed as Prasad.
Amavasya fasting lasts for one day and one night. It is concluded on the next morning when devotees break their fast.
---
Ashadha Amavasya Rituals
The rituals performed on Ashadha Amavasya day include:
Holy Snan or bath at dawn in sacred rivers by devotees who visit pilgrim places.
They engage in religious activities conducted in the temple throughout the day to gain divine blessings.
Pitru Puja, Tarpan, Pinda Daan or Tila Tarpan is done to mollify the souls of deceased ancestors who accept offerings placed before them on this day.
Donating food and life essentials to poor and needy people is considered beneficial on Amavasya.
Feeding cows is important as per Holy scriptures, which is done by every household on this day.
It is a belief that ancestors take the form of a crow who are fed by devotees to appease the souls of their forefathers.
---
Ashadha Amavasya Significance
Ashadha Amavasya is a significant auspicious No Moon Day. Several religious ceremonies are performed on this day.
Deepa Puja is one of the major rites performed on Amavasya day. People clean and decorate their homes and light Diyas of various colors.
A Chaurang (table) is sanctified and decorated with Rangoli ( Kolam) designs around it. Multiple diyas placed on the table look beautiful when they are lit for the Puja ceremony.
Deepa Puja holds special religious importance as it is dedicated to one's Ishta Dev or Family Deity and to the Panch Maha Bhoot which are the five primordial elements- Air, Water, Fire, Sky and Earth.Some people dedicate the Puja to Goddess Laxmi, Parvati or Saraswati.
Diyas lit in late evenings around homes just like Diwali are believed to be radiating lights that drive out all evil and bad energies and welcome new brightness in life. The Puja bestows devotees with Ashta Aishwarya ( eight types of wealth). The holy month of Shravan commences after Deepa Puja day.
Gatari Amavasya festival occurs on Ashadha Amavasya day and is celebrated with joy and enthusiasm across the state of Maharashtra. As Amvasya marks the beginning of the Shravan month people abstain from non-vegetarian food and hard liquor as the arrival of monsoon season makes people susceptible to various stomach disorders. Thus, before the arrival of Shravan people enjoy consuming liquor to increase appetite and indulge in non-vegetarian foods.
Gatari Amavasya is observed as Bheemana Amavasya in Karnataka, Chukkala Amavasya in Andhra Pradesh and as Hariyali Amavasya in Gujarat.
On this day Pitru devatas are highly active and therefore it is believed acts of charity, Puja or any auspicious ritual performed in their name leads them towards Moksha
Predictive astrology is an art. A telephonic consultation or email chat with an expert astrologer can help you identify important remedies to make life better.
Talk to an Astrologer Now, First Consultation with 100%
With Ganesha's Grace,
GaneshaSpeaks.com
---
---
Get 100% Cashback On First Consultation