Ganesha foresees tough times ahead for Sanjay Dutt
Rocky, Khalnayak and Munnabhai of Bollywood, Sanjay Dutt or Sanju Baba, as is the son two very gifted, legendary actors of Bollywood. He himself has been an excellent actor, but he also seems to have a penchant for controversies. Or, we could also say the luck has not really favoured him when it comes to enjoying a smooth life.
Sanju Baba has yet again been in limelight, as he is serving a prison sentence for the long-dragged case related to the 1993 Mumbai terrorist bombings. Not new to controversies and altercations with law, Baba was also arrested in late 1982 for possession of illegal substances. Dutt lost his mother to cancer at an early age, and probably that brought his undoing. After undergoing rehab in the United States, however, Baba sculpted a successful career for himself in the Hindi film industry, and is well-known for his energetic and trade-mark performances in movies like Sadak, Vaastv, Saajan, Khalnayak, Munna Bhai and many more. With a life full of tumultuous ups and downs, tortuous relationships and umpteen career glories, Sanjay Dutt really has had an exciting life, to say the least. He recently turned 54 (on 29th July 2013), and we wish him a speedy relief from his current turmoil. Ganesha also takes this as an opportunity to peep into Sanjay's Natal Chart. Read on.
---
Sanjay Dutt's horoscope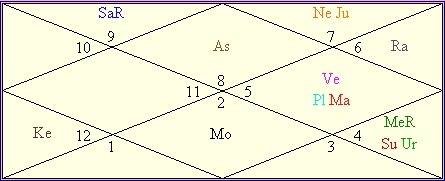 ---
Astrological Observations
In Sanjay Dutt's chart, Jupiter major period and Rahu sub period ends on 22nd February 2014.
Currently Jupiter is transiting through the 8th House of his chart.
Rahu and Saturn both are transiting through the 12th House of his chart over the Natal Jupiter.
Ketu is transiting through the 6th House of his chart.
His 54th year's solar return chart as per Vedic astrology system is of Virgo Ascendant, in which Muntha is in Taurus in the 9th House and Muntha Lord is in the 12th House in Leo. Lord of the year is Mercury Swagruhi in the 10th House.
---
Astrological Predictions
Ganesha feels that year ahead is going to be a little tough for Sanjay Dutt.
Sanju Baba will have to take a very good care of his health during the year ahead, specifically because of Saturn and Rahu's adverse transit. Moreover, as indicated in the Astrological Observations – Muntha (yearly chart's sensitive point) Lord is placed in the 12th House. This is also indicative of financial problems and health issues.
Jupiter is placed in the 12th House and Rahu is in the 11th House of his chart. Jupiter is in Pratyari Taara and Rahu is in Sampat Taara. Astrologically speaking, Rahu's position in Sampat Taara is the saving grace for him, if at all he is able to come out of his current situation.
However, a majority of planetary transits and even the Solar return chart (Varshphala chart) are indicating that Dutt will remain confined to an environment, due to Saturn and Rahu's adverse transits along with Dasha Bhukti.
Projects that he is involved in are likely to get delayed, feels Ganesha.
The chances of him being considered for a major concession are very less as per Ganesha's view.
Considering all the Dasha Bhuktis and planetary transits, Ganesha also foresees a scope of location change.
Sanjay, however, may develop a hobby of writing while he is undergoing these experiences.
As his Solar return chart this year has powerful Mercury in the 10th House, Ganesha feels that Sanjay Dutt's advocate will play a vital role in series of events that take place.
Post Sanjay's next birthday, things are likely to take a turn for positive, feels Ganesha.
In short, Ganesha feels that Sanju Baba is going to spend time in secluded or a restrained environment during the year ahead, and projects that he is associated with are likely to get delayed. Chances of getting any MAJOR concession are also lesser, but chances are definitely present.
With Ganesha's Grace,
Bhavesh N. Pattni
The GaneshaSpeaks Team
---
---
Get 100% Cashback On First Consultation