Birthday Prediction Of Queen – Will Kangana's Dream Project Tejas Give Her Rocking Career Success?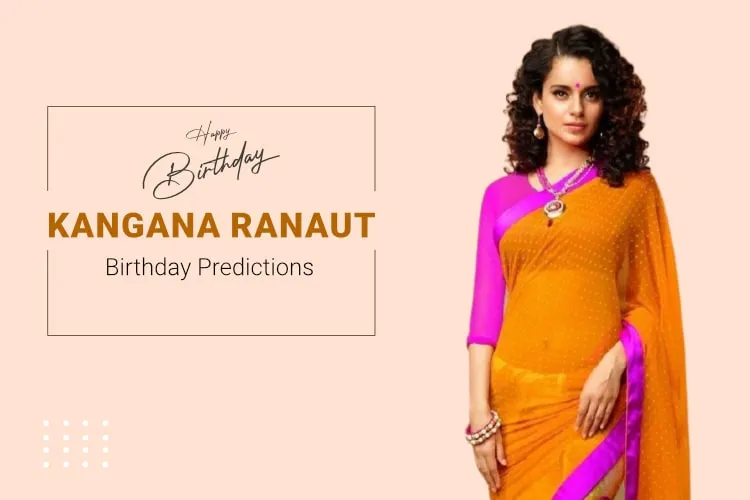 Firstly shoutout to all her fans and those who are always up when her movie comes to theatres. After all, they deserve it. The bold beauty deserves wherever she is right now in Bollywood. As of now, she is working in various big-shot Bollywood films, which include Tejas and Dhakad. J. Jayalalithaa's biopic, Thalaivi, and more such Bollywood movies are also on her bucket list. Kangana Ranaut's movies will bang the box office and uplift her Bollywood success. Currently, she is serving the major period of Mars, and according to her Kundali, Mars is in the Aries Sign, which is self-respecting. Therefore, she may only get success by playing the leading roles of police, detective, surgeon, or female minister. Ummm… She is on the right track, don't you think? See, when it's about proving through acting, she has already done in her previous movies like; Gangster, Life in a… Metro, Queen, Tanu Weds Manu, Fashion, Tanu Weds Manu Returns, and Manikarnika: The Queen of Jhansi, which proved to be masterpieces.
Kangana Ranaut's upcoming film may get a release in the month of April 2021 when Jupiter passes through Aquarius from 7th April 2021. Undoubtedly, her fans must be counting each and every day for its trailer. This means Jupiter will be in the 12th house from the position of the Sun and it will be aspecting the 6th house. So, it can be said that 'Tejas' could be a successful film at the box-office. Also, during this time, Kangana will be highly excited, and she may pass comments on politicians, which could possibly drag her into controversies. Later, there may be protests against Kangana based on her bold comments. At the end of the day, bold statements do offend certain people sometimes, sorry many times.
---
Kangana Amardeep Ranaut Birth Details
Date of Birth: 23 March, 1987
Time of Birth: Unknown
Place of Birth: Bhambla, Himachal Pradesh, India
---
kangana ranaut janam kundali
---
What Can We Expect from Her Upcoming Film 'Thalaivi' with a Totally New Avatar?
Wanna know some exciting things about her film 'Thalaivi', then hold your horses. 'Thalaivi' is a biopic film of Jayalalithaa, ex-CM of Tamil Nadu. In this film, Kangana will be seen as a leading actress. Gotcha, she is made for leading roles! During this time, Kangana will be serving the major period of Mars, which started in 2018. And according to the Kangana Ranaut birth chart, the Sun is placed in the Pisces sign. Therefore, she is likely to play bold characters and challenging roles. The only thing she loves the most! And 'Thalaivi' is one of them. She will be playing a political leader in this film. Following the release, she is likely to receive big lauds from her fans as always.
Thereafter, she may also get offers to play similar kinds of challenging roles. Don't worry, the queen of Bollywood is quite experienced in taking such stuff on her shoulder. Thalaivi could be a super-hit film. But currently, Saturn's 3rd aspect is on the Sun, and that's why politicians may accuse Kangana of her comments. It further suggests that she needs to be extra careful about her words. By the way, Thalaivi will be released in three different languages, Tamil, Telugu, and Hindi. The film was slated to get released on 26th June 2020, but as we know due to the covid-19 outbreak, it got postponed. And now it is expected to hit the theatres at the end of the year 2021. Are you ready to see bold Kangana in her new Avatar? At that time, Sun will be moving in the south direction, which could be favourable for Kangana as she gets maximum benefits from the South direction. That is because Saturn is in Scorpio, the sign ruled by Mars. And Mars is the lord of the south direction. Thus, the actress may get offers to work in big-budget South movies. South movies are synonyms to tadka, masala, and typical mass entertainment.
---
Clearing the Myths About Her Collaboration With Aamir Khan
So, basically, Madhubala is a biopic film of an ever-charming and well-known actress, Late. Madhubala. And the fact of the day is that Kangana may be playing a leading role in this film. Kangana Ranaut's tweets often attract endless controversies, but one should not forget that ultimately she is bold. She also tweeted that she has raw talent like Madhubala. Talking about the film, it is directed by Barfi's director Anurag Basu. Currently, it is a favourable time for Kangana, so she will be performing a strong character like always in this film too. But she may be unable to fulfil her desires if she works along with Mr Perfectionist – Aamir Khan. This can be possible because the three planets – the Sun, Rahu, and Jupiter are aspected by Saturn. This planetary combination suggests that her wish may not come true. Sad to say those words.
In Kangana Ranaut's Kundali, the significator of mental strength, the Moon is in Jupiter's house, and Jupiter is in Saturn's house. Jupiter and Saturn are enemies to each other. Checkmate! And therefore, the Moon is weak. Thus, her dream may not turn into reality. On the other hand, Mars is strong, which is the only reason she gets an offer to perform female lead roles. However, she may not be able to work with her choice of actors. Still, Kangana is a champ, she'll rock anyway. Truly said by the queen, "I've started from scratch and slept on pavements, so the thought of hitting rock bottom doesn't scare me."
Blue Sapphire Is Super Lucky Of Kanagana, It Can be for you as well, Check It Out!
---
Dhaakad, How Grand will this project be?
Dhaakad is also an action-packed film, but the main part is, it is being led by a female star. And we all know that she is capable of performing this role too. It will be the first female-led film, and Kangana will deliver her career-best performance. As we learned how movies like Tejas, Dhaakkad, and Thalaivi will help the actress attain success because of her female lead roles. Similarly, this film too is expected to be a super-hit. Currently, it is a change of time for Kangana Ranaut. Because she had worked as a supporting actress in romantic films like; Fashion. In her Kundali, Mars is strong. So in recent times, she won't be doing any romantic or supporting roles or any cameos in big-budget movies. Time for her to take the lead from the front no matter what!
The period of Sade Sati began in 2014, and since then, she hasn't worked in male-lead films. She usually believes in being a female lead actress sharing the screen space with less popular actors or underrated ones. However, she will get appreciation because, in her Kundali, Venus is in Capricorn, Mars is in Aries, and Sun is in Pisces. Moreover, she is in the major period of Mars till 2025. And that's why she will continue to earn appreciation and fame, which we may see from the year 2023-2024. Hey Bold Queen, continue advancing and never even think of stopping, never in a million years.
---
Conclusion
Kangana Ranaut's upcoming south movie, Thalaivi, Tejas, and Dhakkad, are expected to be a blockbuster hit. But she may receive adverse effects of the Sun in March, June, July, and October. So, it will be a good time for her films, but as mentioned earlier, she is likely to be dragged into controversies due to her verbal spat with politicians. As a result, her self-image can be ruined in society. Concluding with her statement, "Women should answer back either with sarcasm or success." We wish the queen of Bollywood – Kangana Ranaut that she may achieve a bucket full of success and continue setting milestones through her larger-than-life performances. Happy birthday, Kangana!!
With Ganesha's Grace,
Astrologers trained by Shri Bejan Daruwalla
The GaneshaSpeaks Team
---
---
Get 100% Cashback On First Consultation