Mars Transit in Aries 2020: How It Will Effects on All Zodiac Signs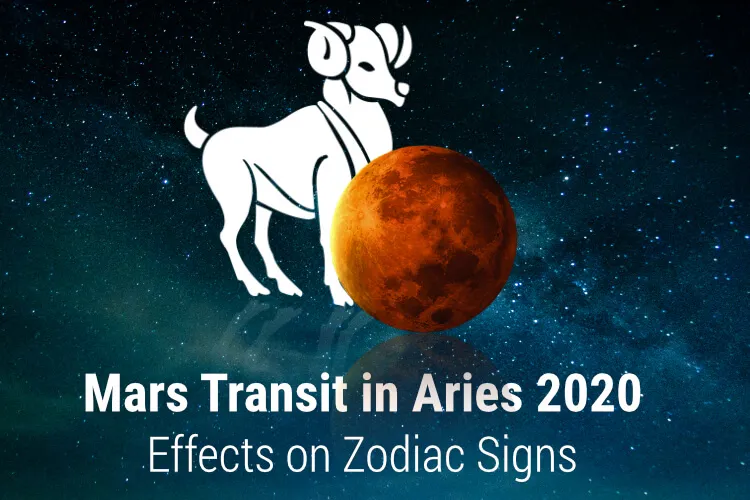 On 24th December 2020, Mars will move to its own sign Aries, concluding its transit in Pisces. Yes, the red planet of passion and aggressiveness is leaving behind the friendliness of Jupiter ruled Pisces, to be welcomed by its own sign, Aries. Aries is ruled by Mars, and it is the fire sign itself. Therefore, fireworks are bound to fly when the fierce Mars transits to fiery Aries.
Mars is considered to be the 'Commander' of all the nine planets, and it is a masculine, dry, and fierce planet. Mars is the lord of Aries and Scorpio, the fire and water signs, respectively. These are the factors that make this transit exciting, and here, we are analysing how it will affect various zodiac signs.
Earlier this year, Mars had a retrograde motion in Aries, and it was also eventful, to say the least! Here are some of the Mars Transits Dates of 2020-21:
Aries to Pisces 4th October 2020
Pisces to Aries 24th December 2020
Aries to Taurus 22nd February 2021
Taurus to Gemini 14th April 2021
---
Mars Transit Effects on Zodiac Signs
Some intriguing transits! So, what makes this transit special? Well, with Mars bringing its untamed energy to Aries, this transit is likely to bring instant changes to all twelve zodiac signs thanks to the characteristics of the planet and the sign Aries. Will it bring favourable times for you? Let's find out.
Along with Mars Transit, Jupiter will also transit to Capricorn on November 20, 2020.
Find out how Jupiter's transit will affect you with a handwritten Jupiter Transit Report, prepared by expert astrologers.
---
Effects of Mars Transit in the 1st House of Aries
Being the lord of Aries sign, Mars is likely to bring favourable incidents to your life. You may feel more energetic and powerful, ever-ready to take on and finish your responsibilities with ease. Those who are planning to venture into something new, or try something creative are likely to get desired results in their endeavours.
Professionals are also likely to get respect in their workplace, with people obeying them easily. It would be advisable to take an expert's advice before starting a new unit or venture. People who are in love may take initiatives to please their partners. Fulfilling the promises that you have made is likely to add to your personality.
Your family life is likely to remain average, however, some disappointments may come your way if you or the others lose their temper. During the transit, you are likely to love exercising and keeping yourself fit.
---
Effects of Mars Transit in the 12th House of Taurus
It is advisable to bring a change in your attitude, as not accepting your mistakes may end up in misunderstandings in your relationships with others. People who are in business are advised to be careful, as a small management mistake may lead to losses.
This is a favourable period for the students. Initially, you may face obstacles in executing your efforts, however, eventually, positive changes are likely to come your way.
Businessmen may also expect some profits from overseas. However, businessmen and professionals are advised to tread carefully because the rivals can plot against you. Keeping your anger under control and not reacting to situations on an instant basis may prove to be the key. Yoga and meditation may also help in remaining fresh and cool.
Find out what your studies, business, or health may bring to you this upcoming year, check 2023 Highlights Report.
---
Effects of Mars Transit in the 11th House of Gemini
Mars being an aggressive planet, it may bring some bitterness to your speech. That may cause some distance between you and your loved ones. For those who wish to join the army are likely to attain success if they make efforts in that direction.
Businessmen are likely to make precise and positive decisions that may prove to be beneficial in the long run. New startups are also likely to see a ray of hope, with favourable times ahead.
Working professionals may enjoy a pleasing environment in their workplace. Chances of a salary hike may also be there. It is advisable for you not to take any loans during this time, though you may be able to pay regular EMIs for the old debts. At times, you may become frustrated. With your work, a focused approach and determination may help.
---
Effects of Mars Transit in the 10th House of Cancer
Your desires are likely to get fulfilled. Those who are in the fields of army, police, air-force, etc., may get promoted during this transit. Similarly, athletes may also get positive results in their sports career. Fruitful times on the playgrounds can be foreseen.
Professionals may find themselves working with a newfound speed. You are likely to get out of your imagination and start living in reality. Those who have children may spend some quality time with their children. You may also feel the need to fulfil all the desires of your loved one. On the health front also, the things seem smooth, although you may need to avoid overindulgence in food and sleep.
During these times, you are likely to initiate and implement new ideas. You may also feel overworked in your workplace. You may be in a better position to show your productivity and impress your seniors. It may help improve your reputation in the workplace.
Get a better understanding of where your career will take you in 2023, with a Personalised Career Report 2023.
---
Effects of Mars Transit in the 9th House of Leo
You may get inclined to spiritual activities or reading books to have some peace of mind. Additionally, you are also likely to participate in yoga to bring positive changes to your personalities.
If you are planning to make any trips during this time, you may get significant benefits out of it. The transit of Mars in Aries is likely to prove fortunate and favourable for you. Family life may feel balanced, and many of you get benefits from your father, too.
Matters related to a property may produce beneficial results. It is advisable to complete the assignments on hand if there are any. You may need to be careful during this transit when it comes to your health.
---
Effects of Mars Transit in the 8th House of Virgo
Successful times await! On the personal front, Your siblings are likely to need your presence and support in their lives. During this period, you may develop an inclination towards sports and games.
Those who are involved in research work or involved in learning occult may find this time favourable. Your knowledge of mystique may prove to be a source of additional income.
Some of you may also lean towards meditation to attain mental peace and shape your personality for better. It is advisable to concentrate on the task on hand and continue moving forward with the goal or responsibilities you are assigned, instead of heeding attention to negative aspects.
Remove obstacles and negativity from your life with an authentically observed Ganesh Puja by our expert Pandits.
---
Effects of Mars Transit in the 7th House of Libra
During Mars Transit in Aries, you are likely to have favourable results in your family life. Any disputes, arguments, and misunderstandings that you may have with your family members may come to an end. However, this transit may make you angry at times which can affect both your work and personality.
Adapting to the situation may be the key here, rather than trying to control it. This is also likely to be a good time to get into a new venture with your spouse if you were planning on that. On that note, it would be advisable to keep an eye on your partner's health.
Students are also likely to find this period beneficial as they may get the desired results in their fields of education. Sincere and active participation in sports may also bring significant accomplishments.
---
Effects of Mars Transit in the 6th House of Scorpio
This may prove to be a favourable period for those who are stuck in pending court matters. The results may come in your favour. Students who are preparing for competitive exams are also likely to find success.
However, it is advisable to follow traffic rules during this transit as there are possibilities of an accident while driving a scooter or similar vehicles. Businessmen are also advised to refrain from taking any risks when it comes to expanding the business.
You may need to avoid unnecessary disputes. Your mental and physical health is likely to improve a lot during this time. The Immune system may also support you strongly. If you are suffering from an old illness, you may get some relief from it.
Make better decisions in 2023! Know how planetary transits will affect the planets in your birth chart with a Free 2023 Horoscope Report
---
Effects of Mars Transit in the 5th House of Sagittarius
Professionals working in a multinational company are likely to benefit from this transit. Businessmen may also look forward to some profits from their foreign contacts.
Those who are single may have a chance of a meeting with someone special during this time. If you are already in a relationship, good times may await, as you are likely to grow closer to your loved one. You may get ample opportunities to go on a vacation with them.
However, the transit of Mars in Aries can bring a short temper. You may get angry at times, and your attitude may get negative. It may also include arguments with children. It is advisable to have flexible behaviour during these times to avoid any disruptions.
---
Effects of Mars Transit in the 4th House of Capricorn
Businessmen are advised to observe caution in terms of financial matters. Professionals may experience a hike in their salaries. You are likely to get desired support from your colleagues as well as your seniors in your workplace.
Those who are married may face some issues with their spouse over silly matters. However, once you realise your mistake, you are likely to apologize as well, ending the arguments.
Mars transit in Aries may bring you benefits related to properties. It is likely to be favourable for you to sell or buy a property during this period. On the other hand, it would be advisable to keep an eye on your mother's health and consult a doctor from time to time. You may also benefit from swimming or yoga in terms of your health.
Know how planets and their positions at the time of your birth are likely to shape your life, get a Personalised Janampatri, handwritten by our adept astrologers.
---
Effects of Mars Transit in the 3rd House of Aquarius
This planetary movement is likely to bring boldness and power or strength. You may score a win over your opponents. However, it is advisable to avoid the vices of ego and pride at this time. Those who are associated with sports may this period favourable with the achievement of expected results.
The influence of Mars is also likely to bring a rise in your leadership qualities. This transit is likely to be favourable for people in sales, touring, marketing, and management especially. Those posted in the police, army or government sector are also likely to incur benefits.
Students may find it easier to concentrate on their studies. Those who are appearing in competitive exams are also likely to find success. You are advised to be more attentive and keep an eye on the health of your siblings.
---
Effects of Mars Transit in the 2nd House of Pisces
This period is likely to be favourable for your fate, and any task taken in your hands may find success. Health-wise, you may need to remain cautious in consuming food, as such avoid anything too spicy, junk, and fried food. You may suffer from stomach related diseases during this time. The motion of Mars is likely to bring problems related to eyes and teeth.
This transit of Mars in Aries may bring the possibilities of an increase in your current salary. Income through several other sources can also be predicted. The important tasks you have undertaken are likely to succeed during this time.
Some bitterness in your speech may trouble your family members. Becoming adamant or harsh can cause people to pull away from you, and therefore, it is advisable to ensure that you bring some flexibility in your ways.
Find out what astrology has to say about you and your partner's compatibility, with a Free Compatibility Report.
To Get Your Personalised Solutions! Talk to an Astrologer Now, First Consultation with 100%
With Ganesha's Grace,
Astrologers trained by Shri Bejan Daruwalla
The GaneshaSpeaks Team
---
---