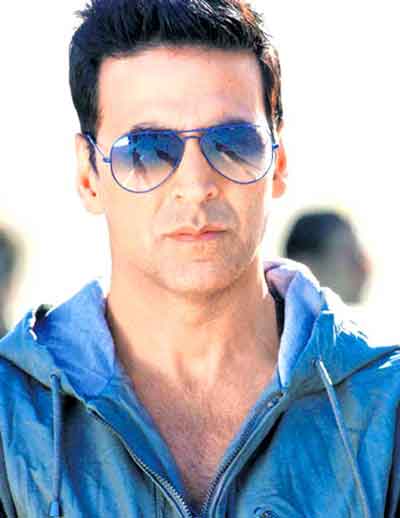 Akshay Kumar- the smart, good-looking, fit and agile is set to rock the Box-Office again with his film- Brothers, which is scheduled to release on the 14th August, 2015. The Action-Hero or Khiladi Kumar as he is famously known as, Akshay holds a black-belt in Taekwondo and he also studied Martial Arts in Bangkok, Thailand, where he also worked as a chef and a waiter. He donned various career hats and also worked as a Martial Arts instructor. After starting off as a model for a modeling assignment, Akshay then eventually went on to grab the role of an actor, and after initial struggle, he achieved success and today he has established himself as a very prominent actor of the Bollywood. Also known as one of the most daring and adventurous actors of Bollywood, Kumar even performs his own stunts in movies. At a time when a lot of his fans are awaiting the release of his next film, Ganesha takes a look at his Solar Chart and predicts the future for the Khiladi of Bollywood...


Akshay Kumar
Date of birth: 09th September, 1967
Birth Time: Not Known
Place of Birth: Amritsar, Punjab, India
SURYA KUNDLI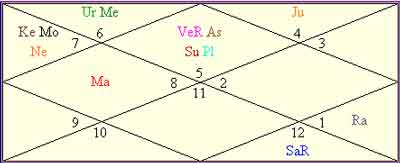 The Celebrity's details are based on Solar Horoscope (Surya Kundli ) with the help of Birth date and place, as the Birth time is not available.
Astrological Observation
Rahu is transiting over exalted Mercury till January 2016 and Ketu will be transiting over his retrograde Saturn in his solar chart. Post this period, Rahu will transit over his natal Venus and Sun.
After 14th July, 2015, Jupiter will be transiting over Akshay Kumar's natal Sun and Venus.
Transiting Saturn will be retrograde in Scorpio till 1st August, 2015. It will be transiting over Akshay Kumar's natal Mars.
Astrological Predictions:
Will Khiladi Kumar make it big with his movie with Siddharth Malhotra in Brothers?
Since the movie is scheduled to release post 14th July 2015, it's likely to be successful due to Jupiter's favourable transit.
His performance in the movie will be appreciated, as Jupiter will be transiting over natal Sun and Venus.
2) What do the stars indicate for the action-superstar?
Saturn will be transiting over his natal Mars so he will have to take good care of his health till January 2017. Chances of injury/accident are high till then.
The romantic spice in his married life may be under a cloud. He will have to remain away from the controversies. He should be careful in conversations and also maintain control on his anger. The period post January 2016 will be crucial and he will also have to pay attention on his performance.
3) Will he be able to achieve greater popularity in Bollywood?
Ganesha says that, as there is a mixed influence of the planets in his chart, he will be able to maintain his popularity and will be able to satisfy his fans to some extent in the Bollywood, despite a few obstacles.
4) How will the upcoming year be for him?
Ganesha feels that the coming year, as said above, does not not have too many special things to offer to Akshay Kumar. He will also have to plan his investments carefully. Chances of getting due returns of the capital invested, are lesser. He should plan finances carefully till January 2016.
In short, the year ahead has a mixed results in store for the Khiladi Kumar.
Ganesha wishes good luck and a bright future ahead to Akshay Kumar.
With Ganesha's Grace,
Rantidev A. Upadhyay
The GaneshaSpeaks.com Team