Is it worth investing in gold?
Gold and its importance in Indian context:
India's obsession with gold goes a long way back in the history. In fact, gold has a rich tradition in Hindu mythology as well. In Ramayana, King Ravan's island fortress capital, Lanka, was made up of gold. In the legend of Lord Krishna, the entire city of Dwarika was also made up of gold. Chanakya, the pioneer of the subjects such as economics and politics, has said, "Sarve gunaaha kaanchanamaa shrayante", which means gold has all the qualities that can give you a better life and the more you have it, the richer and more accomplished you are. In Ayurveda, too, gold has been given a lot of significance. Gold ash powder is developed and produced as special remedy for a number of diseases and disorders.
Avail Solutions To Issues In Personal Life With Personal Ask A Question – Detailed Advice
---
Why gold is a good investment option:
Gold has been a sign of wealth and a safe investment option for centuries. It protects one's capital and economic status against financial meltdowns, political instability and all sorts of turbulent times. Besides, Gold's timeless stability helps investors maintain their purchasing power to a large extent regardless of the current as well as the possible future market trends. In today's day and age, when currencies world over are fluctuating and giving nightmares to the common men, governments and institutions alike, gold is a reliable investment option to counter inflation and currency fluctuations. The low volatility in its prices is also an important reason why gold is considered a sound investment option.
---
Future of Gold:
In India's deep and ancient religious traditions and historical as well as cultural influences, gold has always been a means of protecting one's wealth. And this stands true in current scenario, too. But does the fixation with gold work in favour of the Indian economy? According to a report by CBS, India imports 700 tons of gold every year, mainly for making precious jewellery, during wedding seasons, which increases the country's trade deficit and makes gold a fairly unproductive investment. Let's see the consumption of gold by India as well as other countries in recent times.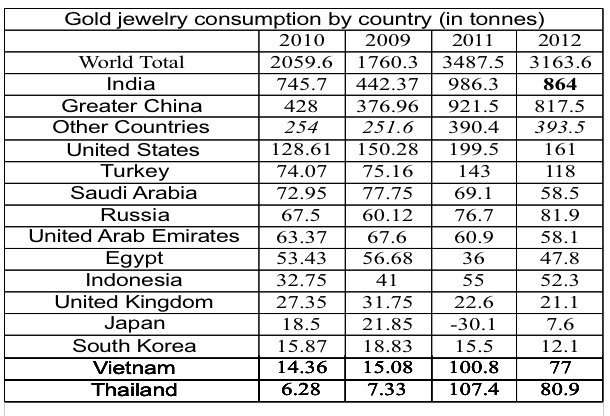 At present, more than half of Indian's current account deficit is because of the high import rate of gold. To counter the issue, the Government of India has increased the import duty on refined gold from 4% to 6%. Besides, the Government has been trying to control the situation by implementing various other policies as well. But will any of those corrective or precautionary measures be helpful? Ganesha analyses the planetary positions in the Kundali of Independent India and finds out what's in store.
Get Your Hand-Written Janampatri By Our Experts.
Looking at the Kundali, Ganesha notices that India has Taurus in the Ascendant, Mars in the House of Wealth and a stallium five planets – Moon, Sun, Mercury, Venus and Saturn – in the 3rd House. Besides, the mighty Jupiter is in the 6th House and Rahu and Ketu are in the centre. Now talking about the current planetary transits, Ganesha says, Jupiter is transiting through the 1st House and Saturn – Rahu are transiting through the 6th House.
Astrologically, the short-term range of gold prices (during 2013) in India is likely to be Rs. 31, 684 to Rs. 27, 889
In the coming years, Jupiter will be transiting through Gemini and later though Cancer, which is likely to be an extremely favourable period as far as gold is concerned. When Jupiter will be transiting over the natal Moon, Sun, Mercury, Venus and Saturn, the prices of gold may also experience volatility, and you may be able to profits out of your gradual investments in gold. Kindly note that this period will start from 20/06/2014 onwards.
Know About Your Finances In 2023 WIth The Help Of 2023 Finance Report
To Get Your Personalized Solutions, Talk To An Astrologer Now!  
With Ganesha's Grace,
Dharmeshh Joshi,
The GaneshaSpeaks Team
---
---
---
Get 100% Cashback On First Consultation