Saturn In The Third House: Vedic Astrology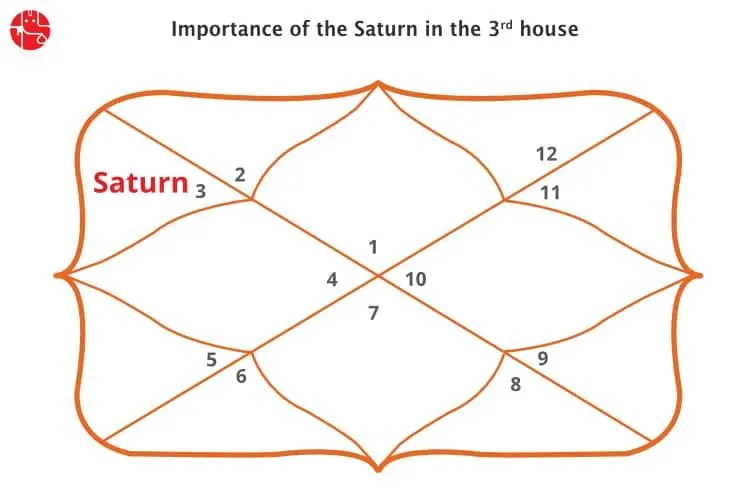 Planet Saturn is the disciplinarian, the strict professor, who judges everybody on the basis of their conduct and karma (actions). It is stated that Saturn is not unduly tough or strict. The only thing is, the planet wants everybody to be good and do good. The planet rewards the right doers and punishes the wrongdoers. Thus, in one sense it follows the policy of 'Carrot and Stick'. And when the malefic Saturn is placed in the 3rd house, the problems and drawbacks of this house may get enhanced. Well, when Saturn is placed in the 3rd house, the natives may be cold and reserved in their expression and communication.
How Will Your Future Turn Out? Get Free Janampatri With Personalise Prediction Report
---
The Areas Affected Due to Saturn in the 10th House
Communication
Career and profession
Mental attitude
Depth in life
Find Out Free Remedy Suggestion That Can Help To Solve Your Personal Problems
---
Positive Traits/Impact:
The natives of Saturn in 3rd house speak very less, only as much as is required. Their sentences are quite laconic. They avoid calling up someone first. They are quite cautious and reserved in what they say. This quality can be helpful in certain types of professions especially those that need the worker to keep a discreet stance. The natives of Saturn in the 3rd house are very good at handling secret information and papers and for jobs where there is minimum interaction between the employer and the employee.
Do you want to know about your future in career? Buy the Career Ask A Question Report and get the answer.
The natives of Saturn transit in 3rd house should try to see the positive side of life rather than focusing on the negatives. Their attentiveness and focus are simply superb. These natives will travel only for business reasons. The native of Saturn in the 3rd house may be a "man or woman of few words". This can turn some people off. But they can use this to their advantage by listening to people. That way they don't have to do too much talking, yet people will love them for listening according to Saturn in 3rd house Vedic astrology.
What Do The Planets Say About Your Life? Buy The Online Janampatri / Kundli And Get The Answer
---
Negative Traits/Impact:
The natives of Saturn in third house are usually serious & orderly. They may face issues due to less or improper communication. They are likely to be quite isolated in life. Thus, they may develop elements of pessimism and depression at times. These natives may find it very tough to maintain cordial relationships with their siblings and relatives. At the same time, they have a sharp mind and can perform well at games that involve strategy and analysis.
The natives of Saturn in the 3rd house should be cautious while driving, especially during the retrograde of Saturn in 3rd house. When Saturn is retrograde, there may be a lot many issues in their expression and communication. Also, the natives may find it tough to make the right choices between options at some important crossroads of life. They may see things in black and white. This happens because the conscious mind struggles to be in harmony with the unconscious mind. As these natives scratch only the surface, they don't get into the deeper meanings. Thus, they may lead to a nonintegrated personality.
Is your personality turning out to be a hindrance and causing you problems in personal life? Buy the Remedial Solutions for Personal Issues report and march ahead in life.
Those who have Saturn in the 3rd house should take extra care of their lungs. Natives who have this natal aspect are advised not to smoke, to live in houses without a lot of humidity and to check their lungs frequently. The individuals might be afraid to learn driving, or even after receiving their driving license, may feel uncomfortable in taking the initiative to drive.
---
Conclusion:
In the end, it can be stated that those who have Saturn in the 3rd house should always be careful of the melancholic tendencies that may enter their head. These feelings of depression are rather fixed from the young years and the best way to fight them out is by illuminating the sad atmosphere that Saturn creates in your 3rd house. This, of course, will come through opening up towards other people, through socializing and communicating
To Get Your Personalized Solutions, Talk To An Astrologer Now!
Effects of Saturn in different houses
Importance of Houses in Astrology
Importance of Planets in Astrology
With Ganesha's Grace,
The GaneshaSpeaks Team
---
---