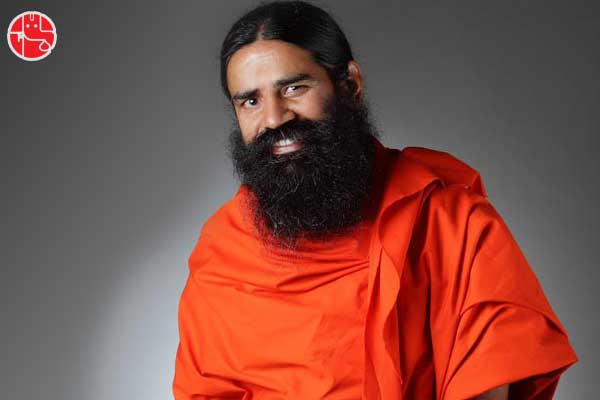 (Image Source: Internet)
Baba Ramdev (original name Ramkrishna Yadav) has defied getting defined. He has been the most popular Yoga Guru, a big exponent of Ayurveda and the Indian tradition. He has also influenced the national politics and has now turned a business leader in several types of FMCG products. His rise has been mercurial and huge so far. Now, Ganesha has probed his horoscope to find out his future. Continue reading to know more:
Baba Ramdev
Date of Birth: 25th December 1965
Birth Time: 8:24 pm (Unconfirmed)
Place of Birth: Mahendragarh, Haryana, India
Birth-Chart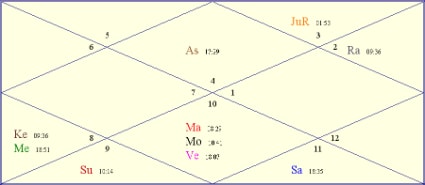 Rajyoga Has Made Him Famous and Wealthy
The
Rising Sign or Ascendant
in Yoga Guru Baba Ramdev's chart is Cancer and its Lord Moon is placed in the seventh house in Saturn's sign Capricorn with the exalted Yogkaraka Mars. This forms a strong Rajyoga as per Baba Ramdev horoscope. This means he will be blessed with wealth, fame, siddhis and paranormal powers. If we observe him so far, he already has some of these things. So, it is the Rajyoga in his birth chart is the reason for all these endowments according to Baba Ramdev horoscope analysis. Baba Ramdev is famous and wealthy. Do you want to know the future of your finances?
Get the Free 2018 Finance Report, know your financial situation and improve it
.
Planets Have Endowed Him With Traditional Knowledge
The placement of Moon, Venus, and Mars in the 7th house indicates a powerful personality. It also shows that he will have a wide following of fans and strong supporters as per Baba Ramdev astrology. Ruchaka Yog is very strong in his horoscope. Ruchaka Yog has endowed him with several abilities like a strong physique. This Yog has also made him well-versed in the ancient Shastras, traditions, and customs as per the
Vedic astrology
.
Venus Has Enabled Him To Establish The Patanjali University
Besides, the Lord of the 11th house, Venus is placed in the 7th house. This further strengthens the prospects for achievements and honors. Also, Rahu is exalted in the 11th house. This enables his strong connections with the influential people in the society like ministers and so on in accordance with his birth chart. The strong 11th house and its Lord even enabled him to establish the world-renowned Patanjali University in Haridwar, Patanjali products and his brand of Ayurveda. Baba Ramdev's Patanjali products have done a huge service to the people.This brand has also made Baba Ramdev a business leader in certain products. Will your business surge as well?
Buy the 2018 Business Report and know the answer
.
Stars Are Behind Baba Ramdev's Spiritual Interests
The Lord of the 8th house Saturn is in its own sign. This shows his interests in spiritual studies and activities. Adding to this, the Lord of the 12th house Mercury is placed in the 5th house of learning along with Ketu. This establishes his keen interest and expertise in Yoga. Thus, we see the planetary reasons behind his interests. Such a strong horoscope with a very positive and conducive planetary combinations reveal the reasons for his skills, interests, fame not just as a successful Yoga Guru but also as a successful entrepreneur.
Baba Ramdev Will Grow In Influence And Popularity
Baba Ramdev is currently under the influence of Saturn Mahadasha and Saturn Bhukti. This Dasha period will provide him a plenty of opportunities and lot of money to establish himself even more. Thus, his influence is likely to grow in the coming months and years. Jupiter is retrograde and is aspecting the Saturn. This will confer on him spiritual progress and success in the field of yoga, Ayurveda, and philosophy. He will expand his work for the betterment of the farmers and the agriculture sectors. His research work in the Ayurveda will get a boost. His constant efforts and hard work will get reflected in the research work, which will be carried out by his Ayurveda doctors.
Baba Ramdev May Face Challenges Post-May 2018
However, his path will become full of challenges due to the
transit of Saturn
and Rahu during 2018. His brand is likely to become global. But at the same time, his products may get involved into some controversies particularly after May 2018. This development could make a dent on the credibility of Baba Ramdev's products, foresees Ganesha. Baba Ramdev's domestic and global competitors will pose greater challenges during the latter part of 2018.

Baba Ramdev Should Stay Cautious About His Health And Security
Besides, Baba Ramdev will have to stay careful about his own health and security for the period starting July 2018 and ending September 2019. This period will remain increasingly hectic and stressful for Baba Ramdev. Nevertheless, the transiting Jupiter will continue to act in his favor and facilitate his expansion. Planets say that Baba Ramdev will definitely make a mark in the history as a prominent person.
With Ganesha's Grace,