The 'bold' & the 'beautiful' to boost Bigg Boss' TRP, says Ganesha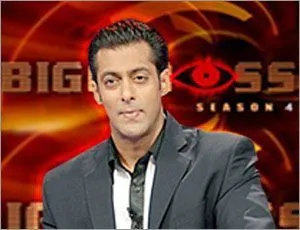 The husky voice of an invisible boss, spiteful inmates programmed to garner controversies and a series of 'beeps' – yet another season of Bigg Boss 4 is just around the corner! Although the suspense about who the inmates are is yet to be revealed, the excitement is abuzz with the music video release of the reality show with host Salman 'macho' Khan. And why not? After the roaring success of Dabangg, it seems that the Indian 'janta' only wants more of this 'Robinhood'. Bigg Boss 3, hosted by the Big B Amitabh Bachchan broke all records of TRP on the opening day. Now, the onus is on Salman to take off the show to similar or maybe greater heights. Also, Bigg Boss 4, which is going on air on 3rd October is likely to face a tough competition from the second week itself, as 'Kaun Banega Crorepati', hosted by Big B hits the TV screens on 11th October.
Besides a clash of the Titans, it's going to be a 'bigg' fight for TRPs as well. How will Bigg Boss 4 face the challenge? Will it depend upon emotions, drama, & bold scenes to create sensation? Ganesha foretells the future of Bigg Boss 4.
---
Bigg Boss – Season 43rd October, 2010
21 hours 00 min.
Lonavala, Maharashtraa
Get Your Hand-Written Janampatri By Our Experts.
Astrological Observations
Ganesha notes that the show is starting with Taurus Ascendant and Lord of Ascendant is placed in the 6th House in it's own sign.
Rahu is placed in the 8th House.
Saturn, Lord of the 10th House is placed in 5th House with Sun and exalted Mercury.
Mercury is exalted, being the Lord of the 2nd and 5th House.
Yoga Karaka planet Saturn (for Taurus Ascendant) is placed in the 5th House.
Venus is Nakshatra Lord and Cuspal Sub Lord of the 9th House.
Moon is Nakshatra, Lord of the 10th House and Venus is cuspal, Sub Lord of the 10th House.
Astrological Predictions
Bigg Boss season 4 will receive a very warm welcome. However, this season may become popular more because of the controversies as Ascendant Lord Venus is in Rahu's Constellation Swati, along with Mars placed in the same constellation.
Mars Venus conjunction in the 6th House and Ascendant Lord's involvement with Mars, both the factors are indicative of bold scenes.
Foul language and inmates pulling each other down? both the factors will be highly projected due to Ketu's presence in the 2nd House.
As Venus is Cuspal Sub Lord of 9th and 10th House both – female participants or inmates of this show will surely attract the viewers, and that may probably increase the TRPs too.
However, from creative point of view, the show would be very average and people with orthodox or a conservative mindset may find it 'too bold'.
As Jupiter is retrograde in Pisces and Moon is in the watery sign – Cancer, and that too in Kemdrum Yog, there will be great emotional drama and pathos overly exhibited on this show.
However, Ganesha feels that this particular season of the show will require morality check because Jupiter is retrograde in Pisces.
8th October to 19th November is going to be a highly eventful and controversial time for this show, while Venus goes retrograde in Libra.
Hosting the show may be a challenge for Salman Khan, yet he would enjoy it and make it entertaining for the 'janta'.
To Get Your Personalized Solutions, Talk To An Astrologer Now!
With Ganesha's Grace,
The GaneshaSpeaks Team
---
---
Get 100% Cashback On First Consultation