Super Lucky Day For All The Zodiac Signs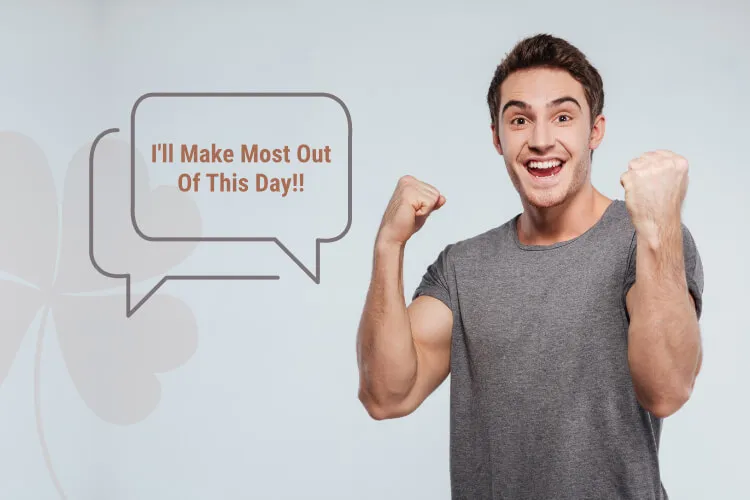 First things first, do we require luck in life? Of course! Who doesn't? You ought to believe this fact that any special task or event must be done at the right 'Murat' based on your Zodiac Sign & different planetary positions. Say For Example Lucky days can land us in a great destination of tremendous 'Success'. Don't get surprised by this school of thought at all! So without any ado, let's check out what work you must do on which day based on your Zodiac Sign.
---
Monday - Luckiest For Crabs (Cancer)
People may criticize Monday after the weekend while yawning in the morning, but hey Cancerian, time for 'Monday Motivation'. Cancerians are loaded with hopes & luck on Mondays. Got a hunch? Consider your intuition and instinct, particularly on Mondays, to act on.
You can think of doing below activities on Mondays:
Do yoga
Try meditation
Making fine schedule
Go for the nature walks
Make an investment (wisely)
Brainstorm a new idea that would reward you in future
Work on your writing & speech
What Cancerians Should Wear on Mondays
Seashell prints and/or jewellery
Moon pendants
Blue and white are the ideal colours to wear
---
Tuesday - Lucky For Scorpio & Aries
Survived Monday? now time for Tuesday! Jokespat, we ought to live instead of just surviving. Tuesdays tend to be power-packed, it works best for Scorpio & Aries Zodiac Signs. Ariens work energetically with bursting enthusiasm while on the other hand Scorpions walk with purpose & willingness to achieve something.
Do The Below Activities To Take The Advantage Of Tuesday In The Best Possible Manner:
Starting a new Podcast
Fulfilling your given commitments
Completing legal formalities
Speaking truth with utmost courage
What Scorpions & Ariens should wear on Tuesdays?
Wearing Gold
Wear Orange Or Red Color outfit
Applying Rose scent would work best
---
Wednesday - Ideal for Gemini, Virgo, & Aquarius
Hey, don't count Wednesday as 'keeled day', it hurts especially for Gemini, Virgo 7 Aquarius as they can make the most out of that day. Wednesday themes complete balance, moderation & stability. It also counts as the ideal day to reflect upon past accomplishments as well as to plan for the future.
Activities For Gemini, Virgo & Aquarius On Wednesdays:
Complete all stuff related to marketing & sales
Go ahead for a public speech
Say YES to either office or personal tours
Cycling or yoga
Stick to reading books of your favourite genre
What Gemini, Virgo & Aquarius Should Wear On Wednesdays?
Wear green, deep blue, or purple colour outfits
Wear emerald Jewellery
---
Thursday - Fortunate For Sagittarius & Pisces
Thursdays should be filled with optimism & steady growth. How many of you agree on this? Work hard with all your focus & dedication so that you can enjoy your weekend with ultra satisfactory mode. Hey Pisces & Sagittarius, don't get tired unlike others, kickstart Thursday with a fresh mindset & determination. This day is ruled by Jupiter, & as we know Planet Jupiter is the lord of generosity, expansion & self development. Sagittarius & Pisces natives give wings to the people through their proper guidance towards life. Expert unconditional consultants! Believe it or not, no matter how big the challenges are, they ought to get it done without being defeated.
Activities For Sagittarius & Pisces On Thursdays:
Even if you feel 1%, start learning a new language
Indulge yourself in self improvement
Make new food dishes for friends & family
Review financial activities systematically
Give a shot to a business deal
What Sagittarius & Pisces Should Wear On Thursdays?
Try wearing blue, yellow or red outfit
Scents like rose, mint & Sandalwood are a perfect combination for this day
Decorating home with beautiful flower or rose would just add a cookie in Ice-cream
Get 100% Personalised Vastu Guidance From Experts In Just A Click
---
Friday - Auspicious For Taurus & Libra
Woohoo, Last week day is here, friday! Do you know what makes this day so special? It's not just a day before the weekend but also it is being ruled by the lord of Prosperity, Happiness, Pleasure & Passion – Venus. Also, Friday is inked with the feeling of acceptance & well-being, especially for Taurus & Libra natives. After completing their work, they ought to go for their genre's movie, date or any fun-filled activity. Needless to say, both the natives enjoy the theme of harmony on this day.
Activities For Taurus & Libra On Fridays:
Throw a party for friends or family
Plan a Lovey-dovey Date
Spend extra quality time with family
Get into the kitchen & surprise everyone by making delicious dishes
What Taurus & Libra Should Wear On Fridays?
They can wear white or cream colour clothes
The ideal day to wear diamond or white jewellery
You can also try wearing luscious floral printed clothes
Know the lucky Zodiac Sign… Is Your Zodiac Sign added in the list? Check Now!
---
Saturday - Ideal For Capricorn
Hola, it's weekend! The moment we were waiting for is finally here. They are also more into self-healing or as we say self-improvement. If there is any error found in the past work, they'll be more than happy to rectify it on Saturdays even though it's weekend, they know how to master the day accordingly as Saturday is governed by Saturn, an organised, controlling energy. Even if it's weekend, Capricorns are not going to avoid attending important meetings. How inspiring does that sound!
Activities For Capricorn On Saturdays:
Complete homework & all the pending tasks
Donation in old an age home
Plan in advance for the upcoming week
Decorate the home, fulfil various family responsibilities
What Capricorn Should Wear On Saturdays?
Black or brown colour clothes
Wearing Sapphire Gemstone can bring positive energy
Nullify All The Negative Planetary Influences Through Authentic Blue-Sapphire
---
Sunday - Super Lucky For Leo
The synonym of resting, partying & satisfaction is here – Sunday. Sunday is ruled by The Sun, which is the Symbol of Energy & Expression. On Sundays, Leos tend to express themselves better than any other day. Don't freak out if Leos indulge themselves in guilty pleasures. They would also like to go for Spa treatments, Sunbath & so on. Overall, Leos may enjoy this day to the fullest by spending time with family, friends or dating with their own self.
Activities For Leo On Sundays:
Keep the mode of self indulging On
Sing in the shower, don't hesitate to become a rocking bathroom singer
Recharge your must needed batteries
Go for a walk with your close friend
What Leo Should Wear On Sunday?
Wear gold to gain maximum energy
An ideal day to wear warm colours like yellow, red & orange
Enhance your home energy with a beautiful sunflower
Conclusion:
So, what are you gonna do on your lucky day? launching corona's vaccine or investing in some good stocks? Whatever you wanna do, hope you are chuffed with more & more added value!
Your Accurate Personalised Astrology Predictions Are Just A Call Away – Talk To Expert Astrologer Now!
With Ganesha's Grace,
Astrologers trained by Shri Bejan Daruwalla
The GaneshaSpeaks Team
---
---
Get 100% Cashback On First Consultation