People Born In February & Their Interesting Facts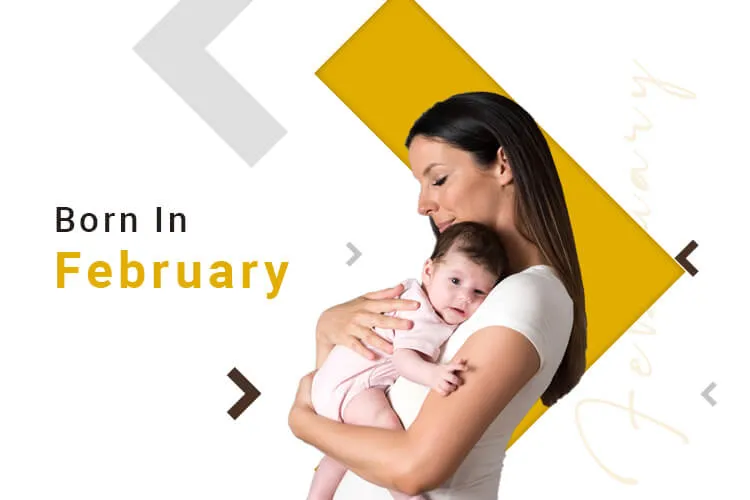 Hello Everyone! How are you all? And how is your mood in the second month of the year 2021? I hope it's fine and chilling! Are you curious about Feb? The season of Love. I'm sure, You Are! Who will not, it's a month of Love otherwise. And I'm sure, almost everyone must have high-expectations this month. Why? Vaccination has arrived! Now you can go outside and have fun with your beloved one. But wait, something is missing, what for those who still are single, and in search of their special ones. OK, Don't take tension, we have something for everyone which can make your day special. Curious to know? Then listen! If you are the natives of this month, then you are special and belong to the rarest month! I know everyone is rare and special in their own way, but there is something fascinating about the month of love. So, if you are born in Feb, then be ready to go on a rollercoaster ride this month. It is believed that the month we are born in, says a lot about our personality, and loved one. Now I'm sure, some tingling sensation will run through your stomach. So, without wasting any time, let's talk about it.
---
February Born People Are Vibrant And Curious!
February Born people are highly intellectual and extremely conscious. Your vibrant personality works as a magnet for other people. However, your ego always remains on high nodes due to which sometimes you have to deal with some family issues and other personal relationships. If you are Feb Born people then your curious mind always remains cautious to not spill the beans in front of anyone. Your patience and grave attitude make you capable to master any difficult situation. Your self-control and grasping power also add another feather to your crown. Despite all this, Feb Born People warble through some changes. So, let's see some of those changes.
Natives Born Between 1 To 10th February Are Flourishing And Flexible!
The influence of Wednesday will be high on you if you are a native of his Decan. As a result, You are quite humorous and love connecting with others with your logical mind. Your approach towards others is quite indirect, and you are outstandingly flexible. Thus, you can easily make love with any environment and remain happy. You are remarkably creative as well as honest. Therefore, you possess the extra ability to comprehend the grievousness of the situation and make a fair decision on it. Natives born in this Decan flourish in the field of education and your mind nurtures the amazing imagination power.
Natives Born Between 11 To 20 Are Lovely But Impulsive!
Natives born in this Decan flourish under the shadow of Venus. Thus, you are very romantic and roam with an amazing cupid power to attract others. However, sometimes, this behavior can become problematic, and give rise to certain misapprehension in your relationship. The influence of Venus strongly affects you due to which you live the life of implausibility. As a result, you get less time to celebrate your day.
Natives Born Between 20 To 29 Are Domineering
Natives born in this Deccan are highly influenced by Thursday. Therefore, you are quite stubborn and always aim for a single goal. You are far-sighted, but the nature of your perception is undeserving. The dawn of your fortune happens after crossing the age of sixties. You always believe in selfless knowledge and are very romantic from the inside. Your imaginative power is great, and thus easily connects with the rhythm of nature. You are quite apt in reading someone's mind by relying on your sixth sense. As a result, you feel for others very deeply.
---
Striving Career Of A February Born People:
Natives born in February are very hard-working and aim for your desired goal like a wild dog. In the life of these natives, Saturn works as a blessing in disguise and provides wholesome results for every taken action. February born people are mostly inclined towards painting, art, education, writing, teaching, and health.
---
Idyllic Love Life Of February Born People
The month of February is already popular as the season of love. The departure of winter and scintillating of the Sun in Capricorn takes place in this month only. During this month nature shines with full glory and the mixture of hot and cold weather serves the sensual atmosphere. Thus, if you are born in this month, then you are very shy, but your heart only sings the song of love. You have a high desire to spend time with your beloved partner, and thus you don't escape a single chance to woo your partner with your creative mind.
How romantic will your love life be this Valentine? Check out 
---
Momentous Health Of February Born People
Natives born in the second month of the year are very balanced and of a serene mind. You are quite healthy, but sometimes you can be caught up with liver and intestine related issues. Health conditions related to Leg and Joint pain can also become a nasty piece of work for you, but the strong presence of Saturn in your chart proves to be a blessing for your health.
---
Lucky Colour Of February Born People
For February born people, the colour which proves to be lucky is Black, Blue, and Indigo. The second day of the week is considered to be the period of blessing for performing any kind of auspicious work for you. If we talk about your lucky stone, then the Emerald (Panna) and Blue Sapphire (Neelam) stones are perfect for you. However, before donning any kind of precious stone, consulting an expert for the right advice will be fruitful.
Know which stone is perfect for you as per your sign-Here
---
Good And Bad Habits Of February Born People
People born in February also have some good and bad traits like other month born people. If you are a son of this month, then you're a believer in fate, but you also have a zeal to work hard and achieve your desired goals. You are kind-hearted and love serving others. No doubt, you are a bit sensitive. In your life, you give little value to your money. As a result, it gives you a serious perspective on life.
---
---
---
Get 100% Cashback On First Consultation