Best Dating Ideas As Per Your Partner's Zodiac Sign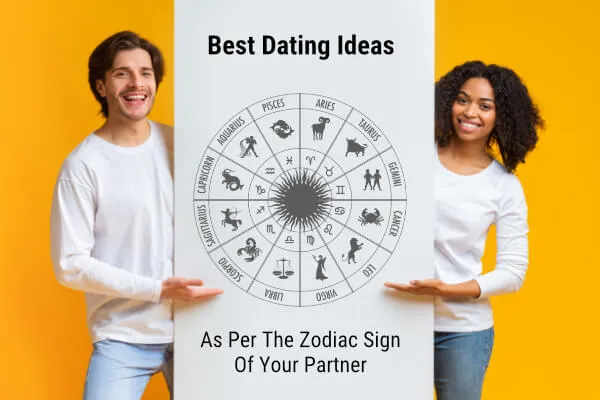 ---
Unveil Your Would Be Partner's Sign Before Dating
Have you ever come across a situation where you are too anxious or worried before going on a date? If the answer is YES, then you are at the right place. Time to blame your ex's Zodiac signs, jokespat. So, let's get on the roller coaster of some interesting facts about the personality of your dating partner. And, plan an intriguing date. But wait, don't forget to check his/her zodiac sign before going on a date night.
Aries
If your partner is Aries then the date would mark 'Memorable day' for you. Yaa! They are sharp minds and wonderful leaders. Being adventurous & exciting is in their blood. So, better to go with them to some adventurous places. We suggest that if they purely love you then they can be intimate with you without any second thought. Don't get absorbed in negativity, just be aware and act accordingly.
Taurus
Descent Perfume, CHECK? Extraordinary shoes, CHECK? Pack your bags up as you are about to have a luxurious date. Taurus are mostly like this only. Don't get surprised if your partner has arranged a beautiful candlelight date for you
"found a love for me Oh darling, just dive right in and follow my lead"
with a soothing song by Ed Sheeran or Frank Ocean. After this, no one on Earth can stop you from falling in love with that person. Of course, Taurus loves larger than life and beautiful environments.
Wishing for a perfect first date? Experts can help you!
Gemini
If your dating partner is Gemini, believe us, things will remain super easy. It would be meaningless to be on pins and needles. They carry this aura of being so charming that they just are everyone's prime focus. And, the best thing about them is, you can save your energy and just nod on what they are saying due to their endless talks on a date. Your role is just to listen to them and nod accordingly, LOL how cute does that sound. Their talks would include; sex, entertainment, or family. So basically, a masala packed conversation to know about him/her.
Facing endless troubles in your love life? Check out your Love & Relationship of 2023
Cancer
Cancers love to watch the sunset while sitting near a river. They love to eat sweets as well. If you are about to date anyone, just plan accordingly. Go with a bucket full of chocolates or sweets and ask them whether he/she is a fan of Choclates or Champagne? This would show your caring side. Watch any movie in a theatre, holding your partner's hand, while sharing an indescribable connection.
Leo
Dating Leo can be an extraordinary ride filled with some unexpected demand. You need to be alert. They like to have a date in a 5 or 7-Star hotel because as Rajesh Khanna said, zindagi badi honi chahiye lambi nahi.. (Life should be big, not long..) Just to be watchful, you can't be upset or moody, otherwise, your dating partner will get angry instantly.
What colour outfit should you wear on Valentine's day? We have some tips for you, based on your Zodiac Sign
Virgo
Before meeting any Virgo on a date, you ought to set 3 plans in advance. Note, they are health freaks, they are always up for cooking, yoga or dance, and they are always ready to upgrade their own version. 'Perfectionist' would be the right word to describe them.
Libra
Keep all the shyness in an empty bag and throw it away in a river before meeting a person with a Libra sign. Ask your dating partner what you should wear on a date as they are experts when it comes to fashion. Manners, Maketh, Man/Woman! You can take them to shopping malls, they would really love that! Overall, the Tag of 'Masters Of Fashion' belongs to them.
Is your partner loyal to you, Huh? Check out based on Zodiac Sign
Scorpio
Among all the signs, Scorpions are more mysterious. You must visit any peaceful or historical place on the date or either watching a movie in a theatre would be the right option. Attempting any mistake in front of a Scorpion would lead to cracking the relationship with you. So, be a pro player here.
Sagittarius
Just as their sign, they ought to fall in love as fast as fire. No need to be a Ghost Rider! Let the simplicity be on the top while meeting a Sagittarius. Take them to any highway, trekking, jungle or something where only you and your partner's voice can be heard. After all, it's all about two beautiful souls meetup.
Capricorn
You ought to know the tight schedule of Capricorn before meeting them. Busy ducks! They would never waste any single minute of life, never in a million years. You can simply go to an old school place with them or else you can surely go to watch a movie or any serene place where you can sit and have a love-filled talk without any distraction.
Are you feeling like you have finally found someone? Read out the Best Valentine's Day Proposal Ideas For Each Zodiac Signs
Aquarius
Meeting Aquarius? Find some old school or classic place. It can be a rock concert, a Sci-Fi Movie, or vintage store. As J.D Sallinger rightly said that Certain things they should stay the way they are. You ought to be able to stick them in one of those big glass cases and just leave them alone. You can share your secrets with them too, they are good at keeping it.
Pisces
Saying those three golden words 'I LOVE YOU' to a Pisces is dam easy though they are too shy by nature. Don't feel weird if they don't share their feelings at an early stage, but believe us once they are familiar with you, you'll see their unique nature. Sitting in the moonlight and talking to them would be the best romantic thing you can experience and cherish.
Hope this wonderful insight will be impactful for you and your dating partner. So, say BYE to all the worries and HI to love.
Your Accurate Personalised Astrology Predictions Are Just A Call Away – Talk To Expert Astrologer Now!
With Ganesha's Grace,
Astrologers trained by Shri Bejan Daruwalla
The GaneshaSpeaks Team
---
---
Get 100% Cashback On First Consultation