How will Sun transit in Scorpio affect your zodiac sign?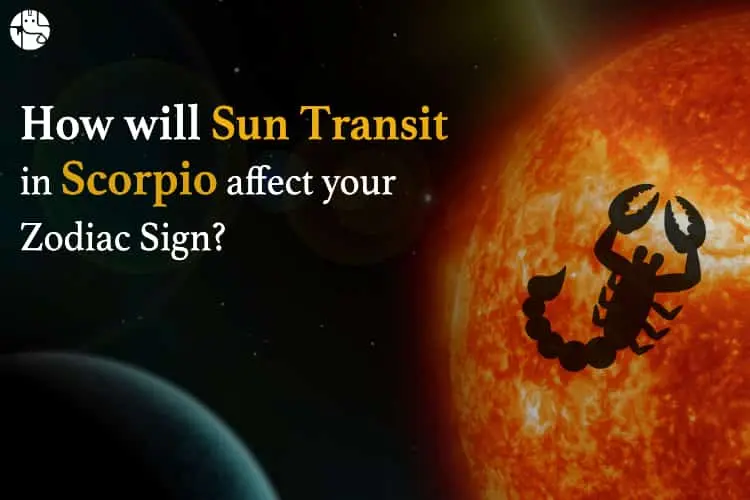 Unlike Solar System, the sun is a planet and leader of all planets in astrology. The Sun is worshipped as a deity and offered water in Hinduism. It is a belief in Hindu culture that by offering water to the lord Sun would eradicate all doshas in the horoscope and will lead to good fortune.
The sun is a masculine planet, the lord of all planets and ruler of East direction. The transit of the Sun in each zodiac sign happens almost every month as the planet moves one degree daily. These transits are called Sankranti.
Expert Astrologers recommend you to wear Ruby after your detailed horoscope analysis if you are facing problems due to Sun. Ruby will give strength to the weak Sun in your horoscope. You can buy Ruby gemstone online to accelerate your will power and get benefits from the government during this transit.
---
Effects of placement of Sun in Janampatri
The planet Sun would give favorable results if placed in the third, sixth, tenth and twelfth houses and give strong results when placed in the tenth house. The association of Sun with Moon, Mars, and Jupiter is considered as friendly whereas the association with Venus and Saturn is considered as malefic. The Sun is a fiery planet according to Vedic astrology and its association with Mercury is considered as even. The planet is a significator of will-power, father and strong immunity in the birth chart of the native. If the sun is favorably placed in your birth chart then you would perform with excellence in every aspect of life and gain achievements in your respective field. You would also get the support from your father and there are high chances that you get the opportunity to work in the government sector.
The weakly placed Sun in the birth chart would bring difficulties and obstacles in your life. Get the Remedial Solutions given by Indian Astrologer which can help neutralize the malefic effects of the Sun.
The position of the Sun in your horoscope is in the favorable house, However, if you are still not keeping well, healthwise, you are advised to have Surya Yantra and worship it regularly to get beneficial results from the Sun.
---
Timing of Sun transit in Scorpio
The planet Sun is moving out from the Libra zodiac sign and entering the Scorpio zodiac sign on November 17, 2019. Scorpio sign is governed by the planet Mars. The Sun is likely to stay in this zodiac sign for around a month till December 15, 2019. This transit would have a great impact on all zodiac signs.
---
Effects of Sun transit in Scorpio
The brilliant Sun is a planet that represents success in career, power, influence, authority, your relations with your seniors and people in authority.
Discover how favorable or unfavorable the Sun Transit in Scorpio will be for your zodiac sign.
(Kindly note: the below predictions are mentioned according to Moon sign.)
Aries
The Sun will transit in the eighth house of your birth chart. The house is the significator of sudden gains and secret things. The transit would give you mixed results.
There are chances of disputes and misunderstandings in personal life. You need to stay calm and avoid arguments with your closed ones.
The transit period foresees a difficult time for you in balancing personal life and professional life. The problem in the workplace needs to be kept in the office when you go home and problems in personal life need to be left home when you go to work. If you fail to do this then it will strain your personal relationships and create an adverse impact on career goals.
There are chances of losses so it is wise to avoid huge investments.
You should be cautious about your health and take preventive measures. You are likely to suffer from minor ailments like cold and cough.
The disturbances in personal and professional life would keep you stressed and impact your health and mental peace. Practive meditation and yoga to remain fit and stress-free.
Taurus
The Sun will transit in the seventh house of your birth chart. The house is the significator of partnership and married life and reveals about long-term relationships and partnerships in one's life. The transit is going to take place in your opposite sign and is likely to give you unfavorable results.
The presence of the Sun in this house gives you an alarm for the relationship with closed ones. You are likely to develop enmity with your closed ones. You should be careful in using words while communicating with them. Any conversation which is leading to arguments should be cut down smartly.
There are chances that you end up in fights with the partner on petty issues. You should try to be more soft-spoken and give more quality time to them.
You need to take special care of your health. You should be attentive towards minor health ailments and take precautionary measures for it.
There may not be major events or progress in the career front. Promotion and salary increment would get delayed. You are not likely to get rewards and recognition for your sincere efforts at the workplace.
Your financial position would remain stable and no growth is foreseen in that. You should not make huge investments in any projects as you are not likely to get desired results from it.
You should be calm and patient during the transitory motion of the planet and carry out your work the way you have been doing till now.
Gemini
The planet is transiting to the sixth house in your birth chart. The house is a significator of enemies, opponents, wealth and well being. The transit is favorable for you and gives beneficial results to you.
Your reputation and status will get a boost in your personal and professional life. The effort and hard work that is done in the past will give you fruitful results during the transit period. Your senior officials would get impressed by your work and offer rewards and recognition.
Influential people in society and the workplace will favor you in the transitory period. You should get out the best from them for your future benefits and success. Your work will be done swiftly and there will cordial relationships with superiors and immediate boss.
Businessmen are likely to progress and get success in your respective ventures. You would earn more profits and there are chances of expansion of the business. If you are planning for changes and reforms in business then you can go forward with your ideas.
You would suffer from acidity problem or minor problems related to hygiene. The minor ailments will affect your goals and keep you stressed.
Overall the transit period would give fruitful results in business, career and personal life.
(Also read, Jupiter Transit 2019: Jupiter in Sagittarius – Effects on 12 Moon Signs)
Cancer
The transit of Sun in Scorpio is happening in the fifth house of your birth chart. This house is the significator of mental ability, prosperity, heart, and mind. The transit phase is going to give you mixed results.
You will get closer to your loved ones and may spend a good time with them. You may plan a gathering or an outing with your friends and family. The atmosphere in personal life would keep you in a good mood.
You would receive extended support from your spouse in your marital life. She may understand you and may give you good guidance as well. It is predicted that the decisions you wish to take during this time would receive full support from your family members as well. This would, in turn, strengthen your bonds with them.
However, too much of hard work may affect your health and induce mental stress. You should keep a check at your energy levels as they may go down.
You are suggested to keep health goals and take fitness training exercises to keep a balance in your work and life.
In all, the transit period of Sun in Scorpio may be a beneficial time of your personal life and bit concerning in terms of health.
Leo
Your sign is ruled by the Sun which is going to transit in the fourth house of your birth chart. This house represents the domestic environment, near and dear ones, mother, land, comforts, and discomforts. You may remain dissatisfied during this period.
There may be a lot of mood swings due to the transit of Sun. It may be due to your everyday work not going smoothly. This may make you feel dissatisfied.
You may face discomfort in communicating at personal front. You should use your words wisely during the transit period. Be careful of your behavioral patterns while you deal with elderly people in your home. Whatever they may have to say, listen to it with due respect and let the phase pass.
You would also need to show utmost patience as there are chances of short term enmity with your near and dear ones. Any argument that may heat up the conversation should be avoided at this time.
Your everyday routine may be stressful. The household chores may give you a total turn off and you may feel like giving it up. It is suggested that you manage the time by writing things down and sticking to the plan.
Monotony or work pressure may become unhealthy for your mind and you may also feel like quitting. Relax your mind with a bit of meditation or yoga exercises every day.
Overall, this seems to be an unfavorable time of your life. You should remain cautious in dealing with matters during the Sun transit in Scorpio.
Virgo
The Sun would be transiting in Scorpio in the third house of your birth chart. This is the house where your talents, fitness, valor, siblings, near relations, and dreams lie. This transit period would give you beneficial results.
Your career is going to take a leap by crossing all hurdles and boundaries at this time. You will be able to see a growth in your career with the dedication you have shown till now. Your colleagues may also assist you at your workplace. There are chances that your boss may also give good support. They may also recognize your efforts and help you achieve more.
The things you were dreaming for a long time may come true in the transit period.
Your relations with your near ones, friends, and peers would improve. The projects you were working on would get completed in the stipulated time. This is the phase when you can focus on increasing your efficiency. This would help you accomplish a good amount of deals. Your business may also go smoothly. It is possible that your market shares go high.
In a nutshell, this transit of Sun in Scorpio is going to be a favorable time for your personal as well as professional life.
Libra
The second house in your birth chart is where the Sun is transiting for you. It is moving out of your sign and transiting in Scorpio zodiac sign. Since Sun is debilitated in your sign, you may face some unknown issues during this time. The second house signifies speech, wealth, loss due to cheating, earning through self-effort, and financial resources.
You might get trapped into some financial matters and are likely to take wrong decisions. This may also affect your career and you may not be able to focus on work. Hence, you are suggested to remain very vigilant and review all the matters carefully. You should not give consent to anything without proper evaluation.
You would feel a constant concern about your finances. Someone who borrowed money from you may not return it to you during this time.
It is suggested that you build your confidence and cope up with the awkward situations which are likely to arise.
Your words may be prickly and hurt someone in conversation. Try to be soft-spoken and do not hurry into proving your point in an argument. It may lead to unwanted chaos and stress.
Overall, this is the period where you would have to be more cautious in your career, finances, and communication area.
Scorpio
The Sun is going to transit in your very own moon sign. Hence, it is the first house where it would be coming in. This house is the significator of the self, fortune, dignity, appearance, longevity, health, and stamina. This transit period is a good time as predicted by Ganesha.
You would be filled with enthusiasm and vigor to do things.
You would complete your tasks at the workplace with ease and in a timely manner. This may also impress your seniors and subordinates and make them appreciate your work. If you are working on a business project, then it may also be finished during this time.
You would be in a good mood in this transit phase. Everything you do or wish would fall into place smoothly without any mental stress. You would be happy and feel at peace with the environment. This is also a good time where you can relax and take a small vacation to treat yourself on completion of your works.
You would also remain in pink of your health. If you were suffering from any disease, you may recover faster at this time of the transit. The energies of the Sun would heal your health.
In all, the Sun transit in Scorpio is going to be a beneficial phase for you in terms of health and happiness in life.
Sagittarius
The transit of Sun is going to be in the 12th house of your birth chart. This house is the significator of expenditure, loss of wealth, spending money, loss of sleep, physical disease, imprisonment, distant travel, foreign land, emigration, spiritual learning, secret learning, sleep disorders, and mental imbalance.
The planetary combinations during this time are likely to keep challenges in front of you. You may face some difficult situations at work. There may be pressure on completing your tasks and achieving high targets at this time. Your career may seem to be going through a tough time. You may feel that you are not getting enough growth.
You may also face issues in terms of finances. You may not get your favorable increment you might have been hoping for. If you are a business individual, you may see a declining graph in your profits.
All these situations may make you feel low mentally. However, Ganesha suggests you to keep control of your negative thoughts that may arise due to this.
Keep giving your best at work by keeping a low profile. You should not involve in unnecessary arguments. This may seem tough but hard work would pay you.
In a nutshell, the transit of Sun in Scorpio may give you the challenges of your life. Keep your optimism and positivity high.
Capricorn
The transit of Sun is going to take place in the 11th house in your birth chart. This is the house of gains of all nature, income, wealth, fulfillment of desires, acquisition, rewards, recognition, material enjoyments, profits, and returns.
The transit period has some good news for you in terms of monetary matters. You are likely to get some unexpected income from different sources.
At work front, you may achieve the desired targets with your hard work. This may lead to reward and recognition in terms of incentives and perks. You may also expect an appraisal during this time.
The business ventures would yield you good profits and returns. Your stocks in the share market may go high up the ladder. This is a great time to empower your life with some investment planning. There are chances that you would invest your money in real estate property or land.
You are suggested to remain focused and have confidence in yourself. This would help you make use of this transit phase more wisely.
Overall, this Sun transit in Scorpio zodiac sign seems to be a favorable period for you in finance-related matters.
Aquarius
The Sun is going to transit in the tenth house in your birth chart. This house represents areas like profession, governmental service, status, honor, authority, business, fame, progress, nature of work, father and well-being.
The transit phase is going to be a boon for you. Your workplace will give you good results. Your colleagues would cooperate with you and help you in completing your tasks. Your seniors would also be supportive.
You may also receive some help from your friends in your personal or professional life matters. You may receive appreciation from your seniors for your dedication at the office. It may boost your status and help you progress in your career.
For business individuals, if your work was stuck in the middle, you may get help from a close person to complete it. Your business has a good chance to grow at this time of the Sun transit in Scorpio.
All the above indications would make you happy and contented. You would come closer to your friends and peers during this phase.
However, it is suggested that you keep yourself away from unnecessary arguments with females in your office or at personal front. They are likely to make things go wrong and work against you.
In a nutshell, this seems to be a blissful period of your life. Make the best use of it.
Pisces
The transit of Sun in Scorpio is going to be in the ninth house of your birth chart as per Vedic astrology. This house signifies long journeys, fame, and fortune, religious inclination, karmas of the present birth, association with virtues, devotional and religious learning. You would be high on energy and excitement during this time.
Whatever you do on the career front, it would be with confidence. This would yield you good results and may help you accomplish your work in a fulfilling manner. The period of Sun transit shows promising factors in terms of your health. It is suggested that you remain calm and not lose your focus. There are chances that you may get unwanted thoughts which could build chaos in your mind in the latter part of this phase.
Your inclination towards spiritual practices would increase during this time. There is a chance that you may visit different places for your spiritual learning.
Overall, the Sun transit in Scorpio would be beneficial to you in your devotional journey. It is recommended that you take the right advantage of this period.
---
Ending note
The powerhouse of energy and vigor, Sun blesses natives who have it placed in a benefic house in their birth chart with enthusiasm and positivity. Consulting an expert astrologer can give you the solutions to come out of unfavorable situations and lead a happy life.
To Get Your Personalized Solutions, Talk To An Astrologer Now!
With Ganesha's Grace,
GaneshaSpeaks.com
---
---
Get 100% Cashback On First Consultation