Invoke Mahalakshmi with 7-Mukhi Rudraksha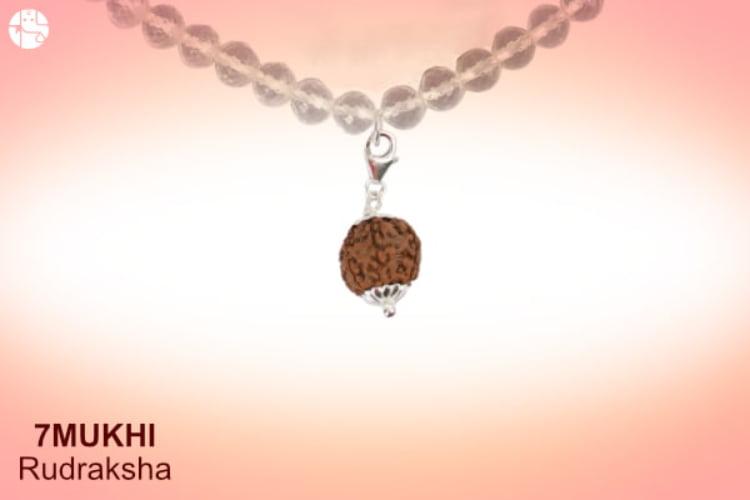 Every rudraksha comes with inherent powers of some or the other God or Goddess. Ruled by Goddess Mahalaxmi, the Saat Mukhi Rudraksha is your best choice if you wish to improve your finances and stay away from enemies.
With the association of planet Venus and Maa Mahalakshmi, the 7 mukhi rudraksha is believed to be extremely divine. It blesses its owner with abundance, good luck and intellect. Its mool mantra is "Om Hum Namah" and "Om MahaLakshmi Namah".
Significance of 7 Mukhi Rudraksh
There is great importance of saat mukhi rudraksha in astrology as well as health.
It bestows the wearer with abundance and riches.
It attracts good fortune by removing bad luck and misery.
It nullifies the affliction of the planet Venus.
It helps in maintaining harmony in relationships.
Benefits of 7 Mukhi Rudraksh
Other than giving the benefits of finances, there are many other advantages and benefits of wearing 7 mukhi rudraksh.
It accelerates the growth in business.
It helps public administrators in achieving success.
It brings greater opportunity of jobs and love interest.
It makes the wearer content and happy.
It protects the wearer from poisons.
There are many health benefits of wearing 7 mukhi rudraksh.
It helps in curing indigestion and hyperacidity.
It helps in relieving respiratory issues like asthma.
It helps in smooth functioning of stomach, pancreas, and liver.
It helps in ailments related to adrenal gland.
It also helps in curing heart related issues.
The 7 mukhi rudraksh is associated with the Manipura Chakra. Hence, this rudraksha helps in unblocking of this chakra and helps the wearer gaining self - esteem.
Identification of Seven Mukhi Rudraksha
Before you buy 7 mukhi rudraksha online, make sure that the dealer is certified and authentic. A seven face rudraksha has seven lines that go from one end to the other without breaking. These lines divide the bead into seven faces. One can check if the bead is genuine through the water test. Put the bead in a glass of warm water and remove it after around two hours. If water gets some colour or germs then the rudraksha is not genuine.
Energizing Seven Mukhi Rudraksha
To get the desired result on wearing the sapt mukhi rudraksha, one should perform rituals and energize its beads. It should be worn on Friday. The wearer should wake up at dawn time and get prepared after bath for puja. Wash the bead with gangajal and keep on a copper plate with nine peepal leaves. Smear the bead with sandalwood paste and offer fresh flowers. Chant the mool mantra "Om Hum Namah! Om MahaLakshmiye Namah!" 108 times. This bead can be worn in red colour silk or woollen thread embedded as a locket in a chain or encapsulated in silver or gold as a bracelet. Bad planetary influences keeping you away from success? Make progress faster with a Rudrabhishekam Puja.
Takeaways
Since the 7-mukhi rudraksha is blessed by Saptamatrika and has healing powers, it is believed to be a divine and a holy fruit. It is profoundly revered by the devout and helps them attain desirable results immediately after wearing it. Apart from giving financial growth and contentment, it also removes stress and negativity from the life of its wearer.
To Get Your Personalized Solutions, Talk To An Astrologer Now!
With Ganesha's Grace,
The GaneshaSpeaks.com Team