Bhuvneshwar Kumar Astrological Prediction: What's his Injury Sports Hernia?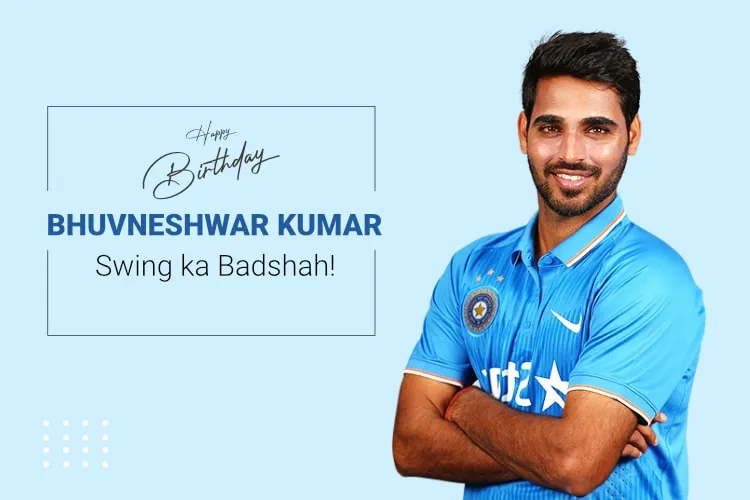 In a fairly aggressive team, this young assuming player stands out. The talented bowler made waves as soon as he debuted on the international stage in 2012. Right from making his first-class cricket debut at the age of 17 to his five-wicket haul in all formats of the game, it has been quite a ride for Bhuvneshwar Kumar. When he first joined the cricket academy, he had brilliant footwork enquired about his batting. He was a different person as he used to give equal time to both batting and bowling altogether. During the early years when we had barren grounds, he used to practice with wet balls which hugely improved his game. To date, Bhuvneshwar has had a wonderful career for India so far. He has bagged 63 wickets for India in the 21 Tests he has played. In ODIs, he has represented India in 114 games and clinched 132 wickets. The star bowler has played 43 T20Is for the Men in Blue to date and has snared 41 wickets for India.
India's swing bowling master Bhuvneshwar Kumar is now going to turn 31 in the upcoming month, and thus we present you with some futuristic facts about this young bowling master. Although Bhuvneshwar has been away from the field for a long time now, his upcoming future seems a little doubtful.
---
Astrological Observation of Bhuvneshwar Kumar
Birth Date: 5th Feb 1990
Birth Place– Meerut, Uttar Pradesh, India
Birth Time: Unknown
---
Bhuvneshwar Kundli
---
Bhuvneshwar and Its Injury Sports-Hernia
The T20 is going to be held in the wintry month of October, and it will be quite interesting to see what's the future of this Indian pace player. India will host the T20 WC in Oct-Nov of 2021, and the Indian pacer player Bhuvneshwar may be a part of team India with Bumrah and other bowlers because of the positive impact of strong Jupiter. Also, due to Bhuvneshwar's availability, India will be in the relaxation zone.
According to Vedic Astrology analysis, Indian player Bhuvneshwar is suffering from a big setback because of the weak Sun in his Kundali. Here, the Sun is co-inhibited with Rahu, and thus he might go through several bone-related health issues ahead of time. As the weak Sun and Jupiter are in her Kundali, the first eight months of the year might be a difficult phase for Bhuvneshwar. And thus, until August 2021, fitness will be a big concern for this Indian path of the year might be a difficult phase for pace bowlers.
Get a glimpse of your destiny and life challenges now with your Personalized Janampatri!
---
Bhuvneshwar Unison With Playerzpot
Recently, Playerzpot roped in Bhuvneshwar as its new brand ambassador. The Fantasy sports website, an imaginative game is scheduled in 2021, and it is a good thing from a cricketer's point of view. Referring to his birth chart, the planets Mars and Mercury are present in the Sagittarius sign where both the planets are aspected by Jupiter. As a result, Playerzopt brand ambassador, Bhuvneshwar Kumar will anchor the brand with his sports charisma and help in creating a higher brand recall amongst the key target audience.
Find out the effect of Mars and Rahu conjunction in your sign, Now!
---
Career Prospects in Bhuvi Janam Kundli – Pacer Bhuvneshwar Seeming Doubtful for IPL 2021
In the upcoming season of IPL, Bhuvneshwar will be a part of Sunrisers Hyderabad during the month of April-May, but he may not be in action for all matches of IPL. As per Bhuvi astrology chart analysis, until August 2021, the period might be a bit tough phase for Bhuvneshwar due to his tryst with injuries. And thus, Bhuvneshwar may not get much playing time in IPL or the national team till next August. However, Bhuvneshwar may come out to play more games after August 2021, once he passes over his bad phase. Moreover, after September 2021, he will be a part of the Indian national team, and therefore he will take part in T20 WC in October 2021.
---
Bhuvneshwar Kumar Marriage Horoscope: Bhuvi and his Ethereal Love Story!
According to Bhuvneshwar's birth chart, the planet Venus is aspected by Jupiter, and therefore, it is the reason for his peace and harmonious marital life. As the Moon of Taurus is sitting in the house of Venus, it will enable him to develop a mutual relationship with his wife Nupur. Being a part of the Indian national team, the Indian pacer may stay away from home, which may turn into mental stress. Also, in 2021, he might feel tense because of his current situation. But his fans can chill out as he has the will to act against all odds. His beautiful relationship with his wife and strong support from his spouse may allow him to develop a needed self-confidence. In short, the cricketer will enter a good phase of his life only after August 2021 as he will completely get himself out from the negative impact of Saturn. In his birth chart, both the planets, Venus and Mars are strong, so Bhuvneshwar will have a great year in terms of his marriage relationship.
Is 2021 the year for you to get hitched? Find out now with Marriage Prospectus 2023!
---
---
---
Get 100% Cashback On First Consultation