Australia's tour may give tough challenge for Anil Kumble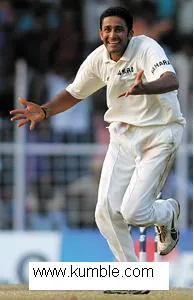 Anil Kumble, the best ever leg-spinner in Indian cricket squad, has witnessed most number of victories during his career. And in every victory, Kumble has unarguably been the major contributor. Be it limited over match or a test cricket, Kumble has always made his presence felt by his quiet, precise and sometimes ruthless bent of mind. His excessive bouncy balls have baffled the batsmen and earned him the nickname 'jumbo'.
Recently Anil Kumble has been selected as India's test captain, and he has been retained for this position during India's tour to Australia. Ganesha would like to say something on Anil Kumble.
Anil Kumble was born on 17th October 1970, Banglore, Karnataka. In Kumble's Horoscope Stellium of lord of the 10th house of career i.e. Mercury (signficator of arm), lord of the 3rd house (house of courage) i.e. Mars and Sun (significator of government and reputation) is placed in Virgo Ascendant, These combinations are instrumental in taking Anil Kumble to heights of fame and popularity. These are also significators for honor and fortune.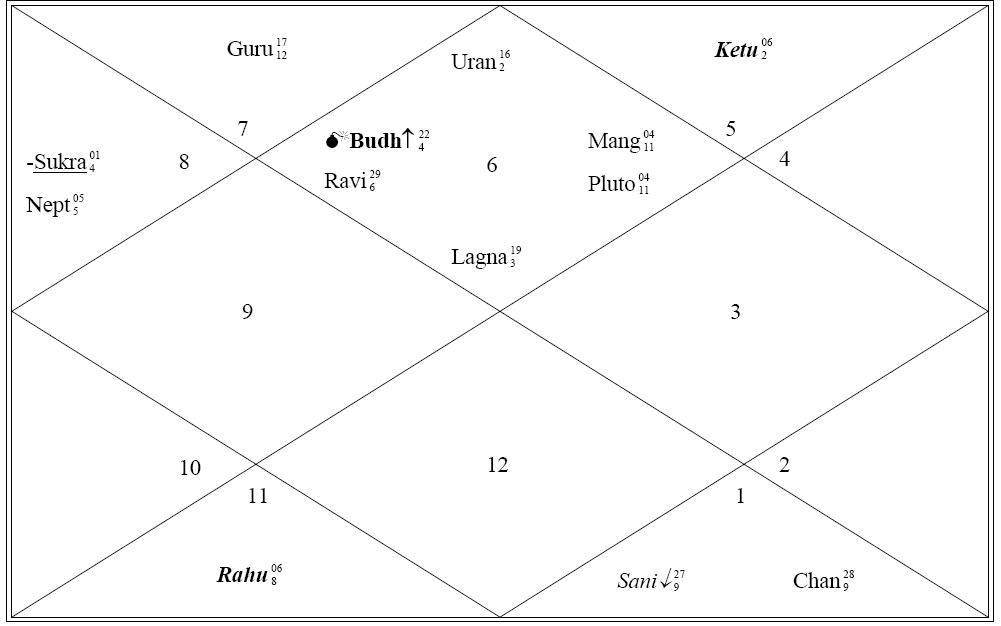 Anil Kumble made his debut on 9th August, 1990 against England. Anil Kumble initially started off as a fast bowler before successfully ending up as leg break, googly bowler. Currently he is the highest wicket taker for India in both ODI and Test cricket. Ganesha feels that lord of the 3rd house, Mars (significator of sport) is placed with Sun in first house, which has given an unorthodox bowling style and 72% of his ODI wickets are top orders batsmen. Anil Kumble is the only player after Shane Warne to have claimed 500 wickets and scored 2000 runs in tests.
Ganesha feels that in Anil Kumble's chart, Jupiter is placed in 2nd house of wealth and is aspecting 6th house and 10th house of career. Moreover, Mercury, lord of the 10th house, is placed in Virgo sign, is responsible for rise and fame of Anil Kumble.
Anil Kumble has taken record 10 wickets for only 74 runs against Pakistan in 2nd Test Match at Ferozshah Kotla Ground, New Delhi on 7th February 1999. During this period, transiting Moon, which is lord of the 11th house of gain and fame, was passing through 2nd house over lord of the 7th house i.e. Jupiter. Moreover, transiting Jupiter was passing through 7th house of victory of enemy and was aspecting lord of the 10th house, Mercury as well as Natal Sun. Anil Kumble has won the Ekalavya Award in 1993, the Arjuna Award in 1995, the Mayura Award in 2003, the Padma Shri in 2005 and was one of the Wisden Cricketers of the Year in 1996.
Ganesh does not forget 11th May 2002, Saturday, on that day, Kumble's jaw was injured by West Indies fast bowler Mervyn Dillon. On this day transiting Saturn and transiting Moon were passing through 8th house of injury in Aries sign, which is significator of Head over Natal Saturn and Natal Moon and Jaw fracture was confirmed by doctor on Sunday, but as Mars, lord of the 3rd house of courage and energy is placed in Ascendant with Mercury, lord of the 1st house, Anil Kumble has shown amazing capacity and came on ground with a bandage around his jaw. On 3rd day of the match after tea break, Anil Kumble came to bowl and in the third ball of his 51st over Kumble strikes and dismissed world-beater Brian Lara during India's tour of West Indies, 2001/02, 4th Test in Antigua.
On 27th November 1993, in the final of the Hero Cup in Calcutta, Anil Kumble bowled a magical spell and took 6 wickets for only 12 runs and crushed West Indies in Final. Astrologically on this day transiting Moon was passing through 8th house over Natal Moon and was aspected by transiting Jupiter as well as Natal Jupiter.
Former Indian One-Day International Captain Anil Kumble has announced his retirement from One-Day International Cricket on 30th March 2007. Lord of the 10th house of career i.e. Mercury is placed in Ascendant with Natal Sun, which represents administration and rule and on 8th November 2007, the great leg-spinner Anil Kumble was appointed India's Test captain.
Ganesha feels that transiting Saturn is passing through 12th house of overseas, which indicates that Anil Kumble may get tough fight from Australia in next test series but as transiting Jupiter in 4th house and is aspecting 10th house of career, which indicates that this period will keep Anil Kumble on top till first decade of 21st century. The 1995 to 2008 is best period of Anil Kumble's Cricket career.
Ganesha wishes good luck to Anil Kumble for forthcoming series.
With Ganesha's Grace,
Hitendra H Thakor,
www.GaneshaSpeaks.com
---
---
Get 100% Cashback On First Consultation