Can Vasundhara Raje Scindhia Retain Power In Rajasthan? Know What Ganesha Says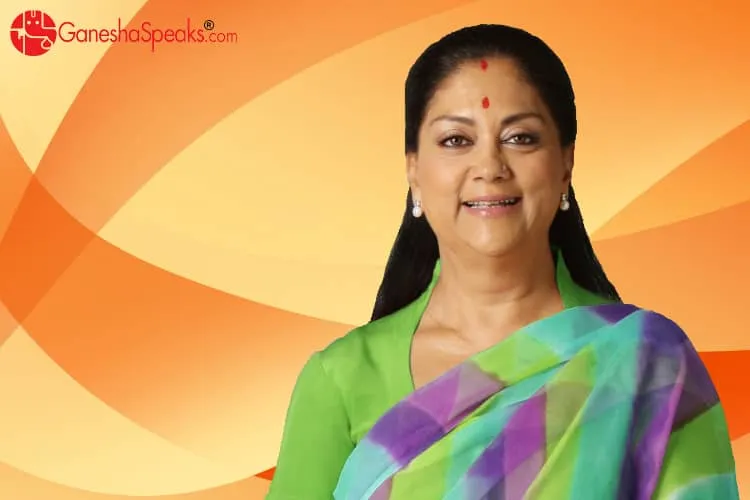 In line with the trends in the developed world, women power in Indian politics is rising fast and high. Now, there are a number of women leaders in Indian politics who are doing well and helping the society gain prosperity and equality. Well, one of the tall women leaders is the present Chief Minister of Rajasthan: Vasundhara Raje Scindhia. She was born with a silver spoon in her mouth, to the royal Maratha family of Gwalior. In 1972, she married Hemant Singh of the royal Jat family of Dholpur (Rajasthan). However, the couple separated a year later.
Raje has traversed long miles till she reached this top position in BJP. Raje entered the Indian political system in 1984. Initially, she was made a Member of the National Executive of the newly formed BJP. She was also elected as a member of the 8th Rajasthan Assembly from Dholpur. The same year, she was appointed as the Vice President of the Yuva Morcha, Rajasthan BJP.
Vasundhara Raje Scindhia has steered her party (BJP) to victory on several occasions in the past. Now, Rajasthan is going to polls again on 7th December 2018. Congress and BJP will fight each other tooth and nail. What are the prospects of BJP and it's chief leader Vasundhara Raje Scindhia in the forthcoming assembly election? Can she defeat Ashok Gehlot led Congress? Ganesha has analysed her and how will she perform in the approaching Rajasthan assembly election. Read on and know more:
Vasundhara Raje Scindhia Birth Details
Date of Birth: 8th March 1953
Birth Time: 4:45 PM (Unconfirmed)
Place of Birth: Mumbai, Maharashtra, India
---
Planetary Positions In Vasundhara Raje's Horoscope
Vasundhara Raje is currently under the influence of Rahu-Jupiter-Ketu Mahadasha period. Jupiter is the lord of the 9th house (the House of Fortune) and placed in the 10th house. Rahu is placed in her 7th house. Rahu is placed in the sign of Saturn. Saturn is retrograde in the 4th house and aspecting the 10th house. She is under the last phase of Saade Sati.
---
Will Leave No Stone Unturned
Planets will make a positive impact in the forthcoming election. Vasundhara Raje Scindhia will make all-out efforts and leave no stone unturned in making her party win the election. She will try very hard to mobilise her voters. However, fighting the anti-incumbency factor will be very tough, says her astrology prediction. Are you concerned about your career growth? Buy the Career Ask A Question Report and get the guidance which you need.
---
Will Try To Woo New Voters
Vasundhara Raje Scindhia will try her level best to retain her traditional voters. At the same time, she will want to woo new voters. She is likely to succeed in her endeavour, at least partially, foresees Ganesha. However, her efforts are unlikely to make any significant impact, as per her star sign Pisces.
---
Most Challenging Election
The ongoing Rahu Mahadasha and transiting Saturn may have a dampening impact on her winning prospects. Thus, Vasundhara Raje Scindhia is going to face difficult challenges in the road ahead. The upcoming election will test her to the hilt. It may be one of the toughest elections which she has ever faced. Are you in doubt about your financial growth? Get it addressed, buy the Wealth Ask a Question Report.
---
Within Party Difficulties Foreseen
Raje will need to defeat Congress which will be a very difficult task for her, all the more because Congress is powered by young and dynamic leaders like Sachin Pilot. However, her woes won't end there. Vasundhara Raje Scindhia will also face challenges from with her party. Some of her rivals within BJP may try to spoil her prospects. In one sense, the opposition within her party may prove to be more difficult than the rivalry with Congress.
---
Retaining Power In State Will Be A Herculean Task
Her prospects in the upcoming election don't look bright. Her performance in the election may be average. Vasundhara Raje Scindhia will have to struggle very hard to retain power in the state.
With Ganesha's Grace,
Acharya Bharadwaja
The GaneshaSpeaks Team
To Get Your Personalised Solutions! Talk To Astrologer Now.
---
---
Get 100% Cashback On First Consultation