The political turmoil in Karnataka is turning out to be as chaotic as Ganesha had foreseen it to be way back in the second quarter of the year 2008. Check the link - (
./the-future-of-yediurappa-government--1175/
). Ganesha had predicted that the ruling party might have to encounter some serious problems around August, 2010. And so we can see! Although Chief Minister B S Yeddyurappa has won the vote of confidence in the Assembly by a voice vote, the opposition is in no mood to accept the speaker's decision, and thereby, their defeat. With Congress and JDS deciding to seek the Governor's intervention in the matter, the drama is far from over.
The ruling party and the opposition are at loggerheads in Karnataka, and with none willing to move an inch, the state government is and will be going through some troubled times for sure. Amid all the chaos, Ganesha, with the help of vedic astrology, predicts the fate of the Karnatake government.
Chief Minister B S Yeddyurappa natal chart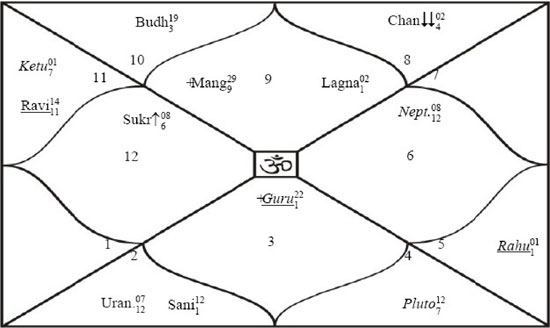 The entire Sun-Saturn period between 17th October, 2009 and 29th September, 2010 was full of distress and struggle for chief minister B S Yeddyurappa. Saturn is a weak link in his chart. It is not only placed in the 6th House (House of enemies), but also in D-10 chart and is debilitated in D-9 chart, causing him all types of problems.
Fortunately, he is now under the influence of Sun-Mercury period. Mercury is the Lord of the 10th House and is placed well in the 2nd House. Also, Mercury is in its own Navmansa, therefore, it has become powerful. The combination of the Sun-Mercury period along with the transiting Jupiter may save him from further turbulences. However, all is not well for him, at least till 15th November, 2010, and his political career seems to be extremely eventful as there's more to come. Though he may survive the battle this time, it would be difficult for him to complete his full term as the chief minister of Karnataka.
Transiting Rahu in the Ascendant and Saturn transiting through the 10th House, 8th from natal Sun, may continue to cause him problems. Political aggravations are likely to rattle him in the year 2011 as well. Since the stars are not favouring him, he will not have any respite from difficult situations. There may be occasions when things will be too exasperating and will adversely affect his performance, specially after mid March, 2011. Demands of the opposition will also be difficult to deal with. He may have to face extremely challenging situations between 5th August and 12th December, 2011. The oath chart also indicates that the government may face problems due to internal party feuds and pinpricks from the opposition due to the Mars and Saturn aspect on the 2nd House. Despite winning the trust vote and the CM being confident of holding his office for another two-and-a-half years, Ganesha says, Karnataka is heading towards midterm poll in the year 2012.
With Ganesha's Grace,
Tanmay K.Thakar
The GaneshaSpeaks Team