Mamata Banerjee Horoscope & Future Predictions for West Bengal Elections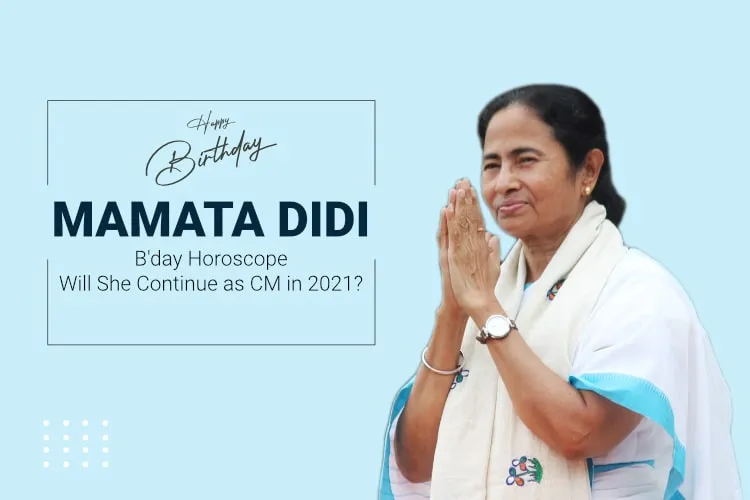 Mamata 'Didi', The Eighth Chief Minister of West Bengal, is about to celebrate her 66th Birthday on 5th January and therefore, we are here with Mamata Banerjee's Horoscope analysis. Founder of West Bengal's ruling party, the All India Trinamool Congress, and the first woman Chief Minister of her state, she is the epitome of leadership in West Bengal. In fact, Didi defeated the longest-serving democratically elected Communist Party of the world to become the CM, and her stature in politics makes even more sense. Before that, when she was part of the Indian National Congress, she held a number of woman-first positions in the cabinet.
Mamata Banerjee, or Mamata Bandopadhyay in Bengali, has now won two terms of West Bengal elections. The successful campaigns which have resulted in 'landslide victories' in the words of political pundits. Her party is the only party since 1962 to form a government in West Bengal without any ally. Talk about Queens not needing any Kings! This simply dressed Didi is also a poet, a painter, and was named among 100 most influential people in the world. She also has a biopic made for her in Bengali, aptly named as Baghini (The Tigress).
At the brink of the new year, West Bengal prepares for a deciding year. And though elections are going to take place mid-2021, the parties have started their campaign. Where does Mamata Banerjee stand among this all? We will look into that with Mamata Banerjee Birthday Forecast. Meanwhile, you can also get an idea of your work life in 2021, with a personalised Career Report!
---
About Mamata Banerjee
Date of Birth: 05 January 1955
Time of Birth: Unknown
Place of Birth: Kolkata, West Bengal, India
---
Mamata Banerjee Kundali
---
Mamata Banerjee Horoscope Analysis
According to her date of birth, Mamata Banerjee's sun sign is Capricorn. Here, we have considered the Surya Kundali of Mamata Banerjee as the exact time of birth is not available. From her birth chart, we can see that Mercury is situated with the Sun and Rahu in Sagittarius. The confidence and aggressive politics may be the result of very beneficial Budh-Aditya Yoga (Mercury and Sun together) in the ascendant. Mercury is also the lord of the 7th house, the house of public life and politics, which shows why she has been so successful in politics. Ketu situated in the 7th house has also helped her with her political career over the years.
You too can get the most accurate predictions about your life and future with your Personalised Janampatri, handwritten by our expert astrologers
But how will all of these help her in 2021? Let's find out with Mamata Banerjee's Birthday Predictions.
---
Mamata Banerjee in West Bengal Elections 2021
She will be under the influence of Saturn Mahadasha Antardasha of Moon till 29th September 2021. After that, Mamata Banerjee would go under the Mars Antardasha till 6th November 2020. The Antaradasha of Moon will help her put all the efforts into her election campaign, whereas Mars Antardasha may bring a betrayal from one of her own! The Rahu transiting over her Moon may keep her under some false impressions of people which may lead to bad decisions at times.
Venus is there to fulfil all her wishes. That will be helped by transiting Ketu over Venus, too. However, the results are not likely to be as favourable as she has seen in the last two elections. If she wins, it is going to be a close victory. There is a possibility of losing the election too. However, if that happens, her party may emerge as a strong opposition.
---
Health Insurance as Election Manifesto: Will it Work?
Swasthyasathi Health insurance scheme of West Bengal is one of the highlights of Mamata Banerjee's government. It provides free health coverage up to 1.5 Lakhs regardless of the applicant's religious affiliation, caste and creed or profession. Her party, TMC will surely use the success of Swasthya Sathi as one of the talking points. However, their most prominent rival BJP has 'MA Vatsalya Yojana', backed by the central government.
Astrologically, Ketu transiting over Venus predicts an inferior result for the native than expected. These two factors combined will make the situation tough for Mamata Banerjee in the 2021 WB elections.
Will you get better results in 2021 compared to 2020? Know what lies ahead for you in various aspects of your life with the 2023 Highlights Report.
---
Mamata Banerjee & TMC's Relationships with Other Parties in 2021
The Saturn and Jupiter conjunction in Capricorn will make her approach towards other opposition parties at a softer side. She will be less defensive and more adaptive towards criticism and opposition. In 2021, she may even need the support of these parties to form an allied government.
As always, she is likely to give her 100% for the party. However, Rahu's transit over the Moon and Ketu's Transit over Jupiter will hinder her success even from these benefic planets. A clear win without any alliances seems a far fetched dream this 2021 for Mamata Banerjee.
---
A Possible Tough Year, for the Tougher Lady
That's all we have to say about Mamata Banerjee Horoscope. If we know 'Didi' enough, then we know she is not the one to run away from the adversities. A fighter with the right spirit, she is bound to go on, in her own way, despite all odds. On her 66th Birthday, Ganesha wishes her a Happy Birthday. May her coming year be filled with auspicious blessings and helpful deeds. Shuba Janmadina, Didi!
To Get Your Personalised Solutions! Talk To The Best Astrologer Now.
With Ganesha's Grace,
Astrologers trained by Shri Bejan Daruwalla
The GaneshaSpeaks Team
---
---
Get 100% Cashback On First Consultation