Astrological guide: Auspicious colors for Karwa Chauth 2019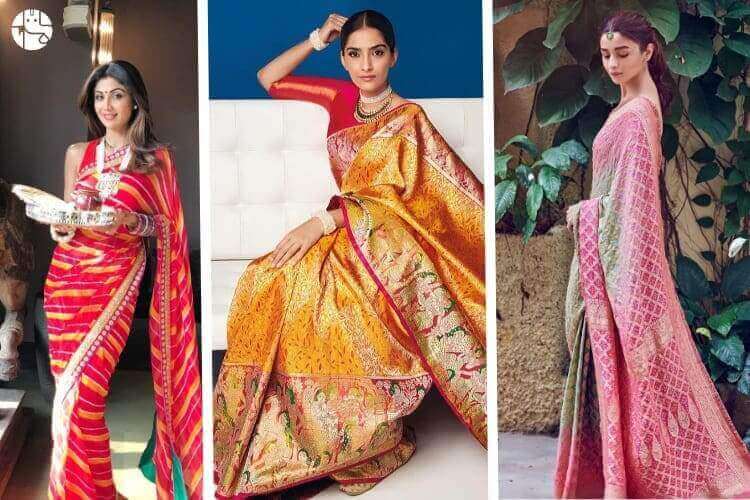 When it comes to praying and performing rituals for the welfare of the family, especially for their husbands, Indian women always step forward with a smile and enthusiasm. It is believed that a wife can turn devastating situations of life into miraculous fortunes with their wholehearted prayers. Karwa Chauth is one such festival that holds utmost significance. On this day, married women fast all day for the well being and long life of their husband. It also strengthens the conjugal bond between a husband and wife. Get your personalized 2020 prediction report to strengthen your bond with your partner.
This year Karwa Chauth will be celebrated on October 17, 2019. It is an auspicious and special occasion for women, even for those who are unmarried. It is believed that the unmarried girls also observe fast so as to get a good husband. It is a day-long fast without water (also referred to as Nirjala fast), which is ended after worshipping the Moon.
Getting dressed in beautiful clothes and jewelry is an added significance of Karwa Chauth. Some of you might have even started planning your special looks for this Karwa Chauth. You can don a lehenga or saree or look dapper in a suit. What if you can give your outfit an auspicious feel too? To help you dress up this Karwa Chauth, Ganesha has come up with the right colors as per your zodiac sign. You will not only stand out differently in the crowd but it will also be auspicious for you and your partner's divine bond.
Dress up this Karwa Chauth in your preferable style with these colors as per your zodiac sign.
Aries - Red
The bold leading ladies of the zodiac, Aries, get the hue of the ruling planet Mars. Red clothes are considered favorable for Karwa Chauth 2019.
Taurus - Hot Pink
Classy and beautiful Taurus ladies, ruled by the bright Venus, can dress up in hot pink color to make their Karwa Chauth this year even more auspicious.
Gemini - Crimson
Witty and easy-going Geminis are ruled by Mercury and they can boost their spirits in crimson-colored clothes. This is your color for the perfect Karwa Chauth 2019 celebration.
Cancer - Pineapple yellow
Ruled by the Moon, astrology has a color that will brighten up Karwa Chauth 2019 for the home-loving Cancerians. Pineapple yellow color would be the perfect one for you.
Leo - Jasmine
The royal leaders and Sun-ruled Leos can bolster their spirits in Jasmine wite color. This will be an auspicious color to wear this Karwa Chauth.
Virgo - Green
Ruled by the planet Mercury, the perfectionist Virgos can dress up in Green color that depicts nature's hues. This color is perfect for you to celebrate Karwa Chauth this year.
Libra - Magenta
The balanced Librans, ruled by Venus, can step forward and deck up in this bold and beautiful color, Magenta. It will add up to your beauty and considered favorable for Karwa Chauth 2019.
Scorpio - Saffron
Ruled by the mighty Pluto, intense Scorpion ladies can dress up in saffron color to make the Karwa Chauth celebration even more auspicious.
Sagittarius - Yellow
Jupiter-ruled Sagittarians have a jovial and exploring nature. Bright color yellow is going to be your top pick this year on Karwa Chauth.
Capricorn - Turquoise
Meticulous and hard working Capricornians, ruled by the planet Saturn, can wear joyful turquoise-colored clothes. This is your beneficial color for Karwa Chauth 2019.
Aquarius - Violet
Saturn-ruled enchanting Aquarian ladies have got a unique color to dress up this Karwa Chauth. Violet will be a suitable color to go with.
Pisces - Lemon yellow
The empathetic and generous Pisces is ruled by Jupiter. Lemon yellow is the color for you to don up and make this Karwa Chauth auspicious.
Now that you have the color as per your zodiac sign, get in your best and beautiful avatar with those traditional outfits. We wish you all a happy and blessed Karwa Chauth 2019.
To Get Your Personalized Solutions, Talk To Our Astrologer Now!
With Ganesha's Grace,
The GaneshaSpeaks.com Team