Karva Chauth – The Festival of Conjugal Bonding Celebration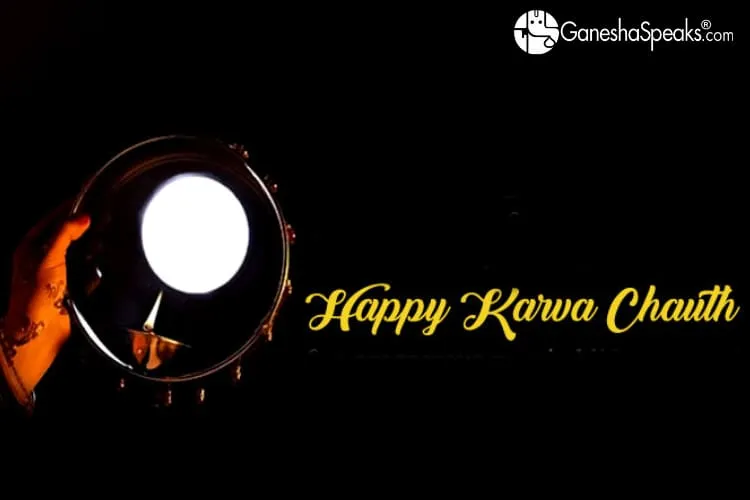 The Importance Of Relationships
Human beings are interwoven in a complex web of relationships. In fact, relationships are the main canvas on which people operate and continually interact with each other, forming the most fundamental level of social structure. Well, among all the relationships, the bonding between a husband and wife holds a lot of importance. Every culture and nation has its own way of looking at this relationship. As for the Hindu religion, the marital equation between a man and woman is considered very sacred, a union which does not end even with death but carries on across succeeding lives.
---
Karwa Chauth: A Celebration Of Conjugal Bonding
Karwa Chauth is the most popular festival which celebrates the commitment between a husband and wife. Karwa Chauth is considered to be a perfect occasion for every couple to win the grace of God for their long relationship. It is the day when women fast and pray for the long life of their husband. This fast begins in with the day and goes on till the Moon appears in the sky in the late evening. This year Karwa Chauth falls on the November 1, 2023. Are you having any problemn in relationship? Get your issues resolved, buy the Relationships Ask Question: Detailed Advice Report.
---
Karwa Chauth Creates A Festive Atmosphere
Karwa Chauth is celebrated on the fourth day according to the lunisolar calendar, and that is why it is called Chauth (which means fourth). Besides, Karwa means earthen pots. Before the start of the festival, women buy new earthen pots and decorate it beautifully in different styles. They also wear makeup, bangles, and new traditional clothes. Moreover, after all that, they visit each other's home to exchange Karwas. The festival of Karwa Chauth is a sight to behold. Nicely dressed women thronging the streets and temples, lovingly applying Mehndi on their palms & wrists, is a scene which invites charm. There are a number of stories as to why Karwa Chauth is celebrated.
---
Puja Timings For Karva Chauth On November 1, 2023:
Karwa Chauth 2018 Pooja Start time: 05:36 PM
Karwa Chauth 2018 Pooja End time: 06:54 PM
---
Fasting And Venus Combustion
Venus is the planet of love and bonding, as per astrology. On this Karva Chauth, the moon will stay in the Taurus zodiac sign. Besides, planet Venus will be in its own sign Libra so there will be some special warmth in relationships. However, Karva Chauth cannot end till the entire Venus combustion is over particulary for the women who have just begun fasting on Karwa Chauth. These women can fast but they will have to wait for Udyapan till Venus Combustion ends. Also some auspicious and important ceremonies like Marriage, Mundan, House Warming, Offering solid food to baby, first visit to a holy place should be avoided. women should worship goddesses Durga to get blessings for them and their spouse.
---
Venus Combustion Dates
During the month October 2023 the Venus is going to combust in the following dates:
Venus Tara Asta Starts On
August 3, 2023, Thursday 
at
 07:37 
PM
Venus Tara Asta Ends On
August 19, 2023, Saturday 
at
 05:21 
AM
---
Reasons For Celebrating Karwa Chauth: Savitri And Satyavan
The Karwa Chauth story is related to Mahabharata. Herein the story is associated with Savitri's devotion to her husband Satyavan because of which she brought him back from the jaws of death.
---
Arjuna And His Wife Draupadi
There is another story related to Karwa Chauth. As per Mahabharata, Arjuna once went to the Nilgiris to meditate and pray. He left behind his wife Draupadi and the other Pandavas. After a few days, she became anxious for Arjuna's well being and sought help from Lord Krishna. As per Krishna's advice, she observed a fast for the well being of Arjuna; she was also inspired by Goddess Parvati who had observed a similar fast for her husband, Lord Shiva. As a result of Draupadi's devotion, Arjuna returned soon after that. Since then, the festival Karwa Chauth is celebrated.
---
---
Karwa Chauth: Practices And Rituals
On Karwa Chauth, women perform a number of rituals enthusiastically with lots of zeal, over and above undertaking a rigorous fast for the entire day. They perform Puja and prayers seeking the long life of their husband. They don't drink even a glass of water for the entire day until they perform the Puja after seeing the Moon. As the Moon rises in the sky, women see their husband's faces looking through a sieve. As per the tradition, Moon is a representative of Shiva on this day.
---
The Preparation Of Sargi
Sargi plays a significant role on Karwa Chauth. Sargi is synonymous with this festival as it depicts the strong love and respect in the Indian families. Sargi is a pre-dawn meal provided by the mother-in-law to her daughter-in-law before Karva Chauth.
With Ganesha's Grace,
The GaneshaSpeaks Team
To Get Your Personalised Solutions! Talk To Astrologer Now.
---
---
Get 100% Cashback On First Consultation