Karwa Chauth 2023: Rituals & Legends Behind the Festival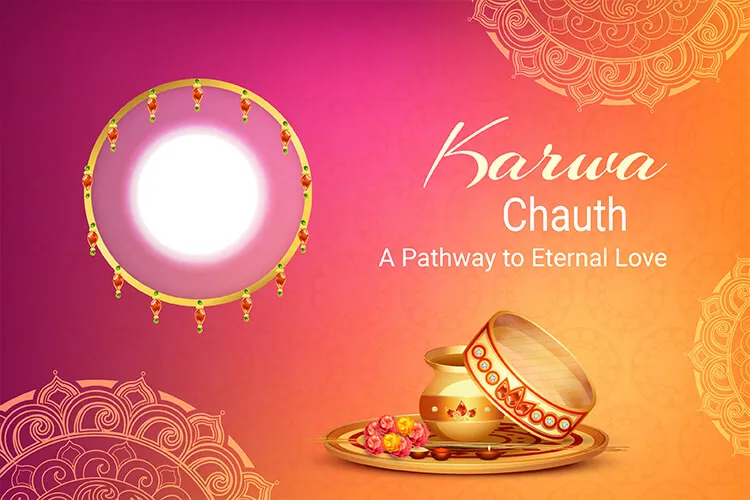 The term "Karwa" means lamp and an earthen pot with a spout, while the "chauth" means the fourth day of Krishna Paksha in the month of Kartik. This year Karwa Chauth will fall on November 1, 2023. While married women observe the fast for the longevity and well-being of their husbands, some maidens also perform Karwa Chauth Pooja with a desire to get a good partner.
Women primarily keep fast for the safety and health of their husbands and ask Lord Shiva to protect their husbands from every difficulty. Women break their fast by making various offerings to the moon. Here's all you need to know about the festival.
---
Karwa Chauth Date & Pooja Timings
Karva Chauth Date: Wednesday, November 1, 2023
Karva Chauth Puja Muhurat – 05:36 PM to 06:54 PM
Moonrise for different cities for Karwa Chauth Pooja and Breaking the fast is given below:
| | |
| --- | --- |
| Place | Moonrise |
| Ahmedabad | 08:41 PM |
| Bengaluru | 08:40 PM |
| Chandigarh | 08:06 PM |
| Chennai | 08:29 PM |
| Hyderabad | 08:28 PM |
| Indore | 08:28 PM |
| Jaipur | 08:19 PM |
| Jammu | 08:09 PM |
| Kolkata | 07:37 PM |
| Lucknow | 07:58 PM |
| Mumbai | 08:48 PM |
| Nagpur | 08:18 PM |
| New Delhi | 08:09 PM |
| Patna | 07:44 PM |
| Surat | 08:44 PM |
Find more detailed muhurat timings with Vedic Panchang.
---
Karwa Chauth Pooja: Do's & Don'ts
As per the Hindu tradition, Karwa Chauth is the most crucial festival for women, especially those who are married. On Karwa Chauth, women wake up early, finish their morning chores, and then worship Lord Shiva, Parvati and Ganesha as per the Karwa Chauth Pooja vidhi, and then they eat something, but this is done before Sunrise.
This day begins with a small early morning prayer and proceeds with "Sargi"- a food platter containing curry, parathas, coconut water, and dry fruits. Women eat sargi after the bath as it prepares them for the whole day of fasting. It keeps them energetic and allows them to stay without food and water the whole day.
Once the Sun rises, women start their fast and do not even drink a drop of water. After Sun-set, when the moon rises, they look at the face of their husband through a sieve and then break their fast. Women also don clothes of Auspicious colours for Karwa Chauth.
On Karwa Chauth, the women are generally advised not to indulge in strenuous activities. Moreover, even after breaking the fast, light food should be consumed. Women observing Karwa Chauth are also advised not to use scissors, needles, or knives in the food preparations either. Women of different Zodiac Signs celebrate Karwa Chauth differently, too.
---
Legends Behind Karwa Chauth
Karwa Chauth falls in the wheat sowing season, which is at the beginning of the Rabi crop season. In ancient times, the wheat was stored in huge earthen pots, also called 'Karwa', and since it falls on the fourth day of the Kartik month, it began to be called Karwa Chauth. Women would pray for their husbands to reap a rich harvest. Then there is the belief that if unmarried women observe a fast on this day, they are likely to get the partner of their dreams.
Karwa Chauth symbolises the spirit of romance and affection between a wife and her husband. Some Bollywood films have also beautifully depicted how Karwa Chauth is celebrated across the country.
Undoubtedly, like every festival, Karwa Chauth has many ancient stories behind it. Most of these tales show how women made sacrifices for their husbands and how their love is pure and eternal.
One of the popular stories is about a beautiful queen named Veervati. She was married to a king and had seven brothers. In the first year of marriage, she observed the first Karwa Chauth by conducting a strict fast.
As the night proceeded, Veervati started experiencing thirst and hunger. She became uneasy, and it was difficult for her to keep fast. However, she still refused to eat or drink anything. Her brother could not see her suffering and decided to come up with a solution.
They created a mirror with a pipal tree in the backyard and made Veervati believe that the moon had risen. She believed them and broke the fast. Immediately, she got the news that her husband was dead. She was completely devastated and left for her husband's house.
She stopped by Lord Shiva and Goddess Parvati, who told her the entire truth. Maa Parvati cut her finger and gave a few drops of blood to Veervati. Veervati sprinkled the holy blood on the dead body of her husband. Her husband became alive due to the sacrifice, immense love, and devotion of Veeravati, the values we associate today with Karwa Chauth.
Attract Good Luck With Your Personalised Horoscope On The Auspicious Day Of Karwa Chauth! – 
Talk To an Expert Astrologer Now!
With Ganesha's Grace,
The GaneshaSpeaks.com Team
Astrologers trained by Shri Bejan Daruwalla.
---
---
Get 100% Cashback On First Consultation