Know When to Observe Masik Shivaratri in 2024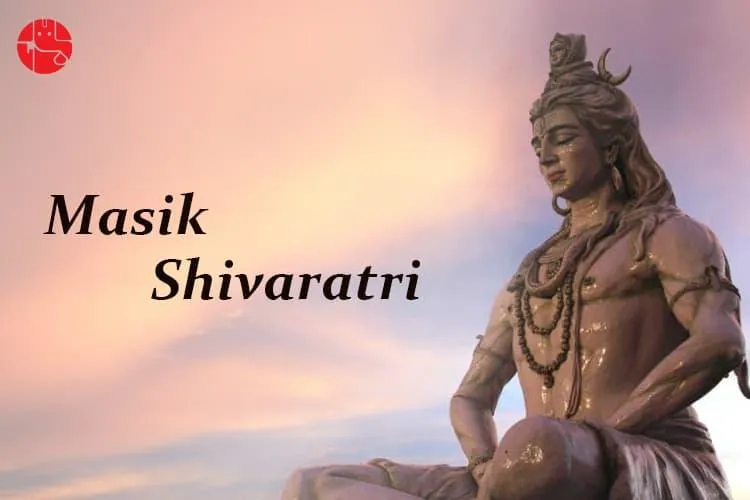 Masik Shivaratri is a day dedicated to worship the Divine and Supreme power of the Universe, Lord Shiva. He is one of the Holy Trinity responsible for constructive destruction, whereas Vishnu is the Preservor and Brahma the Creator.
---
Masik Shivaratri 2024
Every month the 14th Lunar phase that is the Krishna Paksha is known as Masa Shivratri or Masik Shivaratri. When Masa Shivaratri falls in the month of Magha, it is known as Maha Shivratri as per the Amavasya calendar while the Purnimant panchang marks the day in the month of Phalguna. In 2024, Masik Shivaratri will be celebrated on April 7, 2024, Sunday, in Vaishakha, Krishna Chaturdashi in the year( 2079-80) of the Vikrama Samvata as per the Hindu calendar.
---
Masik Shivratri 2024 Date
Masik Shivaratri 2024 dates according to a corresponding month, nakshatra, day and auspicious timings.
| | | | | |
| --- | --- | --- | --- | --- |
| Month | Date | Day | Time | Nakshatra |
| January | 9th | Tuesday | 10:24 PM to 08:10 PM, Jan 10 | Jyeshtha |
| February | 8th | Thursday | 11:17 AM to 08:02 AM, Feb 09 | Uttara Ashadha |
| March | 8th | Friday | 09:57 PM to 06:17 PM, Mar 09 | Shravana, Dhanishtha |
| April | 7th | Sunday | 06:53 AM to 03:21 AM, Apr 08 | Uttara Bhadrapada |
| May | 6th | Monday | 02:40 PM to 11:40 AM, May 07 | Ashwini |
| June | 4th | Tuesday | 10:01 PM to 07:54 PM, Jun 05 | Krittika |
| July | 4th | Thursday | 05:54 AM to 04:57 AM, Jul 05 | Mrigashirsha |
| August | 2nd | Friday | 03:26 PM to 03:50 PM, Aug 03 | Punarvasu |
| September | 1st | Sunday | 03:40 AM to 05:21 AM, Sep 02 | Magha |
| September | 30th | Monday | 07:06 PM to 09:39 PM, Oct 01 | Purva Phalguni |
| October | 30th | Wednesday | 01:15 PM to 03:52 PM, Oct 31 | Chitra |
| November | 29th | Friday | 08:39 AM to 10:29 AM, Nov 30 | Vishakha |
| December | 29th | Sunday | 03:32 AM to 04:01 AM, Dec 30 | Jyeshtha, Mula |
---
Masik Shivratri Significance
As per the Hindu calendar, Masik Shivaratri is celebrated on the 14th day of each month, during the Krishna Paksha tithi. Masik means 'monthly' and Shivratri means the 'night of Lord Shiva'. This day is observed every month, though Maha Shivratri falls once in a year. The festival has religious relevance as it marks the convergence of Shiva-Shakti. Shiva represents Purusha (mindfulness) while Parvati symbolizes Prakriti (Nature).
Masik Shivratri has religious significance as fasting on this day bestows a person with improved living and betterment in future endeavours. It is believed that impossible tasks can be completed by observing prayer and penance on this day.Unmarried females keep the fast for desired grooms while married females for the longevity and happiness of their husband and son. The day has special importance as fasting on this day leads one's soul towards salvation or Moksha.
---
About Masik Shivratri
Masik Shivratri is highly auspicious because Lord Shiva manifested himself in the form of a Linga. A dispute between Lord Brahma and Lord Vishnu took an ugly turn,when both proclaimed one superior in qualities and power than the other. Suddenly a pillar with no origin and end appeared before the two. Both mutually agreed that whoever discovers the origin and end of the pillar will be considered the mightiest out of the two.
Lord Brahma transformed himself into a Swan and flew to find the origin of the pillar, while Lord Vishnu appeared as a Boar and started searching for its end. However, their efforts went in vain, as none of them could spot the origin or end of the pillar. Unable to accept his failure, Lord Brahma lied to Lord Vishnu and boasted of having found the origin of the pillar. Lord Shiva appeared before them and performed the 'Tandava Nritya' and told them that it was he who had manifested as the pillar and exposed Lord Brahma's lies and cursed him of not having a single temple dedicated to his name on Earth. It was the day of Shivratri when Lord Shiva manifested as a Lingam and was first worshipped in his iconic form by Lord Brahma and Vishnu.
Rudraksha means a 'Tear Of Lord Shiva'. Invest in a Pure and Assured Quality Rudraksha Mala and get rid of any negativities obstructing your success path.
---
Masik Shivratri Story
As per an anecdote of the 'Samudra Manthan' (churning of the ocean), people were terrified when poison expelled out of the ocean and got spilled all over. They feared the destruction of the entire world and looked towards their merciful saviour Lord Shiva, who saved the world by swallowing the poisonous fumes called Halahal. The potent poison remained in his throat and turned it blue, after which Lord Shiva was called 'Neel-Kanth'. Therefore, offering milk to a Lingam is considered auspicious during this period. People pay homage to their God on this day, who saved them from mass destruction.
---
Masik Shivratri Puja Vidhi
Special Puja Vidhi is done by devotees on this day.
People bathe and set up the Puja altar early in the morning.
'Abhishek' of the idol of Lord Shiva or Lingam is done with Gangajal, milk, curds, ghee, honey, vermillion, turmeric powder, rose water and 'Bel' leaves.
Some devotees smear sandalwood paste, sprinkle vermillion and offer flowers to the idols of the deity.
Aarti or hymns are recited in honor of Shiva by blowing a Conch and ringing bells.
Home-made prasad is placed as an offering on the altar.
Ideally, Puja is done at midnight as devotees fast throughout the day and conclude it the next morning.
Night vigil or Jagran is observed as Bhajans and Kirtans create a positive aura in the environment.
Shivratri Puja is considered highly auspicious on a Tuesday.
Besides, Lord Shiva people also worship Goddess Lakshmi, Saraswati and Parvati. Doing Pradosh Kaal is considered auspicious on this day.
Gain favorable benefits from Lord Shiva on Masik Shivratri by doing the Rudra Abhishekam Puja . Learn from our Vedic scholars about its significance in your life.
---
Masik Shivratri Rituals
Rituals followed on this day are
Devotees venerate Lord Shiva's idol or Lingam on this propitious day, in their beautifully adorned home temple with a proper set of rituals and sacraments.
Married and unmarried females observe fasts for attaining favorable benefits from god.
The day is believed auspicious to visit Holy pilgrim places of Lord Shiva for his veritable boons and utter benedictions.
'Natraj', a cosmic dancing form of Lord Shiva is also revered for attaining salvation from lust, hatred, pride, bitterness and jealousy.
Masik Shivratri night is religiously celebrated with fanfare and exuberance.
Want to know the importance of Masik Shivaratri according to Vedic astrology? Talk with online astrologers.
With Ganesha's Grace,
GaneshaSpeaks.com
---
---
Get 100% Cashback On First Consultation