Cow's milk – a sacred offering to Shivling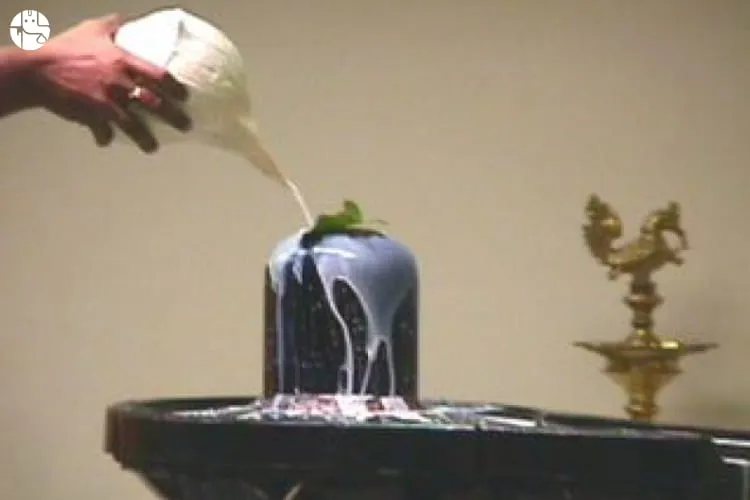 Shravan Month is considered the most auspicious time of the year. Each day of this month is considered Providential, and the devout dedicate their time in Lord Shiva's worship.
During Shravan Month, many Vedic Rituals are performed to please Lord Shiva. One such ritual is offering milk to the Shivling.
Shivling is placed in the most pious place of a temple, which is the garbh grih. Here positive energy is constantly flowing, and the devotees who come to worship Lord Shiva get energized with positivity.
Milk is an excellent conductor of positive energy. When cow's milk is poured on Shiv Ling reciting mantras- ॐ नमः शिवाय, it strengthens mind, body and inner consciousness of the devout.
Let us Ask our Experts about mythological reasons and facts about offering milk to the Lord Shiv:
---
---
B. Why is water poured after milk? Which mantra should be recited during pouring of milk and water?
• The toxin level of halahal was so tremendous that it generated enormous heat. To calm down its impact, Devtas performed abhishekam with Holy Ganga water on Mahadev. Scientifically it is proven that when the liquid comes in contact with Shiv ling, it gets charged and create a positive environment. This will help us to get a blessing and positive energy of Shiva. One should Chant OM NAMAH SHIVAY. It is a powerful mantra and will please lord Shiva, and it helps to strengthen mind, body and inner consciousness.
---
C. Why is only cow's milk considered sacred for Ahbishekam of Shivling?
• In ancient Vedas cow is considered as the most auspicious animal in which all devtas are residing. Since we take the purest and divine things to our Deity, hence cow's milk is considered sacred for Abhishek of Shivlin. We should also have Gangajal, akshat (uncooked rice), flowers, Panchamrut (made of milk, curd, honey, ghee and sugar), Nadachari (kalava, colourful thread), Yagyopavit, fruits, sweets, incense (agarbatti), dhoop for worshipping Lord Shiva.
---
D. Can a devotee offer milk to Shivling during evening time? Which is the best time to do so?
• Generally, Rudra Abhishekam should be performed in the presence of Sunlight. In Hindu dharma, all the auspicious work is done in morning. Hence it is preferable to do it in the morning hours.
Apart from this mythological knowledge, if we consider the scientific theory of our body, during the month of Shravan, the Vata component of the body is high. So, a person must avoid food that increases the Vata component.
Green leafy vegetables contain higher amounts of Vata in them and during the rainy season, the cattle eat lots of grass, and hence their milk is high in Vata and, in modern times, is susceptible to viral infections. Thus, milk is considered harmful during the Shravan month. And, ayurved advice us against consuming milk during Shravan.
To get your personalized solutions, Talk to an Astrologer now! First Consultation with 100% Cashback!
---
---
Get 100% Cashback On First Consultation